How To Call Your Representative About Inauguration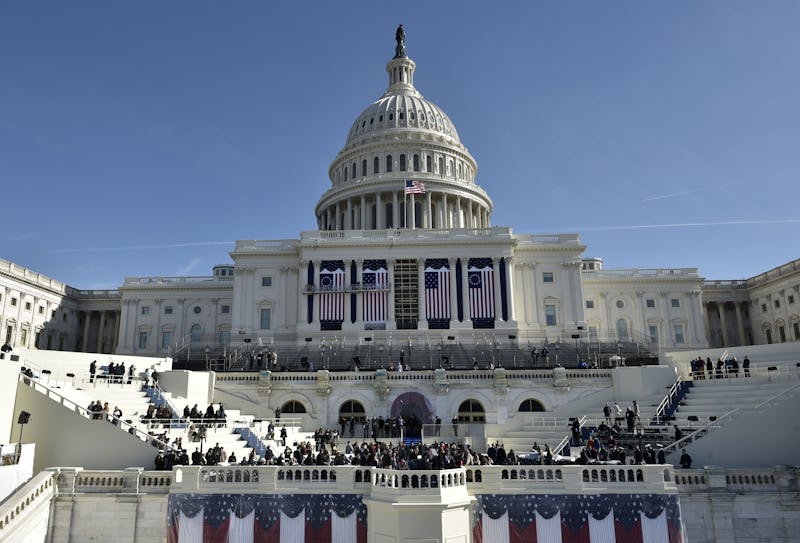 MANDEL NGAN/AFP/Getty Images
Just three days before inauguration, up to 52 Democratic congresspeople are boycotting Donald Trump's inauguration, the culmination of weekend spat between the incoming president and one of the foremost civil rights leaders in our nation's political history. Here's how to find out if your representatives are among those sitting out Trump's swearing-in, and if they aren't, how to contact your rep to encourage them to do so.
Last week, reports began surfacing that a few key Democratic congresspeople were choosing to boycott Trump's inauguration, including Rep. John Lewis of Georgia, who called Trump's presidency "illegitimate." Trump swung back on Saturday, tweeting that "Lewis should spend more time helping and fixing his district… rather than falsely complaining about the election results. All talk, talk, talk - no action or results. Sad!"
In the days that followed, the backlash from lawmakers against Trump was swift and fierce. House Minority Leader Nancy Pelosi, D-Calif., tweeted on Monday, "Let us remember that many have tried to silence @repjohnlewis over the years. All have failed." Rep. Elijah Cummings of Maryland, tweeted to Lewis, "thank you for taking action to make this country better," referencing Trump's tweet attacking Lewis.
As the list of boycotting Dems continues to grow, many want to know how they can encourage their own representative to protest Trump's inauguration by sitting out the ceremony.
First, if you don't already know who your Congressional representative is, you'll want to look them up — there are a bunch of places to do this, but www.whoaremyrepresentatives.org offers the simplest and most straightforward interface.
Second, research whether they've made a statement about attending or boycotting Friday's inauguration. (For instance, my representative, Karen Bass of the fighting California 37th District, announced Tuesday morning that she would not be attending after conducting a weekend Twitter poll.) You can find this information usually on their Twitter feed, if they have one, on their House.gov homepage, or you can look through various news site's running tally of who is participating in the boycott.
Third, if your congressperson has not announced their intention to boycott, get in touch and let your voice be heard. You can tweet, call, or email your representative — or do all three. Make sure you let them know that you're one of their constituents and tell them why you think they should boycott Friday's ceremony. If you need ideas of what to say, check out liberal advocacy web sites like MoveOn.org or DailyKos.
Of course, you may also think it's important for your Representative to attend — in which case, it's important to voice that opinion, too. Our Representatives in Congress only know how we feel when we speak up, so make sure you get in touch and let them know where you stand.