How To Call Your Senator About Trump's Refugee Ban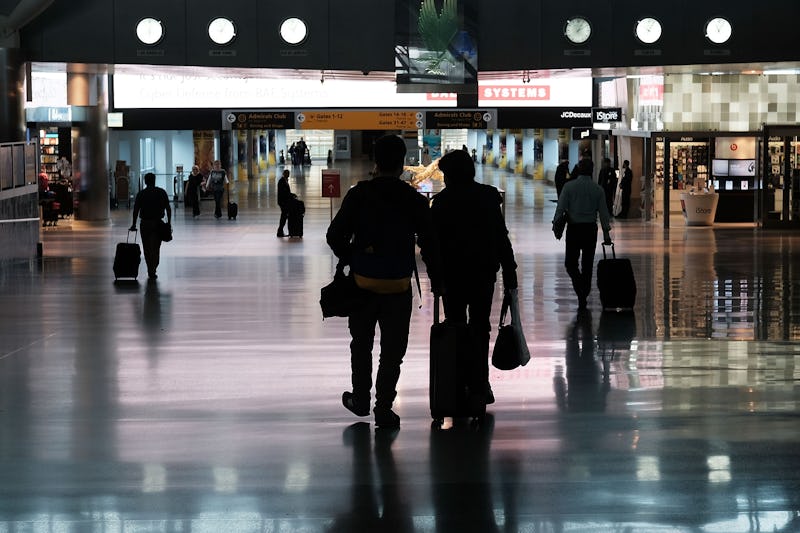 Spencer Platt/Getty Images News/Getty Images
President Donald Trump signed an executive order on Friday barring immigrants from seven predominantly Muslim countries from entering the United States for the next three months. The executive order also banned Syrian refugees indefinitely, making the order known as a refugee ban. Yet the order is not only impacting refugees — legal permanent U.S. residents and people with student and work visas are barred from returning to the United States. In response, Americans are calling their representatives to take a stand against Trump's executive order.
Trump enacted his ban immediately, and already, refugees, visa holders and permanent U.S. residents have been stopped at airports across the globe. At least 12 people were detained Saturday at John F. Kennedy International Airport in New York City, including an Iraqi citizen who previously worked as a translator for the U.S. government and is a permanent resident of the United States. He was released shortly after noon on Saturday, but other refugees and immigrants remain at JFK as chaos spreads worldwide.
There's been widespread criticism of Trump's Muslim ban in America and beyond. Understandably, many Americans are upset over the new immigration rules, and social media is lit up with outrage from ordinary citizens from New York to Hawaii.
Those American citizens who are disappointed in the Trump administration's refugee and immigrant policy can voice their opinions with their state's respective senators. Here's how to call you senator to protest the refugee ban.
‌
If you don't have the number for your respective senators, you can make a call through the Congressional office switchboard. That number, for U.S. senators, is (202) 224-3121. This number will take you to an operator who will then connect you with your senator's office.
It is possible to bypass the switchboard and call your senators' offices directly. The contact information for U.S. senators can be found on the U.S. Senate website. The website only includes the contact information for each senator's Washington, D.C. office. To call your senator's local or state office, check their main website for their additional contact information.
When you're ready to call your senator, make sure you are speaking with the correct aid. The Union of Concerned Scientists suggest asking for the Senate aide handling the specific issue.
Most importantly, double check your facts before you dial your senator's number. You want to be accurate, passionate and persuasive as you voice your opinions and concerns on Trump's immigration order.