How To Contact Your Senator About The Kavanaugh Vote So They Know Exactly Where You Stand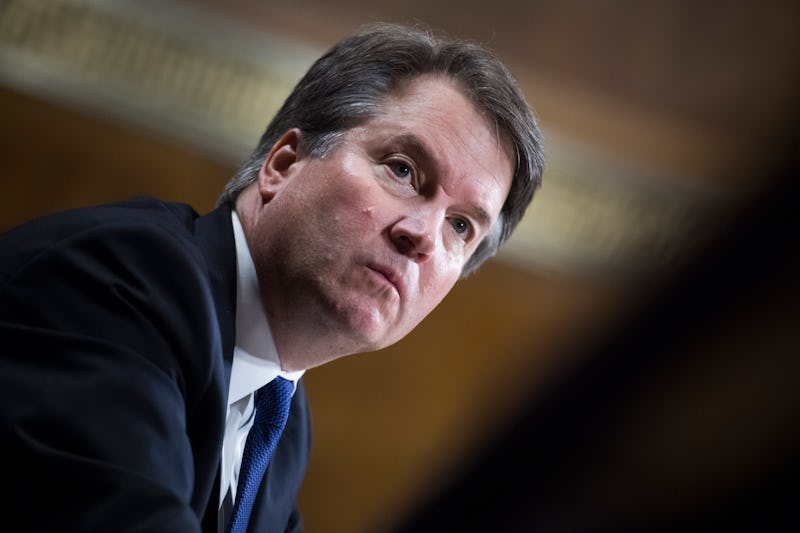 Pool/Getty Images News/Getty Images
A final full Senate confirmation vote on Brett Kavanaugh could be held as early as Tuesday, which means that now's the time to take action if you care about the outcome. Some members of Congress are still undecided on whether or not they'll move to approve him, and one of them could be yours: Here's how to contact your senator about the Kavanaugh vote.
If you prefer to speak directly to someone in your senator's office, you can use a couple of different phone numbers. Either call the U.S. Capitol Switchboard at (202) 224-3121, where they'll transfer you onward, or skip that step by finding your official's contact information with the senator index. You can choose to either call one of their offices in D.C. or in your state.
Although calls are generally held up as the most efficient way to reach your senator, you also don't actually need to pick up the phone to contact Congress. It's a bit too late in the game to send letters, but the above index will also allow you to find senators' email addresses.
If you want an option that's even easier, use Resistbot to literally text your representatives. Doing that is as easy as texting the word "RESIST" to 50409, at which point the bot will guide you through creating a message and then send it for you. The app was designed to help citizens oppose the Trump administration, but its creators say that it'll send any message, regardless of partisan slant: "We will faithfully deliver any message our users send in," Jason Putorti told Recode last year, "but the voice of the product is for the liberals and conservatives in opposition to the Trump administration."
Kavanaugh needs 50 votes to be confirmed by the Senate (if he gets 51 he'll go through immediately, but if he gets 50, Vice President Mike Pence would step in to break the tie). Some senators have not yet said whether they will vote yes or no and are reported to be wavering, according to Newsweek.
Prior to Ford's testimony, 10 senators hadn't yet definitively said how they'd vote, per Newsweek. But that number quickly dwindled after the hearing as Sen. Joe Donnelly (D-Ind.) announced that he intends to vote no and Sen. Jeff Flake (R-Ariz.), Sen. Bob Corker (R-Tenn.), and other Republicans announced that they would vote yes.
Now just four senators are still undecided, including two Democrats who are up for reelection this year in states that Trump easily won in 2016. Sen. Joe Manchin of West Virginia is one of those, and he met with Flake and the two remaining undecided Republican senators, Maine's Susan Collins and Alaska's Lisa Murkowski, on Thursday. Sen. Heidi Heitkamp (D-N.D.) also said that she was undecided on early Friday afternoon but in "the final stages" of coming to a conclusion.
Senate offices really do log the calls they receive and use that information when deciding how to vote. A source close to Manchin indicated to The Atlantic, for example, that his decision is taking into consideration the fact that most people in West Virginia seem to want to confirm Kavanaugh. If you want your senator to know where you stand, you need to let them know. Call now.
Read More About Brett Kavanaugh's Confirmation Process
Here's What Will Happen Next If Kavanaugh Is Confirmed To The Supreme Court
You Can Now Read Kavanaugh's Entire High School Yearbook — And What He Wrote In It
The Video Of Christine Ford's Opening Statement Is Gut-Wrenching
Trump Mocked Christine Blasey Ford In Front Of Thousands Of People
11 Brett Kavanaugh Petitions You Can Sign To Let Senators Know Where You Stand
How To Contact Joe Manchin, Susan Collins & Other Possible Kavanaugh Swing Voters