How To Find An Inauguration Protest In D.C.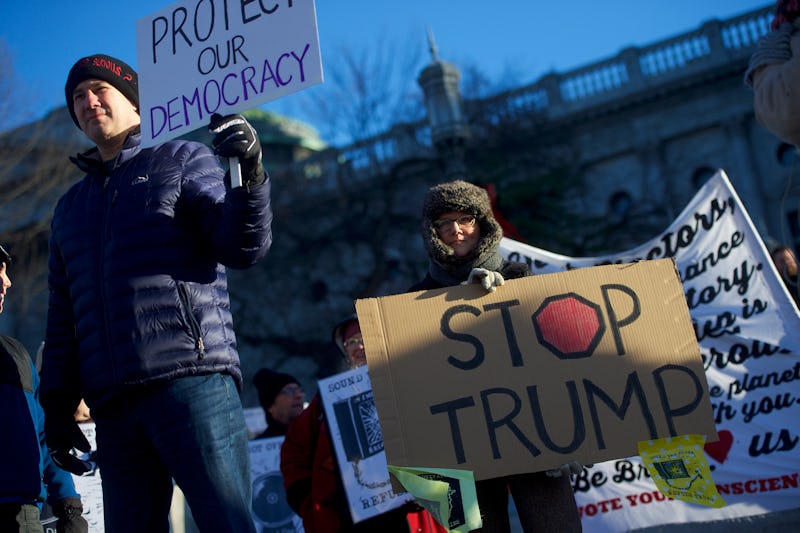 Mark Makela/Getty Images News/Getty Images
For a President-elect with the lowest incoming approval ratings numbers in modern history, it's not that shocking to learn that there will be quite a few protests at Donald Trump's inauguration. The women's march has been getting the most attention, with 20,000 participants expected to attend, but there are plenty of people uniting under different causes to protest Trump's inauguration this week.
Tens of thousands of protesters are set to descend on D.C. this week, in locations from the Navy Memorial to Union Station. Protests planned to occur on parks service land, like the National Mall or the White House, and which will include more than 25 people must have a permit from the National Parks Service to gather. The department said it has granted 22 permits for "First Amendment events," with group sizes ranging from 50 to 20,000 people. For past inaugurations, they have usually only received requests for about six.
Journalist Alejandro Alvarez assembled a list of every inauguration protest in D.C. this week. The first events started on Tuesday, Jan. 17, with the "Refuse Fascism" protesters gathering in McPherson square, and the protests are schedule to continue through Sunday. No matter what day or time you have free this week, it seems that you could find a protest to fit your schedule.
On Wednesday night, organizations WERK for Peace, an activist group founded after the Pulse nightclub shooting in Orlando, and DisruptJ20, a grassroots group coordinating demonstrations against Trump's inauguration, hosted the "Queer Dance Party at Mike Pence's House" in Chevy Chase, Maryland. The group plans to "shake our booties and bodies" in front of Pence's house in a demonstration against homophobia and transphobia, both of which the event organizers say Pence promotes.
If environmental issues are your cause, 350.org and the Sierra Club rallied on Wednesday morning outside of Scott Pruitt's Senate confirmation hearing. The Oklahoma attorney general has been nominated by Trump to head up the EPA, but critics say Pruitt is a climate change denier who will be catastrophic to the progress the agency and the country have made over the past decade.
Many of the events listed on the day of the inauguration are part of the DisruptJ20 blockade action, which is the group's attempt at interrupting all of the inauguration events on Jan. 20. Groups associated with different causes will meet and rally at different locations around the city that affect the inauguration route, in an attempt to disrupt the day's events. Groups supporting racial justice, labor unions, fair trade agreements and women's rights, among others, will gather at different city intersections on Friday morning, in a mass-coordinated attempt at derailing Trump's first day in office.
It was the record number of people who turned out for Obama's first inauguration that sent the city into gridlock in 2009, but it looks like D.C. may be at a standstill for a different reason on Friday.