If You Live Near A Dunkin' Donuts On This Street, You Can Get Free Coffee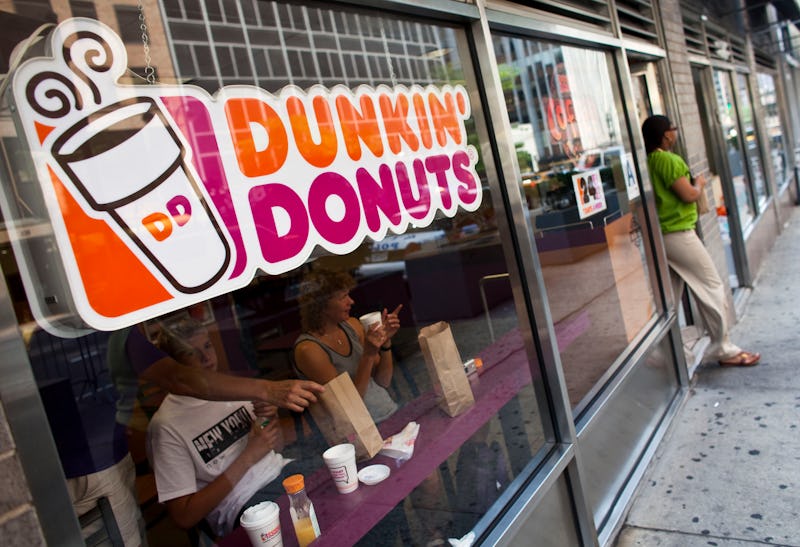 Ramin Talaie/Getty Images News/Getty Images
Look in various cities across the country and you're practically guaranteed to find at least one Maple St., Maple Rd., or Maple Ave. But the name is going to take on a special meaning this Mon., Aug. 28: Dunkin' Donuts is celebrating the release of its newest coffee flavor, Maple Pecan, by giving out free maple coffee to every store located on a Maple Street, Road, or Avenue. That's right: free coffee! And on a Monday! What could be better?
According to Delish, Dunkin' Donuts is giving out free cups of its new flavored coffee to the first 500 guests that show up to their Maple-located eateries. Each of these guests will get a free medium-sized Maple Pecan coffee, and will have the option of getting it either hot or iced.
As if that wasn't awesome enough, customers will also be able to sample the eatery's latest breakfast offering, the Maple Sugar Bacon Breakfast Sandwich.
How do you find out if there's a Maple-located Dunkin' near you? The stores are mostly located in New York, New Jersey and Massachussetts, with several more in Michigan, Connecticut, Illinois, Virginia, and Maine. To find the closest option to you, check out a full list of the stores running the promotion here.
But even if you don't live near one of the Maple Avenue stores, you may still want to stop by a Dunkin' Donuts on Monday. Why? In addition to launching its Maple Pecan coffee, the chain is also bringing back its full pumpkin-flavored menu on Aug. 28, including pumpkin spice coffee, muffins, donuts, and even pumpkin cream cheese. Yup, it's official: fall is practically here!
As for the lucky residents who live near one of the participating Maple locations, you may want to show up early. The offer begins at 9 a.m, so you'll want to get there in time to take full advantage of the promotion.
Seriously, free coffee and the return of pumpkin spice? Suddenly, Monday isn't looking so bad.