Get Free Lime Crime Makeup & Save On Shoes During This Amazing Sale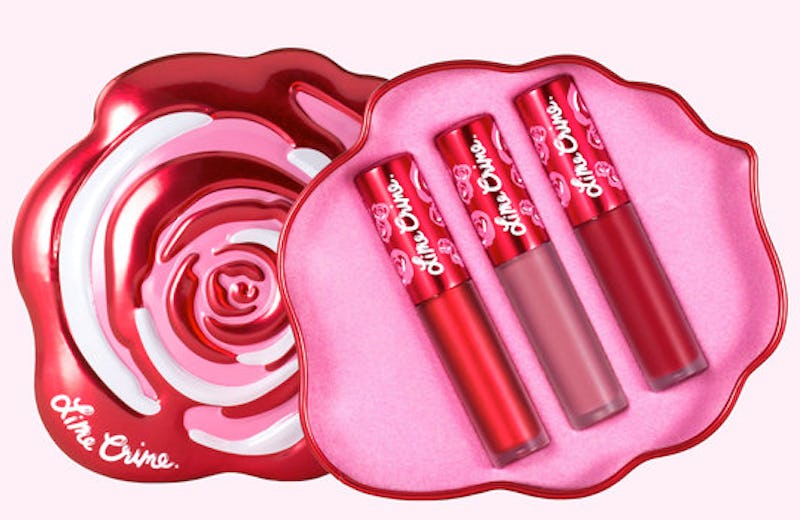 Courtesy Lime Crime
If you've emptied your closets and beauty bags to make room for new items, you're in luck. Find out how to get free Lime Crime makeup and some killer shoes to upgrade your overall vibe this season. Because Lime Crime has teamed up with Public Desire, and really, the timing for this couldn't be more perfect.
When you shop from the Public Desire website on Apr. 13 with code LIMECRIME15, not only will you save 15 percent on footwear, but you'll also receive a free goodie from your favorite indie beauty brand. Lime Crime is responsible for all of your unicorn goals, considering they launched the Unicorn Hair Dyes just in time for all of your festival-inspired glam. They'll never fail to deliver unique, bold products, so there's no way you could go wrong with a purchase that's bound to come with a little love (in the form of makeup) from this cosmetics company.
If you're not familiar, Public Desire is the destination for cool, trendy shoes, so when you shop from there, you're bound to find heels and more that you'll want to rock as long as spring and summer lasts. That, combined with the beauty items you'll receive, make taking advantage of this this sale so worth it. Get ready for the best spring style of your life, courtesy of this Lime Crime X Public Desire mash-up.
This is what dreams are made of!
Misty Platform Backless Mules, $15, Public Desire
The brand has some amazing options at affordable price points. These embroidered mules couldn't be more on-trend, and they can be yours for 15 percent off. Score!
Adrina Lace-Up Heels, $15, Public Desire
I'm crushing on these crushed velvet heels. The coloring is gorgeous and the materical couldn't be more "in," so be sure to get them in your line-up this spring!
There's a reason why people are freaking out over this shopping opportunity. Saving on shoes and getting makeup with just one purchase is no joke!
Red Velve-Tin, $28, Lime Crime
This set of minis was featured in the Instagram post announcing this sale, so your order may very well come with some tiny liquid lippies. This kit, in particular, is worth $28. To get this for no added cost (while simultaneously upgrading your kicks), well, that really would be amazing!
Don't miss your chance to get two of your favorite things in one fail swoop! Shop shoes from Public Desire and get free Lime Crime goodies while this offer lasts.