There's Still A Chance To Snag These Quay X Desi Perkins Frames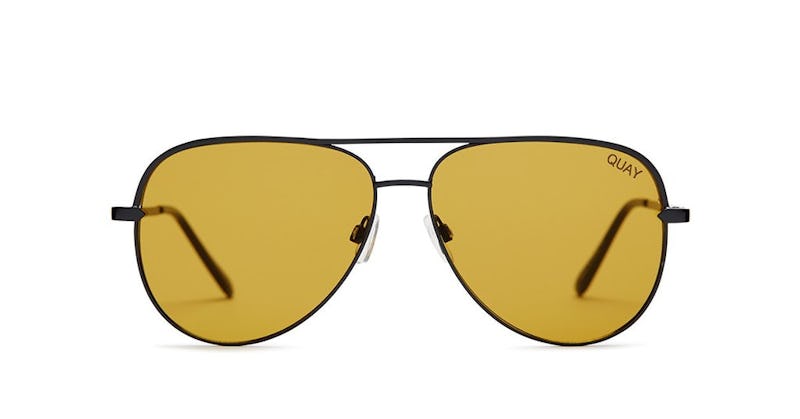 Courtesy Quay Australia
Keeping your cool this summer is key, so you're going to need some killer shades to complete each and every one of your outfits. There's no better brand to shop than the Australian retailer, Quay, especially now that they're offering a giveaway! Find out how to get the sold out Quay X Desi Perkins Saraha sunnies just in time for some fun in the sun.
The brand teamed up with YouTuber Desi Perkins to create some amazing sunglasses, but the items in this limited edition collection are hard to get your hands on due to their extreme popularity. The duo's latest Sahara sunnies launched Apr. 3 and are already sold out in the Black/Olive colorway. But, thanks to the Quay giveaway, you may be able to get your hands on these super cool shades and more.
Quay's coming through for festival season and giving you the chance to win over $600 worth of accessories as well as the Sahara frames. All you have to do to rack up on these goodies is follow the brands Quay Australia, FRENDS and Luv Aj on Instagram. Then, comment on the giveaway Instagram post and mention two of your friends. You have until Apr. 10 at 11:59 p.m. PT to enter the sweeps.
Make sure you take this opportunity to amp up your festival fashion in a major way! A winner will be announced in the caption of this post once the Apr. 10 deadline passes. Good luck, festival goers!
These frames are too cool to let them slip away.
The winner will receive this black and olive color combo, which was sold out on the Quay Australia website at the time of publication.
Quay X Desi Perkins Sahara Sunnies, $65, Quay Australia
Even if you don't win the items in the sweepstakes, you cans till snag these Sahara sunglasses in the black and orange version. This gorgeous gradient looks like a sunset, so these will be great for the season!
Quay X Desi Perkins Sahara Sunnies, $65, Quay Australia
They're also still available for purchase in the black and yellow option. Trust me, you'll want to throw these on as long as warm weather lasts.
Your summer style will be on a whole other level if you've got some Quay Australia accessories to complete your look. Whether you win these prizes or no, you've got to make sure Quay products are kept on rotation all season long. Enter to win, and if that doesn't work out, start shopping form the Quay Australia website, stat!