How To Help After The Istanbul Nightclub Attack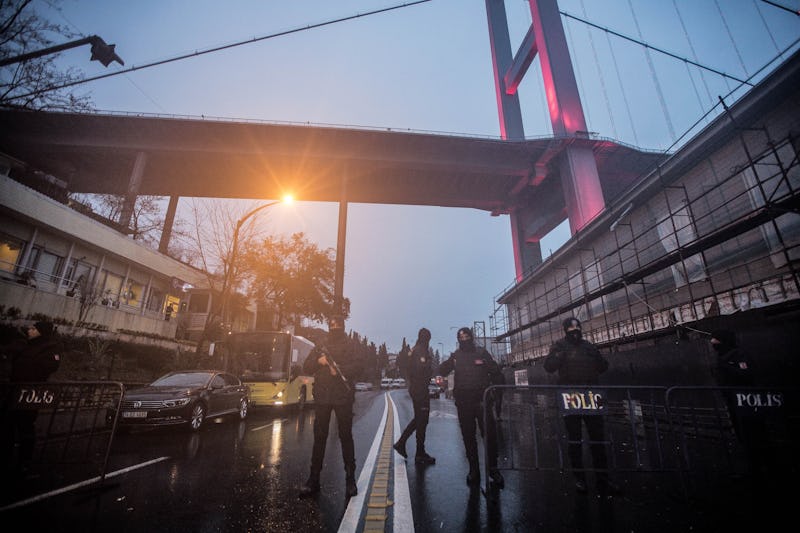 Stringer/Getty Images News/Getty Images
Amid New Year's celebrations, shots rang out in a Turkish nightclub early Sunday. One of the most exclusive in Istanbul, Reina attracts foreigners and trendy Turks to a space on the edge of the Bosphorus. But the atmosphere of fun and celebration ended when a gunman shot and killed a security guard and police officer outside the club and then entered to shoot the revelers. Some even jumped in the river to escape. The latest reports say that 39 people were killed. Another 69 were injured in the attack. Here's how you can help Istanbul after the nightclub shooting because the city needs your support.
There is currently a manhunt for the shooter; police believe there was just one attacker, although some witnesses pointed to more. Turkish President Recep Tayyip Erdogan blamed terrorists — none have yet claimed responsibility — and said the motive was creating chaos. "They are trying to... demoralize our people and destabilize our country," he told journalists Sunday. At the time of the shooting, there were about 600 people in the club. There are at least 24 foreigners among the dead, and even more among the wounded. The attack is thought to have focused on the more Western-style celebration of New Year's, which was criticized by conservatives in the lead up to the holiday.
Whatever the reason and whoever the perpetrator, the victims and their friends and families will need your support. Show your solidarity and help those affected.
Donate Blood
If you happen to be in Turkey, you can give blood through the Turkish Red Crescent. They have mobile blood collecting units and there is likely to be higher demand in these days.
Give What You Can
The Turkish Red Crescent actually does a lot more for victims of attacks than just provide blood. They provide psychosocial support to families too. Consider helping them financially. You can donate to the International Federation of Red Cross and Red Crescent Societies here, or if your Turkish is proficient, you can donate directly to the Turkish organization here. There will also likely be crowdsourcing drives for the families, so watch out for those too.
Stand Up Against Terrorism
Sadly, this is not the first attack of its kind in Turkey — even this year. Raise awareness on social media. It's not fair that attacks in France, Belgium, or the United States garner so much attention and the ones in Turkey don't — at least to the same degree. As recently as December 44 people were killed in a bombing at an Istanbul soccer stadium. It just doesn't stop. The loss of life anywhere should be mourned. Post something to your social media accounts to honor the victims.
This has been a terrible way to welcome the new year. But don't forget that you can help make 2017 a bit better by these acts of kindness, generosity, and solidarity. Don't give in to fear. Live your life freely and help others do the same, be they in Istanbul or right next door.