You Can Support The NAACP's Jeff Sessions Protest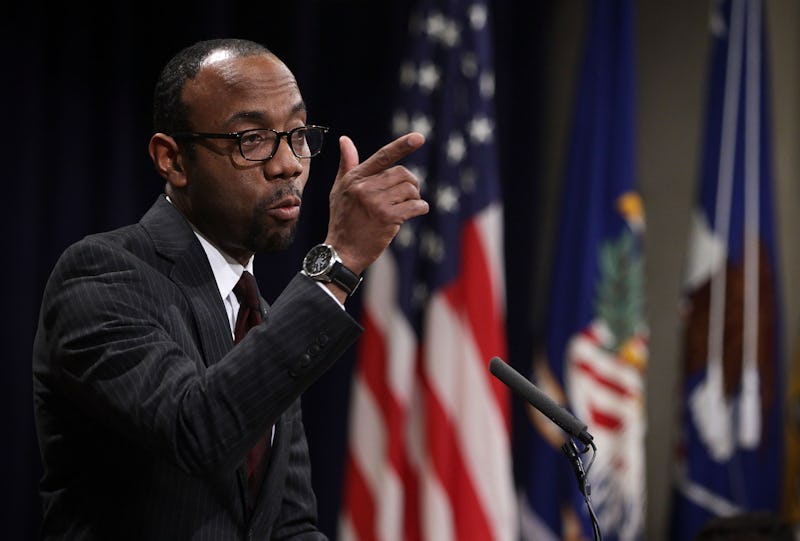 Alex Wong/Getty Images News/Getty Images
On Jan. 3, the NAACP held a widely covered sit-in at the office of Sen. Jeff Sessions in Mobile, AL to protest his nomination for attorney general by President-elect Donald Trump. The hours-long protest, led by some of the organization's top national and state leaders, ended in the arrest of several people, including the organization's president. But as in any struggle for rights, the effort is far from over. There are still tons of ways to help the NAACP after the Sessions sit-in, many of which don't involve sitting anywhere but in your own home.
As one of the oldest civil rights and civic organizations in the country, the NAACP is a cornerstone of American civil rights, and as such, has a storied history of both strong African American leadership and allied support from non-Black Americans alike. Its participation in the anti-Sessions movement is bolstered by both its legitimacy and clout, and will surely contribute to the public outcry against the Alabama senator's nomination.
Aside from becoming an official member of the NAACP or making a donation, there are other significant ways to support it in its drive to make sure Sessions doesn't become our country's next attorney general. Below are some tips on how to protest Sessions in the wake of the NAACP sit-in.
Research Why The NAACP Opposes Sessions
It doesn't take much digging to figure out exactly how and why so many people are against Sessions and his arguably checkered history on race relations. Even so, it's good to have a few choice citations as to why you're against this or any of Trump's wild nominations.
Decide The Best Course Of Action
As with any movement or organization, there are a number of ways to support the NAACP in general or specifically in their efforts to oust Sessions from the AG nomination. There's no single form that's better than any other. If you can't give money, giving your time and your attention is equally powerful.
Donate To The NAACP (And Affiliated Organizations) If You Can
Monetary donations, of course, help to cover all kinds of costs, from legal and bail bond fees for those arrested in the Sessions sit-in and other civil disobedience actions to organizational and affiliate costs for the many NAACP units across the country. You can donate to the NAACP directly on their website.
Find Your Local Chapter
While the national NAACP leadership can and does need help, it's local and state groups (like the Alabama NAACP, whose president, Benard Simelton, was also arrested at the sit-in) which conduct much of the organization's on-the-ground work. You can find your local NAACP chapter on their website. There are more than 200 nationwide, so there's likely to be one in your area.
Become An NAACP Member
It doesn't take much of a look into the NAACP's 107-year history to make you want to join their ranks. With so many units, becoming an NAACP member acts as both a monetary contribution to the organization and a time commitment, as you can find out about all their local and national activities and communications through members-only emails.
Lobby Your Representatives To Reject Sessions
As with the many other appalling cabinet nominations Trump's made, calling your representatives and asking them to vote against confirming Sessions is one of the most effective and direct ways to get a hold of them. There's more information out there about how to talk to your reps and senators than every before thanks to the election of Trump, and utilizing this widely-accessible information is crucial.
Soon after inauguration, Trump's cabinet confirmation hearings in the senate will take place. Before that happens, we must do all we can to support the NAACP in their mission to make sure Sessions, who's perceived as one of the most dangerous Trump nominees, isn't confirmed as attorney general.