You Can Help The Quebec Mosque Shooting Victims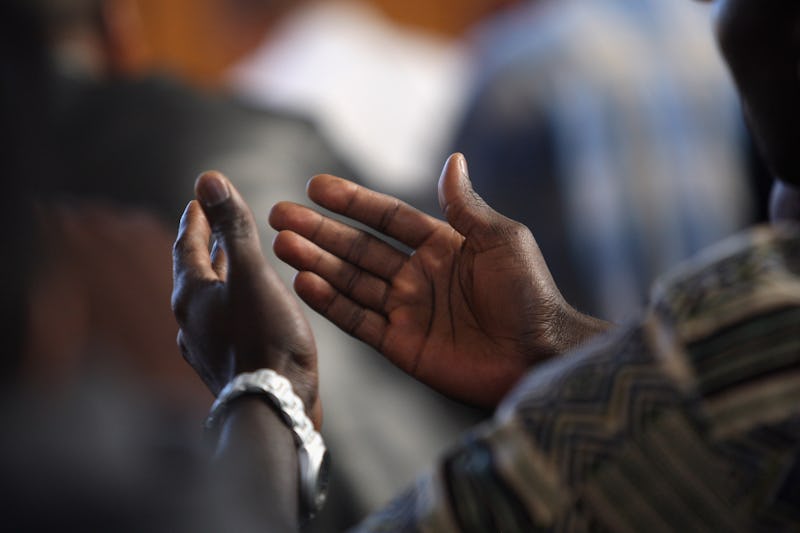 John Moore/Getty Images News/Getty Images
On Sunday evening, a tragic shooting occurred at the Quebec Islamic Cultural Centre; a gunman or gunmen opened fire on at least 40 people who were praying, killing at least six and injuring at least eight, according to Quebec City police. This shooting is horrendous and senseless; it is highly important to help the Quebec City mosque shooting victims in any way you can. Actively speaking out against Islamophobia and promoting solidarity with the Muslim community will be crucial too.
While the motive for the shooting has not yet been officially determined, the mosque's history of being targeted with hate crimes coupled with the fact that Muslims were killed in their place of worship while praying renders it possible that the shooting derived from Islamophobia.
You can directly help honor the victims by reaching out to the Quebec Islamic Cultural Centre (CCIQ) and its congregants to offer support, solidarity, and comfort. Consider writing a letter or an email to the CCIQ's president expressing your sympathies and vowing to always stand by the Muslim community.
If you would like to donate to the mosque itself, click here. You can also consider making a monetary donation to the families of the victims of the shooting, should these options become available. It's possible that a GoFundMe page for victims' families could surface in the days to come.
Finally, in addition to supporting the CCIQ, it is important to show solidarity with the broader Muslim community to combat Islamophobia and ensure that Muslims feel safe in Canada, the United States, and elsewhere. Take the lead from some of the U.S. cities that organized interfaith community gatherings for healing and solidarity in the wake of a spate of terrorist attacks last year, and consider organizing something similar in your own community. If you are in Montreal, you can attend a vigil on Monday evening. You can RSVP here.
Furthermore, you can of course always show solidarity with the Muslim community by being very cognizant of being inclusive and welcoming in your daily life and interactions with others. Positive, regular interactions among people of different faiths goes a long way in building trust and security.
Overall, it is important to honor the Quebec City mosque shooting victims by offering direct support to that community as well as through perpetuating broader interfaith solidarity. Hopefully, this will help diminish hatred, spread peace, and provide solace and comfort to those who feel threatened.