How To Join Planned Parenthood's "I Defy" Campaign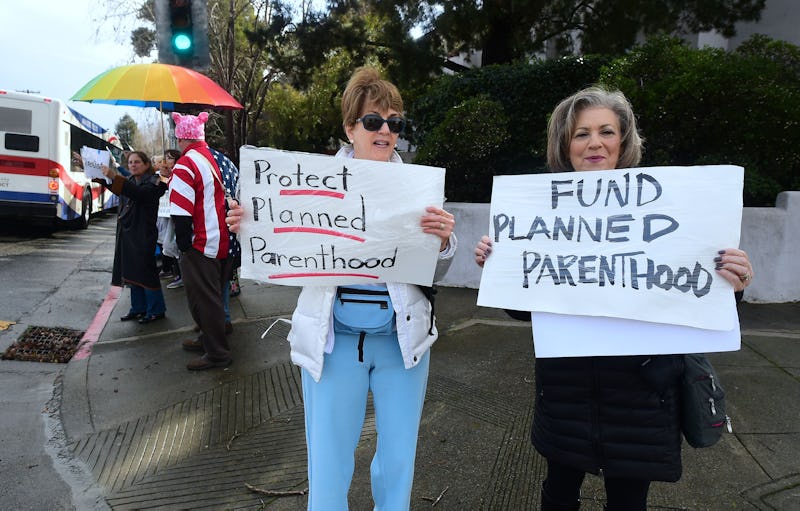 FREDERIC J. BROWN/AFP/Getty Images
Planned Parenthood celebrated the 44th anniversary of Roe v. Wade on Sunday, Jan. 22 by launching an intersectional movement of defiance. Calling on people to share what they defy via social media, Planned Parenthood created an art installation in Los Angeles on Sunday in the form of a "wall of defiance," which the organization planned to then tear down with a wrecking ball. Sexism, racism, and rape culture were among some of the systems young people declared they would defy. Here's how to join Planned Parenthood's "I Defy" campaign and share what you plan to defy, as well.
In a press release, the organization described the mission of the campaign as one focused on "[amplifying] the voices of young people across the country who are fighting for the future they want to see." "I Defy" then called on young people to share with the world what they defy on social media, from racism and xenophobia, to slut-shaming, abortion stigma, and gender norms.
The hosts of the event recorded the many things young people are defying and painted them on walls in an art installation, which they broadcast on Facebook Live. The press release noted the painted walls would serve as "visual representations of the issues young people want to stand up against," adding that the destruction of the walls are a "symbolic act of defiance."
If you want to get involved in Planned Parenthood's "I Defy" campaign, here's what you have to do. Write the word "DEFY" across your knuckles and take a photo of yourself or of your fist for social media. Share the photo on Twitter and Instagram with the hashtag #IDEFY and a few words about what you are defying. Be sure to tag @PPFA and @PlannedParenthood. One person wrote in a Twitter post that they defy "misogyny, patriarchy, white supremacy." Another wrote that they defy toxic masculinity, racial stereotypes and homophobia.
Jessica Marie Garcia explained in the below video why she defies racism. "Black history is American history. Latino history is American history," Garcia said. "Every culture has shaped this country to be what it is. We shouldn't lead in fear, but celebrate each other's differences."
The "I Defy" campaign kicks off just one day after millions of women, trans and gender non-conforming people, and men marched across all seven continents to take a stand against racism, ableism, misogyny, xenophobia, and Islamophobia in the wake of President Donald Trump's inauguration on Jan. 20, 2017.
For more information and to join the campaign, you can visit DefyNow.org, where the group will continue to update the platform with future opportunities to get involved in the fight for reproductive justice for all people.