Here's How To Make Treacle Tarts, Pumpkin Pasties & More Harry Potter Desserts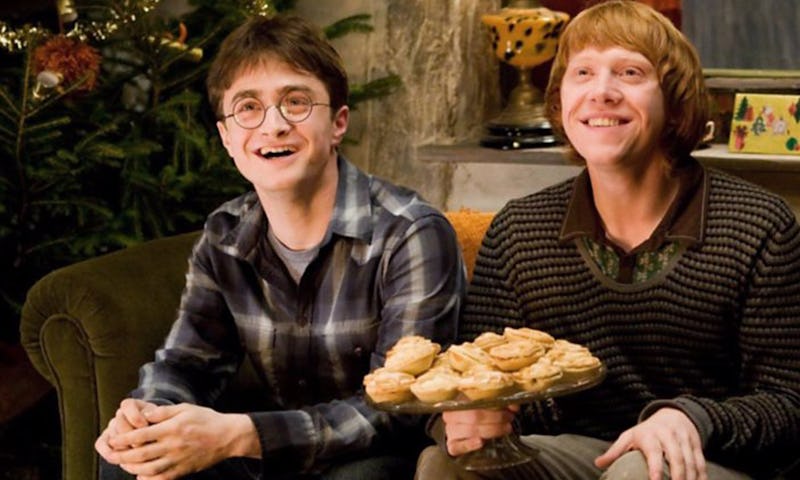 Warner Bros Pictures
Thanksgiving is right around the corner, and if you were hoping to bring something a little more magical than plain old pumpkin pie to the dessert table this year, have no fear, because the internet has once again answered your prayers. With a little bit of time, a set of basic kitchen skills, and some help from food and pop culture YouTuber Binging with Babish, you can recreate three of the most iconic desserts from Harry Potter: pumpkin pasties, a treacle tart, and butterbeer. Is that a Niffler in your pocket, or was that your stomach I heard rumbling?
If you've read the Harry Potter series or seen the epic film adaptations, chances are you've dreamed of living in a fantastical world like theirs. The Dark Lord and his legion of Death Eaters aside, Harry and the rest of the magical community have it all: cool powers muggles could only dream of, the best wizarding school systems in the world, the coolest creatures on earth, and the most delicious food in the universe. While you might never get a chance to play their high-flying sports or get sorted into one of the Hogwarts houses, you don't need to be a witch or wizard to conjure up some of the tasty treats found in the series.
Thanks to Binging with Babish's easy-to-follow instructions, even muggles can recreate the magic of Harry Potter's famous food in the comfort of their own kitchen. To celebrate the release of the U.K. release of his new "cookbook for movie lovers," Eat What You Watch, viral YouTube sensation Binging with Babish shared three recipes inspired by three fan-favorite desserts from Harry Potter. During the seven minute video, Babish bakes a batch of Cho's favorite treat, pumpkin pasties, puts together Harry's preferred dessert, treacle tart, and whips up a frothy serving of Butterbeer to wash it all down.
Merlin's beard, just look at those flakey pumpkin filled pastries and that mouth-watering slice of treacle tart! Does the sight of the tall, creamy pint of Butterbeer make you want to lick your lips, because I know I do. If reading about the delicious food in J.K. Rowling's books or seeing them come to life in the Harry Potter film adaptations didn't already make you want to dine wizard-style, this video certainly will.
You can practically smell the sweet smell of pumpkin flowing from the pasty when Babish breaks open the individual treat for viewers to see. His description of the classic English dessert treacle tart as "caramel pie" is enough to make any muggle's mouth water. Even his Butterbeer, which is slightly alcoholic like the version in the book, is yummy irresistible enough to make a goblin smile.
Binging with Babish has made a name for himself recreating pop culture's most iconic meals. His past videos show viewers how to properly assemble Spongebob's famous Krabby Patty, the right way to make a pot of Twin Peaks coffee, and how to recreate Eleven and Hopper's favorite dish from Stranger Things Vol. 2, the Triple Decker Eggo Extravaganza. One video even attempts to breakdown Rick and Morty's infamous Szechuan Sauce, but for Potterheads, nothing will beat this magical recreation. What more could fans want than a chance to take a bite out of the same dishes shared by the Golden Trio themselves?
Thanksgiving will be here sooner than you can say "Accio, Turkey," so there is no time like the present to try your hand literary-inspired cooking. Just grab your new Harry Potter cookware, watch the full instructional video on Binging with Babish's official YouTube channel, and get ready to have the most amazing Thanksgiving dessert table in No-Maj history, no help from the house-elves required.