How To Make A Hurricane Evacuation Plan If Florence Is Heading Your Way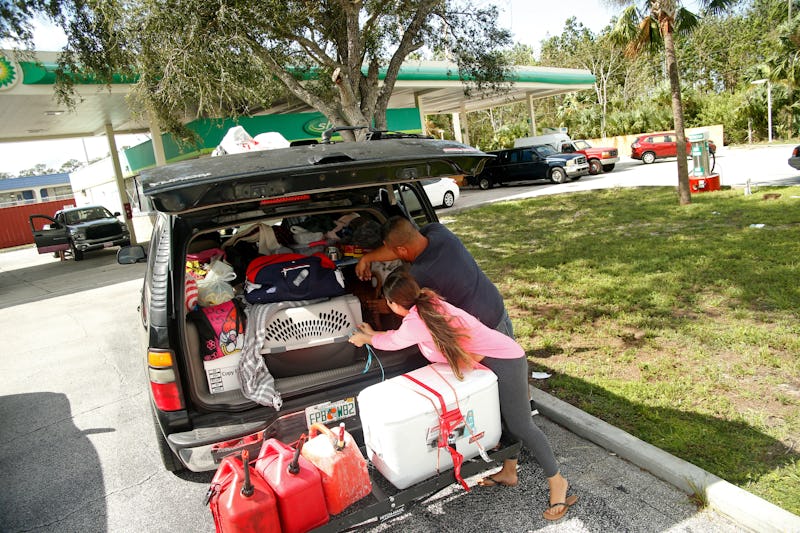 Brian Blanco/Getty Images News/Getty Images
Hurricane Florence is set to make landfall on the East Coast of the United States late this week, arriving as a powerful Category 3 or Category 4 storm. Residents in coastal areas of several states have already been ordered to evacuate and further evacuation orders may be issued as well. If Florence is headed your way, you may want to know more specifics about how to make a hurricane evacuation plan.
Evacuation orders have been given for many residents across the coastal areas of Virginia and North and South Carolina. If you are located in one of these places, it is important to know your evacuation zone/area, which will help you determine if you need to evacuate and which evacuation route to take.
For those in coastal Virginia, you can use this interactive "know your zone" map from the state's emergency management department to determine your evacuation zone. South Carolina has a similar map that you can access to find your zone. North Carolina issues evacuation orders by county and evacuation orders are updated on the state's public safety website. Local authorities typically use evacuation zones and areas to issue tailored safety directives, so be sure to keep an eye out for new announcements.
As part of your evacuation plan, you should also determine potential locations to which you will evacuate. Storm shelters, hotels, and the homes of family and friends are all potential options for evacuation. Ideally, you should have multiple evacuation location options in case certain locations are crowded or roads are blocked and you cannot access a planned destination. Similarly, you should map out multiple potential routes to your evacuation destinations to account for any blockages or closures, using local evacuation route guidance. Many pre-determined evacuation routes are available on states' websites.
Prior to evacuating, it is recommended that you prepare an emergency supply kit to take with you if and when you leave your home. The Virginia Department of Emergency Management has a very helpful checklist of what should be included in your supply kit, which you can access here. Common items include food and water, medical necessities, and important documents, among others. Moreover, you should also completely fill your vehicle's gas tank prior to evacuating and withdraw sufficient cash from an ATM to sustain you for several days in case of a power outage.
If time allows, it is ideal to prepare your home before evacuating, in order to minimize potential storm damage. If possible, Virginia's Department of Emergency Management recommends boarding up windows and glass doors in order to limit breakage and damage. You can find a guide on how to prepare windows for a hurricane via Coastal Living.
Moreover, you should bring any loose objects outside your home (like lawn furniture and planters) indoors to ensure that they do not get swept up in the storm and cause damage. Prior to leaving, you should place valuable items on high surfaces in your house to protect them in case of flooding. It is also recommended that you turn off your gas, water, and electricity and unplug any electronic devices.
As you prepare your evacuation plan, it is important that everyone in your household is on the same page when it comes to evacuation procedures, so make sure you communicate your plans. Additionally, don't forget to bring any household pets with you in the event of an evacuation, as this will help ensure their safety.
There is still time to make an evacuation plan ahead of Florence's arrival and, indeed, if you are located in the storm's path, it is imperative to have one. In addition to making your plan, make sure you follow local news and announcements closely, as they will offer the best updated guidance on what to do as the storm nears your area.