Here's How To Protest Trump's Refugee Ban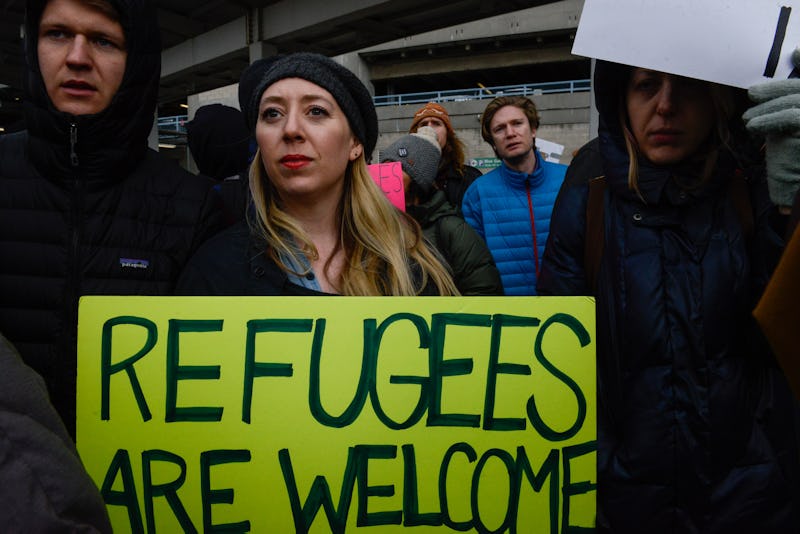 Stephanie Keith/Getty Images News/Getty Images
President Donald Trump's decision to sign an executive order Friday to immediately suspend all refugee admissions into the United States and ban citizens of seven countries from entering the country has left many outraged and eager to take action. While feeling powerless seems to have, unfortunately, become a new daily experience for far too many people since our new president was sworn into office, there are more than a few ways to protest Trump's refugee ban.
The executive order Trump signed at the Pentagon on Friday immediately suspended all refugee admissions into the United States for 120 days while also indefinitely closing the country to Syrian refugees and blocking citizens of Iran, Iraq, Libya, Somalia, Sudan, Syria, and Yemen from entering the country for 90 days even if they hold a valid green card or are a dual citizen. As a result newly arriving refugees, U.S. visa and green-card holders were detained at airports across the country and blocked from entering or re-entering the United States. Unsurprisingly, the order has proved significantly controversial.
In New York, protesters have already gathered in front of Terminal 4's international arrivals area at John F. Kennedy Airport. In Boston, the Massachusetts chapter of the Council on American Islamic Relations (CAIR) has organized a protest rally at Copley Square on Sunday. Across the country, protests have been planned for Saturday afternoon at the Los Angeles federal immigration office in Los Angeles and the San Francisco International Airport in San Francisco. A quick Google or Facebook search can help you discover if, when, and where there might be a protest near you.
If you're unable to find a protest against Trump's executive order happening in your area, take the initiative and organize one yourself. Reach out to local organization that might be interested in partnering with you. Choose a location of some significance and select a date and time. Use social media to get the word out and then gather your similarly-concerned friends.
While peaceful demonstrations are great ways to raise awareness and speak out, they're not the only method of protest you can use to express your rejection of Trump's executive order. Begin by reaching out to your government representatives about how you feel, including President Trump. Tweet Trump via his @POTUS and @realDonaldTrump Twitter accounts. Tell him (respectfully) that you feel refugee resettlement represents a longstanding American value or that you're opposed to policies which require religious discrimination of any kind. Send the White House a message through their official website or via their official Facebook page.
Next, pick up the phone and call your congressional representatives. Lean on them to stand in opposition to Trump's executive order and use their power to urge the president to rethink his action. You can find the contact information for your senators here while the information for your representative in the House can be easily obtained here.
Finally, consider adding your signature to this petition urging Trump not to halt the refugee resettlement program or use religion or country of origin to discriminate. You might also consider signing this petition urging House Speaker Paul Ryan to urge Trump to revoke the executive order.
If the executive order on immigration Trump signed Friday doesn't sit well with you, remember that politicians work for us and there are multiple ways to take action and make your voice heard.