You Can Protest HR-7 Right Now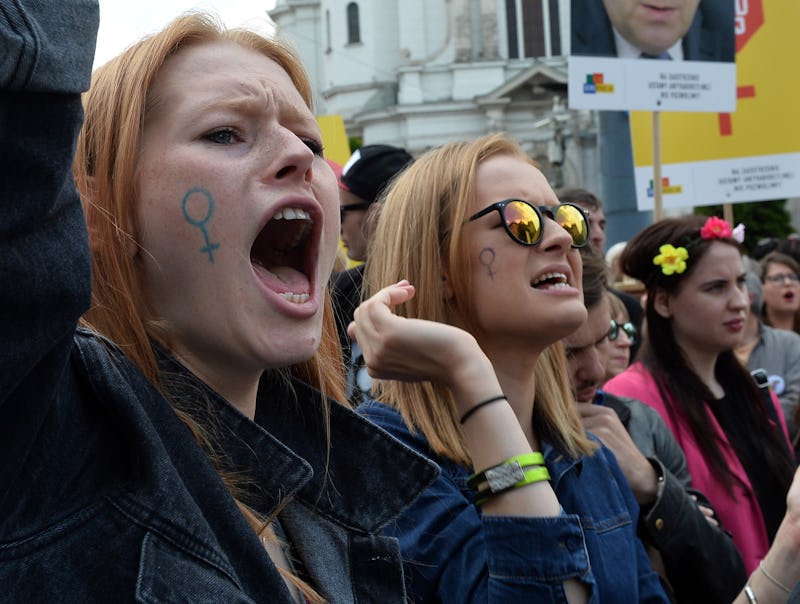 JANEK SKARZYNSKI/AFP/Getty Images
If you couldn't make it to your local women's march on Jan. 21, or are simply fired up and ready to get back out into the streets to fight for your rights, you're in luck — but that's the only luck that comes out of Congress' most recent attack on reproductive rights. The House of Representatives just passed a bill that will make abortions even more expensive and less accessible, and if you want to protest HR-7, the latest anti-abortion legislation, there are a number of ways you can get involved.
This regressive bill, whose full title is "No Taxpayer Funding for Abortion and Abortion Insurance Full Disclosure Act of 2017," passed the Republican-controlled House 238-138, and will be up for vote in the Republican-controlled Senate soon. With the reinstatement of the anti-choice Ronald Reagan-era "global gag rule," President Trump will likely sign the bill into law swiftly if it passes both houses of Congress. Dark legislative and executive prospects aside, however, this bill is also a very early reminder of exactly what so many millions of people were protesting against during the Women's Marches. Now is the time to put our money where our mouths are, and use our voices, phones, wallets, and minds to protest this terrible bill.
Below are seven ways you can protest HR-7 now.