What You Can Do To Help Prevent Trump's Admin From Detaining Migrant Kids Indefinitely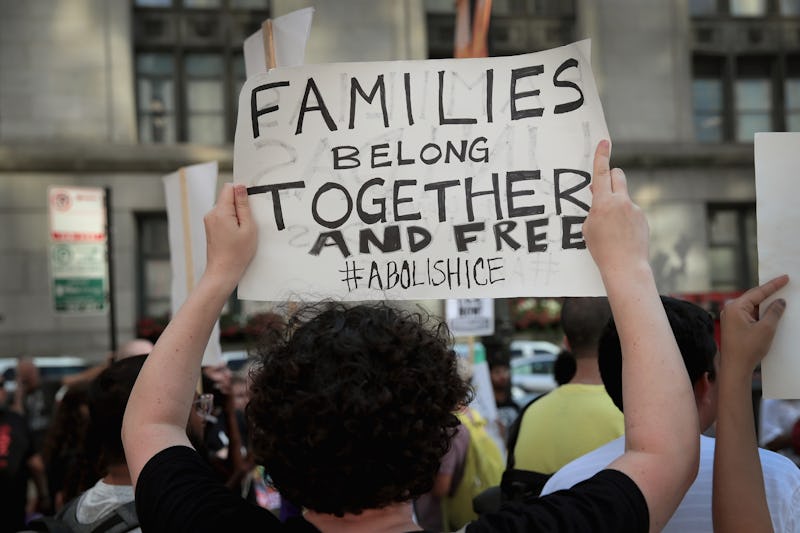 Scott Olson/Getty Images News/Getty Images
Months after separating thousands of migrant children from their parents and locking them in cages across the U.S., the Trump administration has proposed new regulations that, if implemented, would allow it to hold undocumented minors in immigration jails indefinitely. But it's not a done deal yet, and if you'd like to protest Trump's new proposal to detain migrant children indefinitely, you have a number of ways to do so.
At the heart of the issue is the 1997 Flores Agreement Settlement, a court order that, among other things, places limits on how long the government can detain migrant children. Specifically, the agreement orders officials to release families "without unnecessary delay;" a subsequent ruling by the District Court for the Central District of California interpreted this to mean that migrant children must be released "within an average of 20 days" from the time of their detention. Although not a law, the Flores agreement is legally-binding.
The administration is attempting to circumvent the Flores agreement through a new regulation that would allow officials to detain migrant children and there parents for as long as their immigration or asylum cases take to be adjudicated. This would effectively allow the administration to hold migrant children in detention indefinitely.
The proposal is almost certain to be challenged in court. But you don't have to wait until then: Here are some ways you can protest the administration's new proposal to detain undocumented minors indefinitely right now.
First and foremost, you can leave a public comment about the proposal with the federal government. New regulations are required to be published publicly for 60 days before taking effect, so that citizens can review and leave comments on the regulation. This new regulation is still well within the public comment period, and because the government is required to review all of those comments, leaving your concerns there guarantees — in theory, at least — that the administration will hear your concerns.
Another way to show your opposition to the administration's immigration policies is to attend an actual, in-person protest. When Trump began separating undocumented minors from their parents earlier in the year, activists nationwide took to the streets to protest the policy, and while the next mass immigration protest hasn't been scheduled yet, there almost certainly will be one. Keep an eye on the activist groups that sponsored the last demonstrations: MoveOn.org, the Women's March, the ACLU, Amnesty International, the Anti-Defamation League and, really, any other prominent progressive organizations you can think of.
You can also fund efforts to protect immigrant children by donating to any number of pro-immigrant advocacy groups fighting for those childrens' rights. Such organizations include the Florence Immigrant and Refugee Rights Project, the Immigrant Defense Project, the Refugee and Immigrant Center for Education and Legal Services (RAICES) and the National Immigration Law Center. For a list of even more like-minded groups, click here.
Last but certainly not least is the ballot box. These immigration policies are, after all, being enacted and defended by elected officials and their appointees. Although Trump himself isn't up for reelection until 2020, voting for pro-immigrant candidates in the November midterms is a great way to provide a check on the president's power.
While there once was a time when compassionate immigration policies could be found on both sides of the aisle, the hard truth in 2018 is that by and large, Republican candidates and officials support Trump's immigration policies, and Democratic candidates and officials oppose them. There are very few exceptions to this, and that's something to keep in mind when casting your vote in November.
Although Trump's new proposal will likely create enormous controversy, it's not official yet. The plaintiffs in the original Flores lawsuit will have 45 days to challenge it after the 60-day comment is over, at which point a judge — specifically, U.S. District Judge Dolly Gee — will rule on whether the new policy complies with the Flores settlement. Until then, there's plenty of time to protest the administration's moves — and plenty of ways to do so.