How To Protest Tom Price As Secretary Of HHS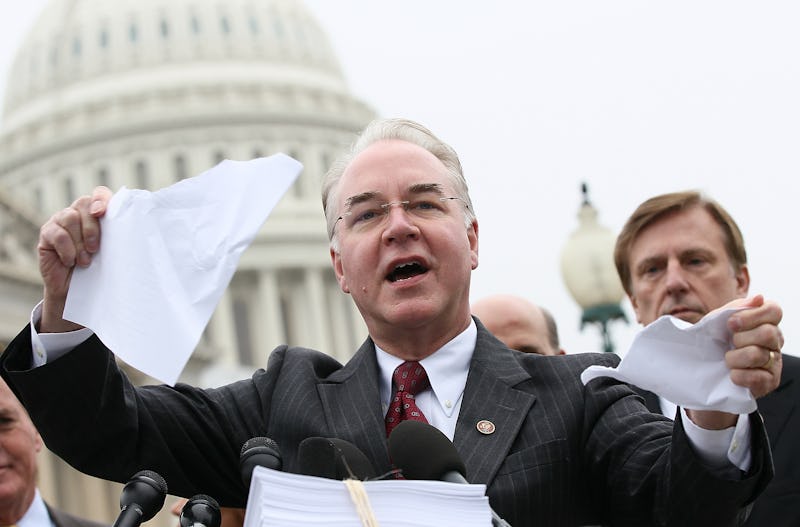 Win McNamee/Getty Images News/Getty Images
Many of President-elect Donald Trump's Cabinet picks have been met with Democratic skepticism, at best, and not all are popular with Republicans, either. But perhaps one of the most controversial choices comes in Rep. Tom Price, the man Trump has tapped to be secretary of health and human services (HHS). The representative from Georgia has been one of the most adamant proponents of the "repeal and replace" Obamacare movement, devoting the past six years in large part to mapping out ways to dismantle the president's signature domestic legislation. As such, Price is a partisan and divisive figure. And for those who want to protest the confirmation of Price, there are a number of ways to do so.
One of the groups speaking out against Price is the Clinician Action Network (CAN), headed by founding members Drs. Manik Chhabra, Navin Vij and Jane Zhu. After learning of the American Medical Association's (AMA) decision to support Price's nomination, the founders of CAN expressed their disappointment and disagreement with that endorsement. Speaking to CBS news, Vij said, "Price's policies are a direct threat to our patients and the environment in which we practice." On their website, CAN encourages physicians and other medical professionals to get involved with advocacy. One simple way to do that is to use the #weCAN hashtag. Another is to write Op-Eds that share their insider perspective.
For those not actively tied to a medical profession, there are a number of other ways to speak out about Price. Traditional modes include contacting senators, who must vote to confirm Price. For that, check out the Senate's handy contact page, which provides the phone number of every senator, and usually an email and/or website link as well. Social media is another quick way to send a message, as many senators have a personal Facebook page that allows other users to directly "message" them. And of course, anyone can tweet a politician.
But according to former congressional staffer Emily Ellsworth, electronic communication is not the best way to go. In a tweet chain, Ellsworth went on to say that writing a letter is better, but still less effective than that other old fashioned medium, the telephone. That's right, if you really want to get an elected official's attention, use the dial feature on your smart phone. Ellsworth said that even most letters get a simple prewritten form response, but with a telephone call, someone has to actually speak with you. And a flood of those can cause a real stir, because much like us, staffers don't actually want to spend their time talking on the phone with a disembodied, disgruntled voice on the other end.
So those who want to protest Price should use their (actual) voice, and call the office of their senator. With his confirmation hearing happening today, time is of the essence. And given his record, there will no doubt be many who wish to ensure their dissenting opinion is heard.