How To Support The National Sexual Assault Hotline Amid The Kavanaugh Allegations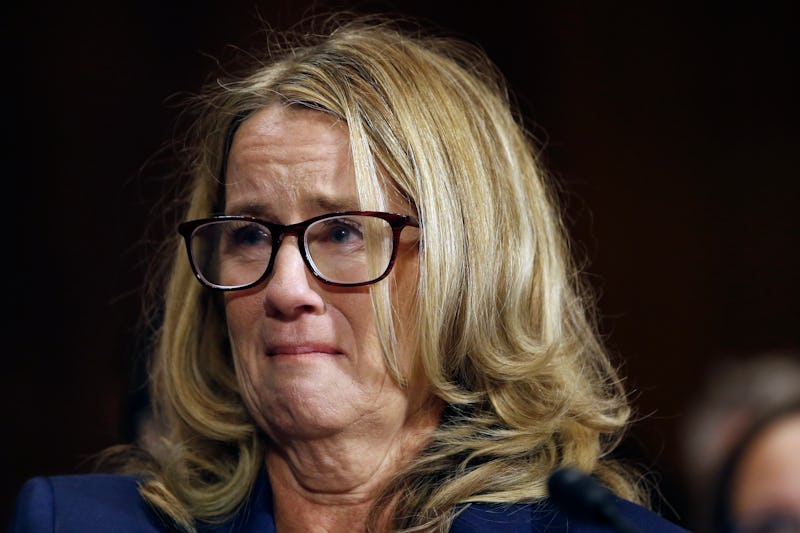 Pool/Getty Images News/Getty Images
Hearing someone's story of sexual assault can trigger memories of your own, and that was demonstrated in the aftermath of Thursday's hearing for Brett Kavanaugh and Christine Blasey Ford when the National Sexual Assault Hotline experienced an enormous spike in call volume. The free, confidential service is one of the most widely accessible resources the country has for helping victims, so now's a great time to lend support to the National Sexual Assault Hotline by either donating, volunteering, or spreading the word about it.
The hotline was created in 1994 and is operated by the Rape, Abuse & Incest National Network, or RAINN. All calls are treated with complete confidentiality; operators listen to your story, provide some information about laws and medical concerns relating to sexual violence, and assist you in figuring out how to seek further help. According to the Feminist Majority Foundation, the organization's telephone and online hotlines (found at online.rainn.org) have aided over 1.4 million people since their inception.
On Thursday, Ford testified in front of the Senate Judiciary Committee that Kavanaugh tried to rape her in the early '80s (he denies this). The Washington Post's David Fahrenthold spoke to RAINN officials on Thursday after the hearing and reported that the hotline was receiving more calls than it had since the peak of the #MeToo movement in the fall of 2017. He tweeted that "many ppl [are] wanting to talk about events from yrs ago." RAINN tweeted that its wait times online were "unprecedented."
RAINN suggests many ways for you to support its activities. You can train to become a volunteer for the hotline, which requires you to be at least 18 years old and to spend at least 10 hours a month taking calls. If you care about the issue of sexual violence, this is a great way to make a direct impact — and you don't even have to leave the home to do it, because you work remotely. Volunteers train over the course of three sessions, some of which they must attend in person. Check the volunteer page regularly to see when a training is scheduled near you.
That's far from the only way to help, though. You can also give a personal donation or plan a wider fundraiser for RAINN. And even just spreading the word about the hotline is really important: People need to know that this free resource is out there for them.
Now is an excellent time to step up as the process moves forward to confirm Kavanaugh, who has been accused by three women of sexual misconduct (he denies all of the allegations). The Senate Judiciary Committee will hold a preliminary vote on Friday and a full vote from the entire chamber could occur next week.
RAINN put out a statement obtained by Bustle about the Kavanaugh confirmation vote on Friday. "It is clear from yesterday's hearing that a postponement of the vote is needed until the FBI reopens a background check to investigate the allegations of sexual assault," said Jodi Omear, the group's vice president of communications. "The risks of a brief delay in a confirmation vote are far less than the risks of a lifetime appointment made in haste."
If you or someone you know has been sexually assaulted, call the National Sexual Assault Telephone Hotline at 800-656-HOPE (4673) or visit online.rainn.org.