Rihanna's Makeup Artist Taught Me How To Do My Highlighter Exactly Like RiH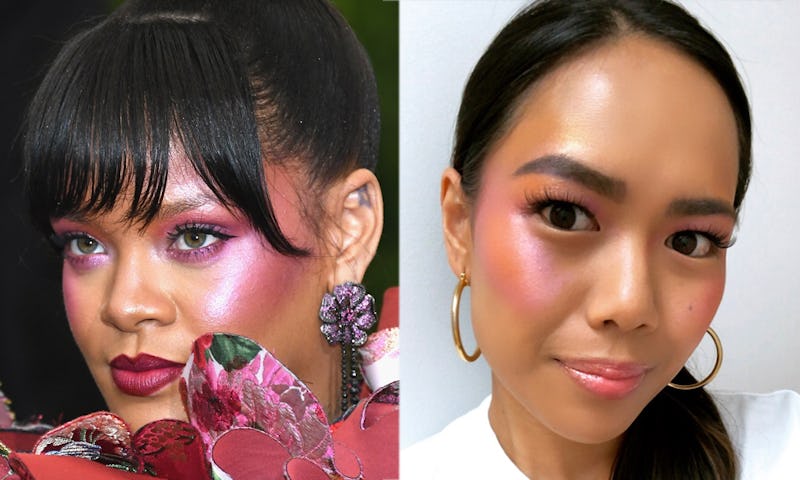 Dia Dipasupil/Getty Images Entertainment/Getty Images; Sara Tan
When it comes to putting together killer ensembles and creating enviable makeup looks, Rihanna does not live by rules or follow trends. There is no limit to her creativity — she does what she wants and wears it with the utmost confidence. This is especially true when it comes to her highlighter game. Last Friday, Rihanna's talented and trusted makeup artist, Priscilla Ono, spilled a huge secret to a room full of beauty editors and YouTubers — she shared exactly how Rihanna likes to wear her Fenty Beauty Killawatt Freestyle Highlighters. While RiH isn't super methodical or strict about how she applies it, there are some specific directions she encourages you to follow if you want to achieve that enviable Fenty glow, or as Ono calls it, "killer radiance."
Rihanna released her first Killwatt Freestyle Highlighters in September, when she launched her Fenty Beauty makeup line. In a video that lives at the bottom of Sephora's page for the product, Rihanna says it took a long time to perfect the cream-to-powder formula, which delivers a highly pigmented shimmer without getting blotchy or glittery. "I wanted these shimmer crystals to feel so minute, so small, that it was a smooth finish," she says.
On Friday, Rihanna and her Fenty Beauty team introduced the newest addition to her line-up: the Killawatt Foil Freestyle Highlighters in three shade duos that were made for summer: a metallic tangerine and magenta (Mimosa Sunrise/ Sangria Sunset), a metallic bronze and mint blue (Sand Castle/ Mint'd Mojito), and a metallic orchid and violet (7daywknd/ Poolside).
These new highligthers deliver a more intense foil finish than the original formula. "These have a lot of pigment, they give you that beautiful color pay-off," Ono explains. Another secret she revealed? Sangria Sunset has existed since the Met Gala in 2017 (!!!) — Rihanna used it to create her insane pink makeup look to complement her Comme Des Garcons outfit. (Yes, RiH has been hiding this pink gold from us for over a year now!)
So, how does Rihanna achieve her brilliant glow? Ono says she likes to get her Fenty Face ready first. "Fenty Face is all about letting skin look like skin, not like makeup on top of skin. We want to see the skin shine through. We want it to look flawless, but still natural," Ono shares. To achieve this base, Ono first primes Rihanna's skin with the Fenty Beauty Primer and then follows up with the now highly acclaimed Pro Filt'r Soft Matte Longwear Foundation.
"It literally covers [everything] — everything vanishes. It's actually called Pro Filtr because it gives the skin a pro filter effect," she tells us. You should use a brush or sponge to blend and buff immediately after applying the foundation, since the formula turns from liquid to a more powdery, soft matte finish almost instantly. "Don't forget underneath your chin, jawline, a little down the neck, and some on the forehead," reminds Ono.
Next, Ono uses the Fenty Beauty Match Stick Matte Skinsticks to contour the face. "It is the same formula as our foundation, so they still have that soft matte finish," says Ono. While she does use the Match Sticks to contour, they are meant to be used however you like. "You know the matchsticks aren't specifically concealers, or specifically contours, they're meant to be anything. You can wear them as a concealer, you can wear them as a contour, as a blush, as an eyeshadow, as a primer."
Once she's done, she'll set the face with the Fenty Beauty Invisimatte Blotting Powder. "Rihanna is all about having a soft matte base, so looking soft matte everywhere except for the areas that you want to glow," says Ono, holding up the powder. "The areas you don't want to look shiny are around the mouth, the chin, under the eyes, and the forehead, above the brows."
And now, for the fun part. Rihanna's moda operandi when using highligther is "go big or go home" and "more is more." Using the Fenty Beauty Cheek-Hugging Highlight Brush, Ono suggests sweeping the highlighter of your choice on your cheek, taking it up to the temples, taking it over your eyes, and then back on the cheeks.
That's right: Rihanna's highlighter technique does not limit the glow to your cheekbones. She likes to wear highlighter on her eyes all the way to her temples.
Think of it this way, says Ono: "You should blur the lines so you never really know where your eyeshadow ends and your blush starts." The result? A beautiful halo effect, just like how Rihanna had her makeup at the Met Gala in 2017.
If it seems like a lot of color at first, that's because it is, but don't be afraid. "We tend to use a bronze tone or a champagne tone [when it comes to highlighters], something that's more glowy. We never really take risks and use brighter colors, but with Rihanna, we love to bend the rules," Ono says.
So if you're second-guessing your colorful highlighter game, just remember to ask yourself: What would Rihanna do? (The most realistic answer — put more on!)