How To Watch The Kavanaugh & Ford Hearing, Because It'll Be A Major Moment In History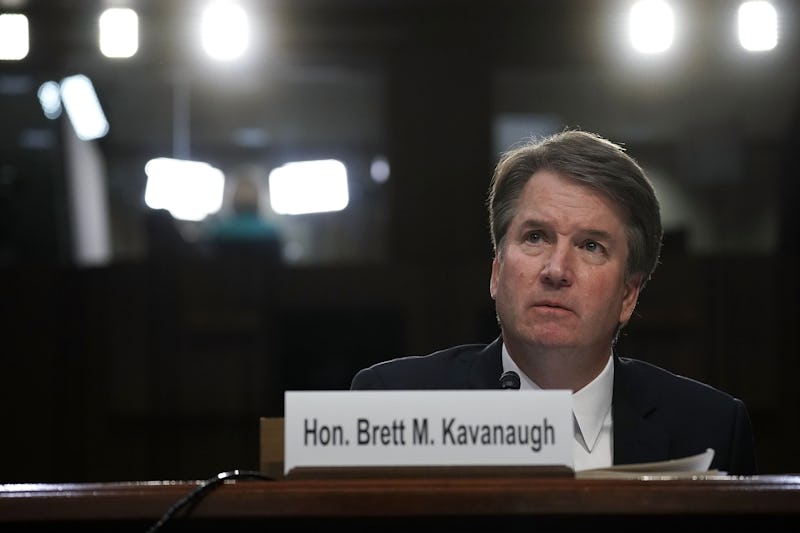 Alex Wong/Getty Images News/Getty Images
For Republican senators on the Senate Judiciary Committee rushing to confirm the next Supreme Court justice before the November midterms, time is of the essence. After a sexual misconduct allegation was brought against Brett Kavanaugh last week, however, the confirmation vote scheduled for Thursday was postponed. An additional hearing to question Kavanaugh about the allegation is scheduled for Monday, though he denies the accusations. If you want to keep up with live coverage, here's how to watch the Kavanaugh and Christine Ford hearing on her allegation against him.
According to the Senate Judiciary Committee's website, the hearing is scheduled for 10 a.m. ET on Thursday. CNN reported that Ford will testify first.
The hearing will be live-streamed directly from the committee's site. Additionally, many major outlets are likely to provide live streams of the hearing, given that they covered Kavanaugh's confirmation hearings earlier this month. C-SPAN's congressional coverage, The New York Times politics video feed, live streaming from The Washington Post's Youtube channel, and Youtube's own national news channel are all good free options. With a subscription through your cable provider, you can also keep up with the hearing coverage online through CNNgo.
In the days since Christine Blasey Ford, Kavanaugh's accuser, revealed her identity, both she and Kavanaugh agreed to testify before the committee, though Ford later said through lawyers that an FBI investigation should be opened before any hearings are conducted. Ford's lawyer Debra Katz later told the committee that Ford would not be appearing at Monday's hearing, and both sides finally settled on a Thursday hearing — without an FBI investigation.
"A hearing on Monday is not possible and the Committee's insistence that it occur then is arbitrary in any event," she wrote in an email, according to the Times. She also reiterated that Ford's "strong preference continues to be for the Senate Judiciary Committee to allow for a full investigation prior to her testimony." In a phone call with committee members on Thursday, Ford's attorneys proposed a hearing for next Thursday, but there is no official word yet from committee chair Sen. Chuck Grassley on whether that will happen, according to Politico. Kavanaugh confirmed to Grassley that he is still willing to testify on Monday.
Republican senators have been pushing for an expeditious vote following Monday's hearing, despite Ford's request for an investigation into her allegation. Some, like Sen. Lindsey Graham of South Carolina, say the request is a stalling tactic to push the vote until after midterm elections. "It is imperative the Judiciary committee move forward on the Kavanaugh nomination and a committee vote be taken ASAP," Graham tweeted on Wednesday.
Democrats disagree, however, arguing that the appointment of a judge to the highest court in the country shouldn't be prioritized over Ford's allegation. "By refusing to treat her allegations properly and by playing games to protect Kavanaugh's nomination, [Republicans are] telling women across the country that they're not to be believed," Sen. Kirsten Gillibrand of New York wrote on Wednesday. "That they are worth less than a man's promotion."
In a letter written to Sen. Dianne Feinstein of California in July, Ford claimed an inebriated Kavanaugh held her down on a bed, groped her, and attempted to remove her clothing at a house party in the 1980s, while the two were in high school. She also alleged that he stifled her screams with his hand while he attempted to force himself on her. "I thought he might inadvertently kill me," Ford told The Washington Post. In a White House statement released on Saturday, Kavanaugh responded, saying, "I categorically and unequivocally deny this allegation. I did not do this back in high school or at any time."