Basically EVERY Celebrity Is Wearing This Princess Diana-Inspired Fashion Trend Now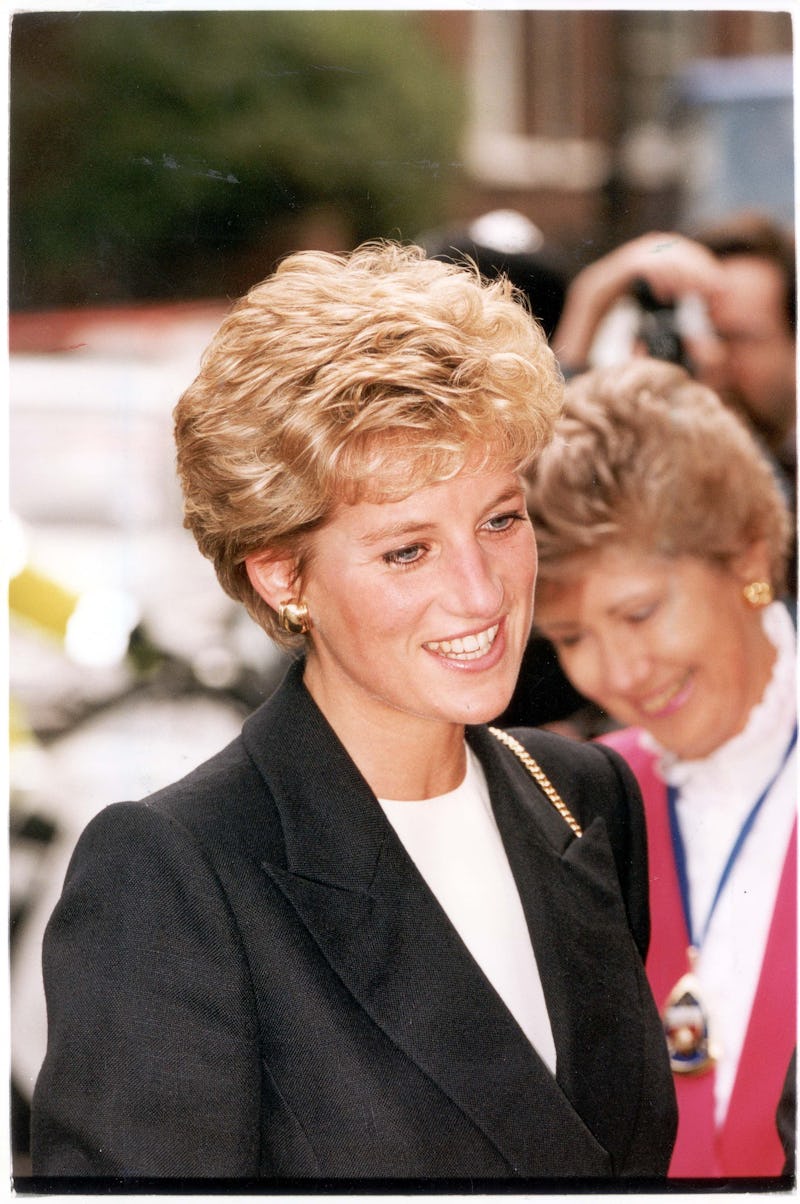 Even though her prime was in the '90s, Princess Diana has become and stayed a fashion icon that has transcended the decades. What she has worn nearly 30 years ago keeps reappearing in today's times, proving she had a natural eye for timeless style. Most recently, Prince Diana's bike shorts have begun to pop up all over streetstyle blogs and paparazzi photos, where celebrities like Hailey Baldwin, Kim Kardashian, and Bella Hadid have made them a regular staple in their wardrobes.
Hailey Baldwin has a penchant for going sporty chic with hers, matching the tights with sleek turtlenecks and chunky dad shoe sneakers. Bella Hadid is more outlandish with her interpretation, choosing to wear her 2XU pants while out clubbing with friends and matching them up with a baby tee and diamond necklace and earrings. She has also matched them with a hounds-tooth jacket (sans a shirt,) slingback heels, a sassy beret, and tiny sunglasses for a Parisian-chic statement. And then let's not forget Kim Kardashian, who has been seen sporting athleisure around the clock thanks to the Yeezy Season 7 drop, where she has been doing some guerrilla marketing for her husband by wearing his new collection around town for the paparazzi, being photographed in an endless stream of metallic bike shorts.
As Harper's Bazzar noted, though, this new Lycra boom isn't anything new, since our favorite Duchess has been rocking these tight fitting shorts as far back as the early '90s. Princess Diana has been known to wear bike shorts to her gym workouts, and has been snapped countless of times leaving a session wearing thigh skimming cycling shorts paired with baggy sweatshirts or hoodies. She especially loved wearing coral, tangerine, and white shorts, fitting the colorful and kitschy workout-wear trends of that era.
In fact, her athleisure outfits have been such an inspiration that designers have pulled from captured images of her to create their modern streetstyle collections. For Off-White's Spring 2018 runway show at Paris Fashion Week, creative director Virgil Abloh created a whole mood board of the Princess's outfits, drawing from them to create his new line.
Last July, Abloh posted the vision board to his Instagram, captioning the image, "one woman, 40 @off____white looks in the works come september." As you can see, there is more than one photo that captures Princess Diana clad in her trademark Spandex pants.
The inspiration only became all the more clear on Abloh's runway, where Naomi Campbell came out in the show's last look: a double-breasted peplum-esque blazer, matched with a pair of white cycling shorts. It was pure Diana.
When asked why he chose her as his muse, Abloh told Vogue, "She was a strong individual that despite her position had her own personal taste and it came out through the clothes. There is no stylist at play here."
When it comes to the formula of wearing bike shorts, Princess Diana perfected the look. She would wear them with unexpected baggy sweatshirts, like this American flag crewneck, complete with dad sneakers and scrunched down socks.
To recreate this with a modern aesthetic, you can take a page out of Baldwin's look and pair your cycling shorts with a sporty turtleneck and top it off with a satin bomber jacket. And then borrow directly from the Duchess by rolling down your socks with your gym shoes.
Or you can take a page out of Kendall Jenner's book and pair the tight fitting shorts with a baggy windbreaker and accessorize with cat eye sunglasses for an unexpected twist.
Princess Diana was all about the zip-ups and sweatshirts when it came to her own riding shorts collection.
Jenner showed how a person could translate the look into 2018, matching her own shorts with a sporty zip-up and a pair of sock booties to make it feel less "spin class" and more "streetstyle chic."
Not sure where to get your own quality bike shorts? Celebs have been donning 2XU left and right, where Hadid wore shorts from the Yeezy x 2XU Season 7 Collection with her diamond accessories and a backpack, and Kim Kardashian wore her own pair with a glitter bra for a sporty-meets-club vibe. She also wore her pair shirtless, because why not?
If you're looking for a fun and interesting new way to update your summer wardrobe, bike shorts are the way to do it this year!