All The Burning Questions We Have About Meghan & Harry's Future Finances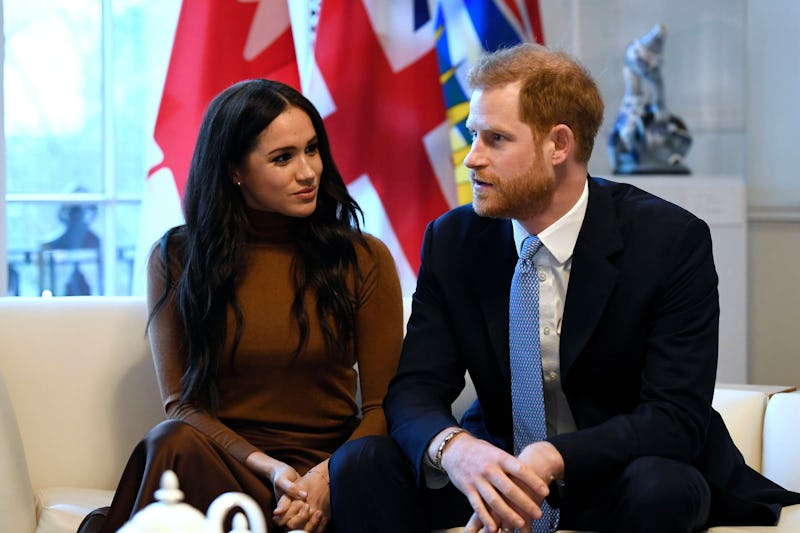 Daniel Leal-Olivas/AP/Shutterstock
Earlier this year, Harry and Meghan, the Duke and Duchess of Sussex, announced they'd be "stepping down" from their senior royal roles. It's been a wild ride – including many (many) questions, an array of announcements, rare personal statements from The Queen and even a heartfelt public speech from Harry. But we still have a million questions, including how will Meghan and Harry become financially independent and what will happen to their brand Sussex Royal?
On Saturday (Jan. 18), Buckingham Palace announced that come spring, the Duke and Duchess will drop their HRH titles and withdraw from royal duties, including official military appointments. On Feb. 19, the for the end of working royal life was named as March 31. Despite initial reactions from newspapers that Meghan and Harry blindsided Buckingham Palace with their "rushed" announcement, it seems now that the decision was made by Harry (not Meghan, as the #Megxit myth proposes, and, in part at least, "with the Queen's blessing".
This isn't the first time Harry and Meghan have done things in their own way, but stepping down from senior royal roles and becoming financially independent will be a huge change for the royal couple.
"This is an entirely new setup and a new model, the likes of which we have never seen before," royal correspondent Victoria Murphy tells Bustle. "There's a lot of questions raised by [Harry and Meghan's] statement. One of the things that's become very clear is that this hasn't been ironed out before this announcement was put out. The members of the royal family don't know what this new model will look like or how it will work in reality, or indeed, whether the British public will accept it."
Here are a few of our most burning questions regarding Harry and Meghan's new "financial independence", the Sussex Royal brand, and what it all really means.
What will they be known as now that they are renouncing their HRH titles?
His/Her Royal Highness is the title they are giving up, but Prince Harry remains a Prince, having been born one, and the couple remain Duke and Duchess of Sussex.
The late Diana, Princess of Wales, lost her HRH status when she divorced Prince Charles, as did Sarah, Duchess of York, in her divorce from Prince Andrew.
Where does Harry and Meghan's money come from?
As senior members of the royal family, Meghan and Harry are strictly "prohibited from earning income in any form." Instead, expenses incurred by their royal duties are covered by the public purse. The Sovereign Grant, a royal funding stream paid for by the UK government, covers 5% of Meghan and Harry's office costs. Though the exact sum was not disclosed, their website states that they intend to "release this financial tie."
The remaining 95% of their "income" comes from the Prince of Wales, generated through his private estate, the Duchy of Cornwall. "But it is not clear whether this [financial backing] would continue or not," states Murphy.
Either way, Meghan and Harry aren't exactly strapped for cash. "We do know that Harry has an estate he inherited from Diana, Princess of Wales, and Meghan has her earnings from Suits," Murphy adds. The Evening Standard places Prince Harry's net worth at £30 million and Town & Country suggest Meghan's is around £3.8 million.
Will they still get funding from Prince Charles?
It is thought - but not confirmed - that the couple received just under £2.5m a year from Prince Charles and his estate, the Duchy of Cornwall. But the most recent statement on the Sussex Royal site says Harry and Meghan will "become privately funded members of the royal family." It's still unclear whether Prince Charles will remain a part of that funding, although previously Harpers Bazaar US royal editor Omid Scobie stated that "Prince Charles will still continue to offer private financial support" to the couple.
How will Meghan and Harry earn a living now that they aren't working royals?
Though the Sussexes agreed to forego all royal duties, a statement issued by Buckingham Palace said they would maintain their private patronages and associations. In his speech, Prince Harry also said that he and Meghan "will continue to lead a life of service".
When they first disclosed their intention to "step back", it was expected that the couple would lend the Sussex Royal brand to a new charitable initiative. Now, it has been confirmed that the couple will drop the word "royal" from their branding.
The Sussex Royal site says although there isn't "any jurisdiction by the monarchy or Cabinet Office over the use of the word 'royal' overseas, the Duke and Duchess of Sussex do not intend to use Sussex Royal or any iteration of the word 'royal' in any territory" from spring 2020.
There has been no word yet on their new branding, but the couple have removed two trademark applications under the Sussex Royal name, reports the Guardian. A statement on their site also revealed they don't plan to start a new foundation, "but rather intend to develop a new way to effect change and complement the efforts made by so many excellent foundations globally."
So how will the Sussexes become financially independent?
The Duke and Duchess have confirmed they have "permission to earn their own income and the ability to pursue their own private charitable interests." However, a 12-month review of their working situation has been put in place.
Royal or not, the couple will remain individuals of great influence and would earn large sums for public appearances or speeches (which would no doubt be carefully curated), potential book deals (the Obama's 2017 book deal was believed to be worth more than £48m), and TV/film roles (Meghan has reportedly already signed a deal with Disney for a voiceover.) In fact, Harry and Meghan proved their worth at their first non-royal engagement. According to reports, the pair were paid up to $1 million (£775,000) to speak at a banking summit in Miami.
But charity work will no doubt be high on their list, as they said in a statement: "The Duke and Duchess of Sussex take great pride in their work and are committed to continuing their charitable endeavours as well as establishing new ones."
Although it's not clear what their charitable plans include, they were spotted having a brainstorming session with Stanford University academics. A Buckingham Palace spokesperson confirmed the talks were focused on the development of their new charitable initiative.
Harry is also set to continue his work with eco-friendly travel initiative Travalyst. Launched by the royal in Sep. 2019, per the Evening Standard, the partnership includes huge travel companies such as TripAdvisor and Booking.com. Its main aim is to help tourists make more environmentally-friendly travel decisions by grading holiday options and advising on carbon emission offsetting. On Feb. 26, the 35-year-old appeared at a Travalyst summit in Edinburgh, telling the crowd to just "call him Harry," the Daily Mail reports.
"There's a question over whether [the couple]they would be able to carry out royal duties without public funding, and then have a private enterprise," says Murphy. "Some people might suggest that those things were conflicting, and if they have a profile as members of the royal family then to be profiting privately, on the side, is questionable."
Any role that Meghan and Harry do take on in the future will likely be highly scrutinised, so don't expect to see them endorsing CBD products any time soon.
Does Prince Harry have a credit score?
"I honestly have no idea," laughs Murphy, but he's only human, right? Surely he must.
Where will the Sussexes live?
The couple confirmed on their site that they intend to keep their Windsor residence, Frogmore Cottage, as their UK home "with the permission of Her Majesty The Queen." As the Guardian reports, it is believed they will spend a considerable amount of time in North America. (Meghan, Harry, and Archie have been residing in Canada for the past few weeks, where Meghan lived while filming Suits).
"There are still a lot of decisions to be taken by the Royal Family, by the Sussexes themselves as to what level of engagement they choose to have," Canadian Prime Minister Justin Trudeau recently told the Global News Network. "We are obviously supportive of their reflections but [we] have responsibilities in that as well. We're not entirely sure what the final decisions will be." He added:
"I think most Canadians are very supportive of having royals be here, but how that looks and what kind of costs are involved, there are still a lot of discussions to be had. There is a general feeling of appreciation for the Sussexes."
Will Meghan and Harry have to pay rent on Frogmore Cottage?
In short, yes. Murphy explains: "We have members of the royal family who — as working royals, carrying out royal duties — are publicly funded, such as William and Kate, obviously Prince Charles and Camilla. We have other members of the royal family who are in the family but have private income and private jobs and don't carry out full time duties, such as Zara, Eugenie and Beatrice. Eugenie plays rent to live in Kensington Palace, whereas William and Kate don't, because they are working royals."
Buckingham Palace said in a statement that Meghan and Harry have "shared their wish to repay Sovereign Grant expenditure" for the refurbishment of Frogmore Cottage. All £2.4m of it.
Who will cover their travel costs?
"All travel arrangements undertaken by The Duke and Duchess in their private time have always been and will continue to be paid for privately and not by UK taxpayers," reads their site. However, in a move that muddies the waters, "Official overseas visits are in support of Her Majesty's Government's objectives and paid for by The Sovereign Grant as well as contributions from the host country, when appropriate."
Now that they are dropping their HRH titles though and are withdrawing from royal duties, they will no longer formally represent the monarch and therefore not have their travel costs covered by The Crown.
What about their security cost?
"They are classified as internationally protected people," says Murphy, "which mandates a certain level of security." Indeed, a Sussex Royal statement said the couple will "continue to require effective security to protect them and their son." But who will be paying for it?
"The provision of armed security by the Metropolitan Police is mandated by the Home Office, a ministerial department of Her Majesty's Government, responsible for security and law and order," their website states, which appears to suggest that they won't be handling the costs themselves.
Editor's note: This article has been updated based on new information becoming available about Harry and Meghan's future plans.
This article was originally published on