You Can Strike From Home On Inauguration Day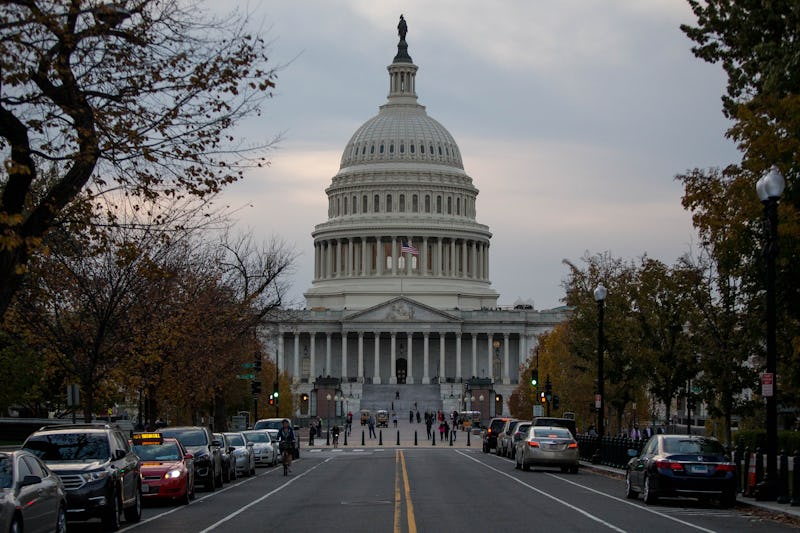 Zach Gibson/Getty Images News/Getty Images
As President-elect Donald Trump's official swearing in approaches, groups across the country are getting ready to protest. Larger than Trump himself, the protests planned for Washington, D.C., New York, and elsewhere are a chance for people to express their displeasure and frustration in a country where there's a serious feeling of inequality toward women and minorities. But if you're not located in one of these cities, what can you do? Fortunately, the National Women's Liberation plans to strike for the inauguration and the following day.
According to the event page, the purpose of the strike is to protest those who have supported Trump, and thereby refused to support women.
Women had many good reasons to strike before this election, but now we have a president-elect who openly disrespects and assaults women, and wants to limit our roles to servant, mother, or sexual plaything. This strike comes from anger at men in our lives who didn't vote, or who voted for Trump, or who aren't taking seriously the threat that his presidency represents. And it is a reaction to an election campaign that-apart from Bernie Sanders in the primary-ignored the universal programs that women and all people need, and that work well in so many other countries, from paid family leave to childcare to national health care.
The Democrats didn't pursue these plans when they could have, and now the Republican-majority Congress is promising to cut, undermine, privatize, or eliminate every social contract from public schools to Medicare to Social Security. They expect the family (that is, WOMEN) to fill in the gaps and pick up the pieces. NO WE WON'T. This strike is a warning. Our work can no longer be taken for granted.
Unlike the Women's March on Washington, which is calling for equality for all and not necessarily a protest against Trump himself, the National Women's Liberation strike is a direct action against Trump and all who support him. How women who want to participate choose to strike is up to them, but it could be anything from refraining to do housework, deciding not to clean up at work, even refusing to smile or wear makeup for the day. The ultimate goal is to assure birth control and abortion access (which the GOP is actively trying to deny, considering their plans to defund Planned Parenthood and repeal Obamacare), $15 minimum wage, child care, and paid parental leave.
According to the event page, the strike will become official once they receive 20,000 pledges to join. Considering at least 150,000 men and women plan via Facebook to attend the Women's March on Washington alone, the strike will hopefully reach the numbers needed easily.
As Trump's administration and agenda solidify in the start of his presidency, it's important for all of us to stand up and fight for what we believe in. Trump and some Republicans are calling for some legislation that will be seriously damaging to women and minorities, and it's our responsibility to make sure elected officials represent the voice of the people rather than their own interests. Any type of strike or march will force them to confront the opposition to their policies and ideas.