Hurricane Florence's Category 2 Rating Doesn't Mean It Won't Be Destructive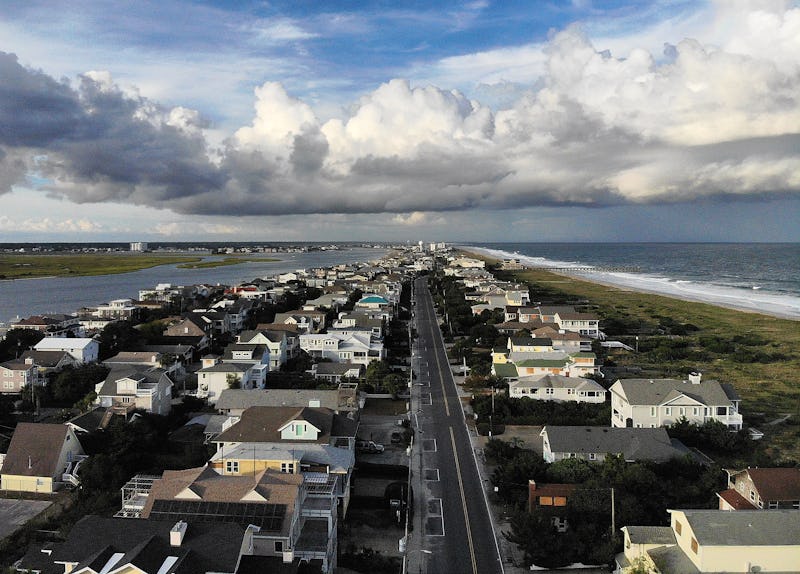 Mark Wilson/Getty Images News/Getty Images
The storm barreling toward the Carolinas is expected to make landfall late Thursday night or early Friday morning. Although the National Hurricane Center downgraded Hurricane Florence to a Category 2 storm Wednesday night, it's still considered a huge safety threat to people in North Carolina, South Carolina, and Virginia. In fact, Florence is bigger than the entire state of North Carolina, according to USA Today, and is expected to linger over the Carolinas.
"I don't care if this goes down to a Category 1," CNN meteorologist Chad Myers said. "We're still going to have a Category 4 storm surge."
Rising sea levels caused by the wind and atmospheric pressure changes a storm brings, known as storm surge, is one of the largest threats posed by Florence. The National Hurricane Center told CNN that Florence's storm surge could rise up to 13 feet — which would mean water coming all the way up to a house's first floor ceiling.
Potential flooding led officials in North Carolina, South Carolina, and Virginia to order mandatory evacuations for their state's coastal areas earlier this week. Meteorologists now warn that Florence could still be devastating despite it dropping down a few categories.
"#HurricanceFlorence moves only 160 miles in 36 hours starting this afternoon. The 4 mph walk is reason why inland flooding is a huge concern for loss of life and property," NBC News meteorologist Bill Karins tweeted.
An advisory issued by the center Thursday morning said a storm surge warning (meaning there is a "danger of life-threatening inundation" from rising water moving inland) from South Santee River, South Carolina to Duck, North Carolina, as well as the Albemarle and Pamlico Sounds. A storm surge watch (meaning there is "a possibility of life-threatening inundation" from rising water) is in effect for an even larger area within the Carolinas up to the Virginia border.
Category 2 hurricanes are categorized by "extremely dangerous winds" that can cause extensive damage, according to the National Hurricane Center's website. Homes could "sustain major roof and siding damage," shallowly rooted trees could be snapped or uprooted, and the affected areas could experience "near-total power loss" that could last from several days to weeks, per the site.
Duke Energy, the Carolinas' main power supplier, has warned that between 1 and 3 million people could lose power this week. Hurricane Florence is "beyond what we have seen in years," Howard Fowler, Duke Energy's incident commander, said in a statement released on Wednesday. He added that power restoration work could take weeks despite the fact that 20,000 people are in place to respond to outages, warning residents to make plans for their homes.
"Florence is a large hurricane," the National Hurricane Center's advisory read. "Hurricane-force winds extend outward up to 80 miles (130 km) from the center and tropical-storm-force winds extend outward up to 195 miles."
If you live along the East Coast, don't mistake Hurricane Florence dropping to a Category 2 storm to mean that the threats have dissipated. It's still just as important to prepare for the storm and evacuate if necessary.