I Didn't Know How To Process My Grandmother's Death Until I Started Wearing Her Jewelry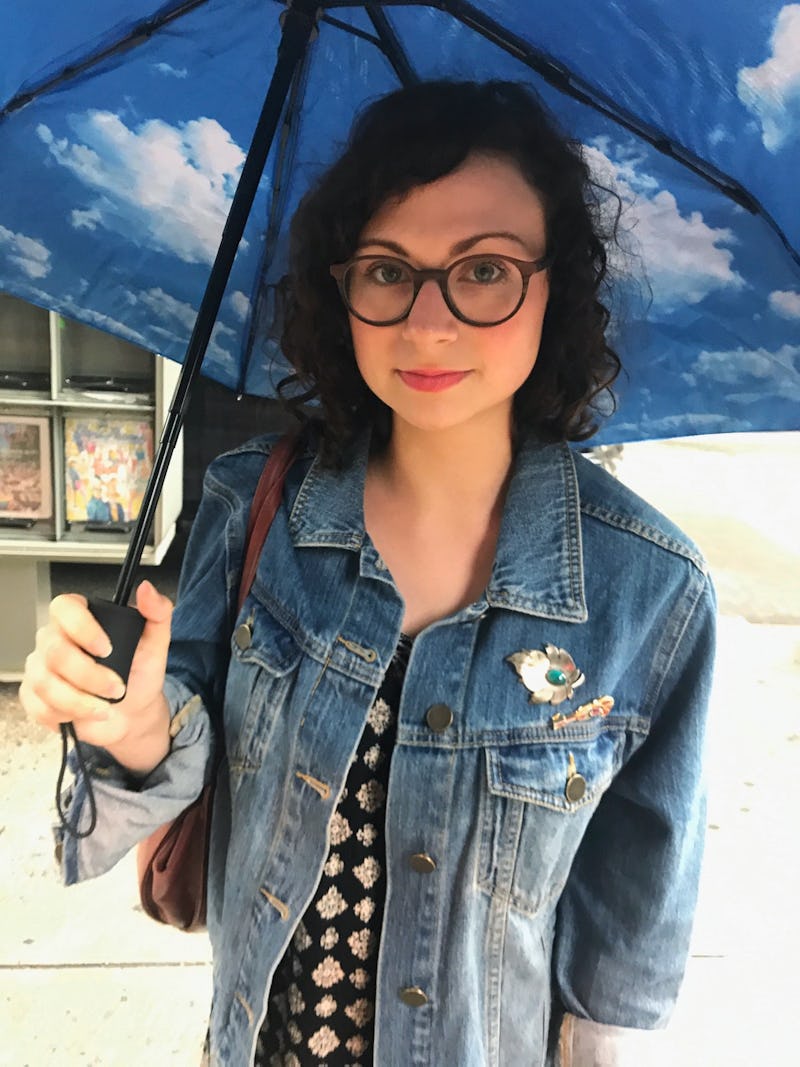 Erin Mayer/Bustle
I don't think I'll ever forget what I was wearing when my Nana died on an otherwise normal day in April: A silk shirt with lobsters printed on it, bellbottom jeans, and a silver choker. Clothing has the power to evoke vivid memories, and so it's not surprising that I think of my late grandmother whenever I see these pieces hanging in my closet, or the constellation scarf she bought me for our last Christmas together, or the gray cotton dress, once reserved for holidays, that I wore to her funeral because nothing else felt right.
Fashion was one of our rituals. Nana's attic was once a treasure trove of vintage gems, some of which had belonged to her mother years before, and as a Vogue-obsessed teenager I lived for the days when she would bring down a selection of accessories, usually purses, for me to choose from. Later, after she got sick, she began give to me more special pieces from her collection.
These gifts were all the more meaningful for the fact that she was not actually my biological grandmother — she was my stepdad's mother. But just as he raised me the same way he would any daughter, she treated me no differently than the grandchildren who were related to her by blood. Our relationship was was indicative of what made our family so special — we all chose each other, in a way.
I didn't feel able to speak at her funeral without breaking down, but I wanted to honor her memory in my own way. It seemed only fitting to do so using the items she had passed down to me, and so I spent two weeks processing my grief by wearing the jewelry and accessories she gave me when she was alive.
Day 1
On the first day, I opted for an old favorite: a wicker basket with a lucite handle and turn-lock closure that my grandma gave me when I was still in high school. This has been one of my favorite items for years, and in fact it feels more like mine than hers. It also happens to remind me of a vintage version of the Cult Gaia bags that are all over my Instagram feed lately. Unfortunately, it's pretty irritating to carry — the closure has a cute habit of undoing itself so the bag falls open while you're going about your business, never letting you forget that you're holding a relic from another time.
Still, it seemed like the perfect choice for sitting on a blanket in Prospect Park drinking iced coffee, which is all I planned to do that day. I paired the bag with denim shorts and a tank top with a comic book-style print that I'm told is actually one of Zayn Malik's tattoos — believe me, I appreciated the irony of carrying Nana's old purse alongside some One Direction merch.
Day 2
My experiment with dressing for the purposes of grief and nostalgia encouraged me to get a little more creative with my outfit than I normally might for a day of errands. I once again utilized my favorite strategy for wearing vintage accessories — pairing them with unmistakably modern clothing, like this silk motorcycle print blouse, maroon American Eagle Outfitters shorts, and a gold-and-brown pendant from Nana's jewelry collection.
This necklace has a very "found at the flea market" vibe, but I was surprised at how easy it was to style an outfit around, especially since it's quite different from my usual jewelry vibe. I hadn't worn this before, and I felt the pain of Nana's loss every time I saw it in my jewelry box. But as I went about my business, so preoccupied with the minutiae of daily life, I forgot I was wearing it. When I went to take it off, I felt guilty for not remembering my grandmother while wearing her necklace.
Day 3
Today was the first time I cried in a few weeks, and it was before I even got dressed. Grief is funny in that way — it never hits you when you expect it. Touching and wearing the same things my grandmother touched and wore hadn't impacted me as much as thinking about the fact that she would never read this piece, which I know she would have loved, just like she always loved seeing me repurpose things she once wore into my wardrobe. When I opened my closet to pick out my outfit for day three, I realized how many items hanging there reminded me of her for one reason or another. Her memory permeated everything.
I needed a pick-me-up, so I put on my favorite dress, a pink and black galaxy print from Reformation. I always style this dress the same way, down to the jewelry, so I took the opportunity to pair it with something unexpected. This bracelet is most interesting pieces Nana had given me — one side features a line of costume pearls and the other a stretchy basketweave of faux gold. It's exactly the kind of slightly gaudy piece that I'm drawn to, and I especially liked how it looked against the star pattern on the dress.
Day 4
I didn't get dressed until much later in the afternoon on day four, and it was mostly to take a walk around my neighborhood while talking to my mom on the phone. I wore a floral and polka-dotted shirt that I bought at Anthropologie several years ago, and that I like precisely because it doesn't seem like something I'd like, the same maroon shorts from the weekend, and my grandmother's gold ring with a jade-colored stone in the center.
I love how it looks stacked next to my engagement ring, which is also an antique and belonged to my fiancé's great-grandmother, but every time I looked down at my hand I was reminded that my grandmother won't be able to attend my wedding this fall. She'd been so excited when I told her I was getting married, and we'd spent much of the last year of her life refusing to acknowledge the fact that she probably wouldn't be there to see it happen.
Day 5
For the first time in a couple of weeks, I got dressed before 9 a.m. I'm still getting used to working from home all the time, which can be lonely even for someone who loves solitude, and I had the idea that putting on a real outfit might help me concentrate better. Still, I wanted to feel as much like I was wearing pajamas as possible, so wore an almost excessively cozy romper. In keeping with the light and airy theme, I only went for one accessory — a ring of my grandmother's with a rainbow of different stones.
It struck me that I don't actually remember seeing Nana wear any of the pieces that I now had in my possession, and that bothered me. I wanted this ring to be a portal between worlds, a bridge between life and death, but it was just an object I'd unearthed at the bottom of a plastic bag. It didn't even remind me of her, not in any real way.
Day 6
I was probably the only person in New York who woke up on this morning in July excited to see that it was grey, raining, and 65 degrees. My favorite purchase in recent months: a light wash — denim jacket from the Who What Wear x Target collection with a giant ruffle across the back — mostly sat in my closet untouched since I brought it home due to the heat, and I couldn't wait to wear it.
I didn't think I'd wear these brooches from Nana anytime soon soon, but I held on to them because I wanted to keep as much of her essence with me as possible, and hoarding her jewelry seemed the most tangible way to do it. I considered brooches outdated — even the word "brooch" sounds old fashioned — but they really aren't so different from the enamel pins that I wear often, and I really liked what they added to my outfit.
Day 7
On day seven, I was attending a barbecue in a community garden, which is pretty much the closest thing to nature you're going to find in NYC. I wore a cheerful lemon print button down by the brand Equipment (its biggest claim to fame being that Lena Dunham also wore it in the sixth season of Girls) that I know my grandmother loved, with a stretchy $5 skirt from H&M that my friends and I all bought in college because it goes with everything.
The gold and jade ring went on the middle finger of my left hand again, and I added a delicate gold filigree ring on the index finger of my right hand. My grandmother's hands were larger than mine, and so I simply wear her rings on whatever fingers fit them best. Sometimes, if I'm really cold, my fingers shrink and they can slip right off if I'm not careful. I'll never get them resized, though — it feels like they still hold the shape of her hands.
Day 8
Wearing Nana's jewelry has both revitalized my wardbrobe and provided me with a vehicle for managing my sadness. Grief still strikes me at unexpected moments — when I spot the latest issue of People on a newsstand and remember reading the magazine at her kitchen table, or when I watch anything on TV about funerals or cancer — but her rings and necklaces serve as tokens of that grief, allowing me to conjure it up when I need it, to control it a little bit.
If I've learned anything from this experience, it's that mourning never really ends — it unfolds over time, coupled with the guilt that comes with returning to your normal life when the person you lost is unable to do the same. I feel saddest when I realize I haven't thought about Nana in awhile. Today I wore another one of her rings, and each time I looked at it, or fiddled with it, or bumped it against something, I remembered her for a brief moment.
Day 9
I felt completely weird and off my game for most of day nine, and my outfit reflected that. I wore a red and white striped T-shirt I've had for years tucked halfway into cropped jeans, black satin slides, a favorite ring that a friend brought back from a trip to Italy, and a gold chain that belonged to Nana. The outfit was cute in my head, but the necklace wasn't quite long enough and kept slipping beneath the neckline of the shirt, making me overly conscious of it.
I felt awkward because of the necklace-slippage situation, and it upset me more than was reasonable, as if choosing the most inconvenient accessory for this shirt was some kind of moral failing. You never look the way you want to on your worst days.
Day 10
I woke up on the tenth day determined to feel better, put on a real bra, and go outside. Nana's accessories were inspiring me to pull out other nostalgia-inducing pieces from my closet, so I wore a very '90s dress that belonged to my mom, and went to work at a coffee shop in my neighborhood for a few hours. The tarnished heart-shaped necklace was another piece of Nana's that I'd found inside a green and gold leather jewelry box that had been hers as a child, complete with a mournful tune and a lazily spinning ceramic ballerina.
Even though I like some of the other jewelry better stylistically, this necklace made me feel the loss more sharply — this little heart pendant was directly connected to memories of my grandmother, not just something she had theoretically worn a few times before passing it down to me.
Day 11
I decided I was going to give that gold chain necklace from the other day another shot for this outfit and layered it it over a crewneck shirt, but it still looked totally awkward, both too short and too long, and I wasn't interested in spending all evening feeling bad about myself because of a necklace.
I swapped it out for a modern piece with cool grey stones that I got this spring at Anthropologie, and wore the stretchy pearl and gold bracelet from my grandmother's collection again. This is quickly becoming one of my favorite pieces of jewelry — I love to wear items that have a deeper meaning besides just looking cute, but this also happens to go with so many of my outfits.
Day 12
By the 12th day of my experiment, I was getting bored with my options. I dug farther back into my jewelry cabinet and tried to find something that I hadn't worn in awhile. After rooting around for a bit, I came across a thick metal ID bracelet with my stepdad's name engraved on the front and the date 3/22/75 on the back.
Technically it had belonged to him, but I still remember the day Nana brought it down from the attic to show me. I wore it obsessively in 10th grade, despite the fact that it was way too big and kept sliding off my wrist to settle around the middle of my hand. Still, it felt a little like cheating, so I added that gold and jade ring that I love so much from Nana's jewelry stash.
Day 13
I was still in a style rut today, but it did encourage me to reach for something I hadn't worn in awhile — a floral dress with a metallic border around the neckline. The last real memory I had of this dress was of watching my two aunt's get married a few summers ago, so it had happy connotations, but in my head it was too "fancy" for a regular day, even though it was made of soft cotton.
I paired it with Nana's braided gold ring with the rainbow of stones. Challenging myself to wear Nana's jewelry has changed the way I think about accessorizing by forcing me to come up with creative, surprising combinations that I probably would have overlooked before.
Day 14
I woke up feeling exhausted and totally uninspired on the last day of my two week challenge. I hadn't slept much the night before and had a busy morning of working and rushing out the door to catch a train home to visit my parents, so I didn't have much time to think about what I was going to wear.
This black and pink polka-dot shirt has Connecticut mom vibes, but it fits well and looks polished even if I pair it with denim shorts. Because the outfit wasn't anything exciting, I wore a ballerina pink version of the slides from earlier in the week to spice it up. The final touch? A necklace from Nana with a square purple stone. I never would have picked this out on my own, but knowing it belonged to her made it special, and it happened to nicely compliment the collared neckline of the shirt.
As I unlatched my grandmother's necklace and laid it out on a side table before on the 14th night, I thought about how time can move both so fast and so slow. There were moments within these two weeks that seemed to drag on, but now that it was over, I kept thinking about that first day, when I packed Nana's wicker purse, which I hadn't carried in a long time in favor of larger and more practical bags. I feel similarly about the nearly 26 years I had with Nana herself — it was my entire life until a few months ago, but now it feels like that was no time at all.