I Tried A Full Face Of Squiggle Makeup To See If This Viral Trend Could Ever Be Cute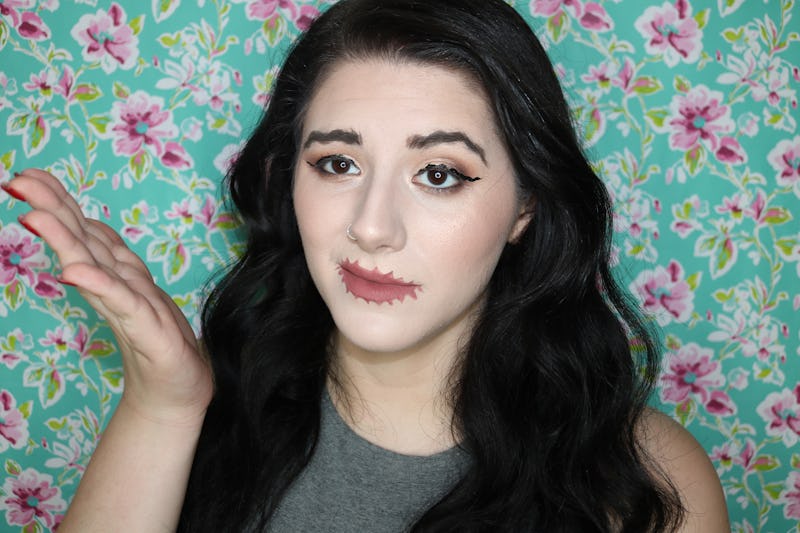 If you're a beauty-loving being with a smartphone, you've definitely seen squiggle makeup by now. What started as an innocent photoshopped image has now turned viral makeup trends topsy turvy. If you were considering attempting this wavy trend IRL, hold steady and allow me.
With the popularity of image editing apps like FaceTune, and the widespread omnipresence of Instagram, bizarre beauty trends have been popping up more and more over the past few years. Most trends, like ribbon eyeliner and feather brows, could potentially attract side eyes from strangers in the Starbucks line, but they're pretty fun regardless. And, thanks to Instagram, Tumblr, YouTube, and Facebook, you can now execute and share makeup with people who "appreciate" your skill.
With that in mind, I decided to try out the squiggle trend everywhere on my face to push its ridiculousness to the limit. Hold on to your hats, my friends, because it will (literally) be a bumpy ride.
1. Brows
To give my face some structure (or lack thereof), I started my look with brows. Because I needed a product I could easily manipulate and create crisp edges with, I choose my Anastasia Beverly Hills DipBrow Pomade in Medium Brown. Using a stiff, thin brow brush, I created the first squiggle at the arch of my brow, which naturally lends itself to an upward squiggle shape. I worked the product toward the tail end of my brows, tapering my squiggles as I went. Then, I created squiggles from the arch inwards, ending at the inner most corner or my brow.
I made sure to match the second brow to the first, creating the same amount and shape of squiggles.
Creating the squiggle brow was not easy. It's hard enough to perfectly match brows that follow the natural hair growth. Creating a brow shape from scratch and getting the two to match was painstaking to say the least. And going against the grain of my hair growth caused the product to get stuck in chunks in my hair. It looked like the consistency of manure. Definitely not glam.
In an attempt to make the brow slightly more professional (?) looking, I fixed any imperfections with my everyday Kat von D Lock-It Concealer Crème. The result was a very sperm-like brow. Which means I'm on the right track? Maybe?
2. Liner
I thought squiggle brows were difficult. Even as a makeup artist, squiggle liner was damn near impossible. I probably could have done a better job with symmetry had I committed myself fully to this look but, TBH, it was very hard to me to put my whole heart and soul into squiggle makeup.
In order to create all the little lumps and bumps, I used Urban Decay's Razor Sharp Water-Resistant Longwear Liquid Eyeliner in Perversion. I created the bottom edge of the squiggle liner first, then I made sure the bumps of the top edge correlated and tapered as it got close to the outer point. Once again, creating symmetry was even more labor-intensive than usual.
3. Lips
The first image of squiggle lips I had ever seen was a photoshopped picture where the squiggle lips were more pointed than rounded. I thought it was the most terrifying thing I had ever seen, enough to scare Pennywise himself, so of course I had to recreate it today.
I used my Kat von D Everlasting Liquid Lipstick in Lolita, because I wanted the strange outline of my mouth to be as fleshy as possible.
I started by filling in my lip the same way I always do. Then, I used an extremely tiny, tapered brush to create the points. For both the upper and the bottom lips, I started at the center of my mouth and worked outward. If I added a point to my right side, I'd immediately add a point to my left side. The result was terrifying. Just terrifying.
I tried to leave my apartment with this atrocity on my face to gauge public reaction. I made it to my corner before turning around because I felt absolutely ridiculous. And I've worn lizard makeup on the subway before.
Overall, this is something I wouldn't recommend to anyone, and I definitely won't be rocking the look again. Then again, there is something to be said for thinking outside of the box when it comes to makeup — and this is about as far outside of the box as your "everyday" look could go.