I Tried ColourPop's Crystal Collection To See If Using Gemstone-Infused Skin Care Actually Makes A Difference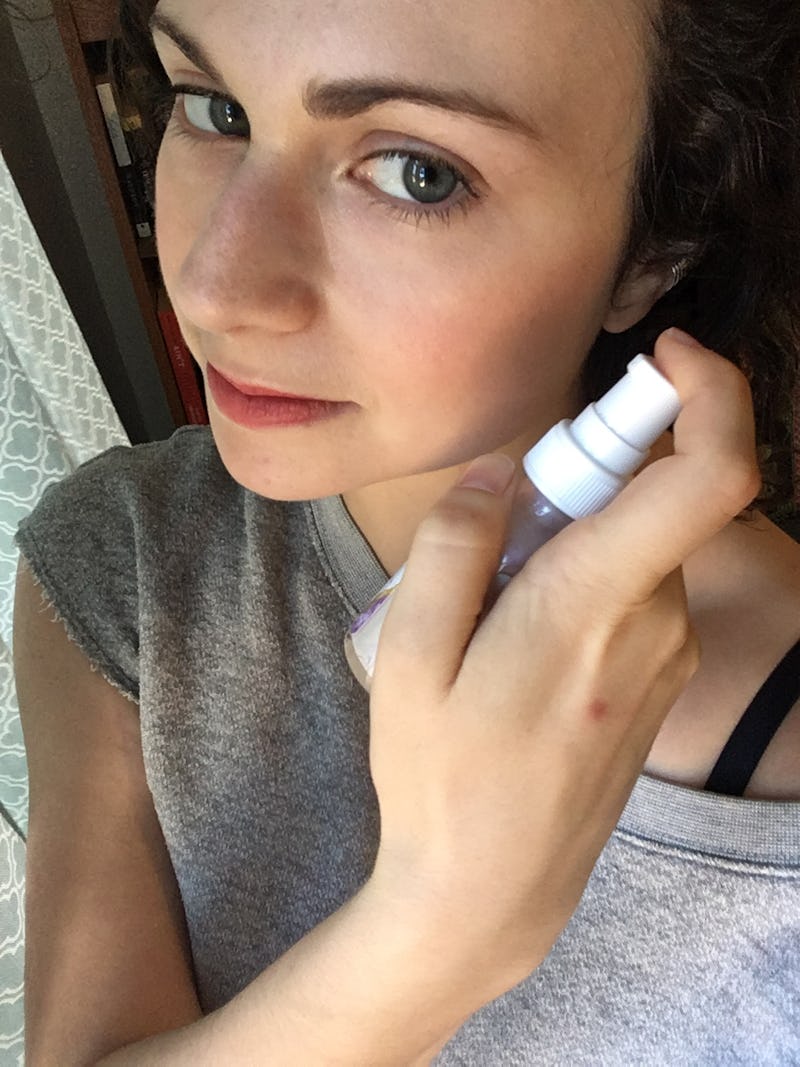 Courtesy Erin Mayer/Bustle
I'm a certified Miracle Ingredient Skeptic, which means I often turn a narrow side-eye toward skin care and makeup trends. In my world, matcha is for spending upwards of $3.75 on at your local coffee shop, and gemstones and crystals are pretty decorations that won't change your life (or your skin). Still, even my cold beauty writer heart melted at first sight of the ColourPop Crystal Collection, released last month. I've sat through every Kylie Cosmetics product release since the brand's inception. I've put snail mucus on my face. I've seen and done it all in the name of beauty. And yet, something about this collection charmed me silly. I had to try it.
ColourPop is known for producing super on-trend products at a fast pace, but this range is unlike anything I'd seen from them before, from the packaging, to the inclusion of real crystals in the formulas. Crystal-infused skin care is fairly well trodden territory, with brands like Sjal and Gemstone Organic on the market and, now, more mainstream beauty companies embracing the concept. But crystal-infused makeup is also gaining momentum. The concept first came to my attention when Glossier released Haloscope, a highlighter formulated with real gemstones (rose quartz, topaz, or moonstone, depending on the shade), in 2016.
The skin care benefits of gemstones, while not completely proven, do have some evidence to back them up. As dermatologist Wendy Bowe told Racked, "Crystals have been used as exfoliators, resulting in brighter complexions, while gold has anti-inflammatory properties and has been used for centuries to treat conditions such as arthritis." And, as Byrdie points out, "[g]emstones have been used for healing purposes for centuries, with believers claiming they do everything from boost energy levels to instill calm."
Certified crystal healer, reiki master, and sound healer Roberta Haley of Body, Spirit, and Stone Therapy tells me, "Whatever we apply onto our body gets absorbed into our skin, and the benefits that we get from using certain crystals in our beauty products can help to amplify those overall results."
She continues, "Incorporating crystals into makeup and skincare can help to enhance the overall effects that we are looking for when we choose our beauty products. I myself use a daily cream moisturizer infused with crushed crystals and essential oils. Another practice I take part in is using a jade facial roller to stimulate lymphatic drainage and to ease stress and pressure in and around the face."
ColourPop's Crystal Collection is unique in that it's a mix of skin care and makeup, with most of the products being multi-purpose. There are four different mini ranges within the larger Crystal Collection. Each one includes a Crysal Priming Spray or Crystal Setting Spray, Crystal Liquid Highlighter, and Crystal Balm infused with one of four crystals: Amethyst, which "can assist with opening up one's intuition and enhancing spiritual awareness," as well as helping to alleviate headaches, migraines, and insomnia, says Haley; aquamarine, known for encouraging "clarity of thought, opening up one's intuition, and clearing one's communication blocks;" rose quartz, which "opens the heart to all types of love including self-love, love of family and friends, and romantic love;" and green aventurine, which can be used "to help with forgiveness and compassion, and to work through unresolved emotional issues. It is also known as a good luck stone to attract success and abundance."
ColourPop generously sent me three of the ranges to test out, and so I set about trying to determine whether amethyst-infused lip balm would really be the key the both a calmer mind and softer lips.
Crystal Balm
I opened the lip balms and started playing with them the second this package arrived at my door. You can't really tell in photographed swatches, but these are pretty pigmented, giving off a beautiful sheen when the light hits just right, while remaining sheer enough to use on top of another lip color. The packaging, a matte white tube with silver lettering, looks very chic and feels sturdy, but was a little stiff and creaky when I twisted up the product.
All three shades go on super creamy. I tested the ones I received — rose quartz, amethyst, and aventurine — for several hours each and, while I can't say I felt particularly loving, calm, or creative, the vitamin E-infused balms certainly were moisturizing. My one complaint is that, after eating and drinking a bit, the opalescent color started to gather in the corners of my mouth, creating an iridescent crusty film, which was especially noticeable with the green-tined aventurine shade.
These balms also taught me an important life lesson — frosted lip colors don't look good on me no matter how badly I want to be a New Age pop witch from the '90s. Amethyst and aventurine, pretty as they are, gave me a charming "I might have hypothermia" vibe because of their respective purple and green tints. The rose quartz, on the other hand, was more subtle and added just a bit of opalescent sheen to my lips, so I would likely wear that one again.
Crystal Priming & Setting Sprays
I was skeptical about the setting and priming sprays at first because they seem like exactly the same thing with slightly different names. But a glance at the ingredient list assuaged my fears — the Rose Quartz Crystal Priming Spray contains rose quartz (obvi), apple extract for hydration, grapefruit extract "for antioxidants and vitamins to reduce free radicals on the skin," and an olive oil-based moisturizing agent, which leaves a dewy, glowing finish on the skin (plus a delightful citrus scent). In addition to aventurine, the Aventurine Crystal Setting Spray lists film former to lock makeup into place, calming cucumber water, lemon extract to "boost Vitamin C and reduce free radicals," honey extract to help control oil production, and hydrating coconut water. Both come packaged in adorable glass bottles, which impressed me because they feel so luxe for something that costs $6.
I sat down to apply my makeup, first spritzing the Rose Quartz Crystal Priming Spray on a bare face. I'd never used a spray-on primer before, but this left me with a subtle glow and did help my Erborian BB creme go on extra smooth, probably due to the olive oil. Since I followed up with the setting spray after my makeup was finished, it's hard to know if either one was better at preserving my look, but I will say that the combo was a force to be reckoned with — my BB creme and concealer were good as new when I washed them off at midnight, and my skin had an extra dose of luminosity. One thing to note: the nozzles on these guys are powerful, so hold the bottle a few inches away from your face to avoid drenching yourself with too much mist. Learn from my mistakes.
Crystal Liquid Highlighters
I'd never understood the obsession with unusual highlighter colors before. Why would you want purple cheekbones, Erin-from-the-past wondered. Well, I'm not afraid to admit when I'm wrong, so here goes: You definitely want purple cheekbones. And green ones. And rose ones.
All three shades of the Crystal Liquid Highlighter are wearable while remaining unique — rose quartz gives off a rose gold sheen, aventura has a green shift, and amethyst is purple-toned. Once again, they are housed in chic glass bottles with pump dispensers. A word of caution: it's easy to pump out too much product, so don't press with a lead finger.
That said, I did dispense more rose quartz highlighter than was strictly necessary on the first go, put it all over my face to avoid wasting it, and still found that I did not look like a disco ball that had been passed around post-pizza at a toddler's birthday party. It's hard to overdo it with these.
It took some experimenting to find the right application process for these highlighters. I first tried blending it out on my cheekbones with a flat-top foundation brush, a process which resulted in the removal of some of my BB creme. The next time around, I mixed the liquid highlighter into my tinted moisturizer for an all-over glow and spread the mixture out on my face using a damp makeup sponge, which looked more natural and even. Once again, I was terrified of channeling a pizza grease-slathered disco ball, and once again my fears were unfounded.
I can't say that the inclusion of crystals in my makeup routine changed my life in any tangible way, but that could be my fault — after all, mindfulness is pretty essential when it comes to allowing crystals to work their magic. Simply putting a product infused with aventurine on my face is not enough to unlock the benefits if your heart and mind aren't in the right place. "[O]ne of the most important things to do is to put [your] own personal intention into the crystal or stone when working with it. Setting an intention gives the crystal a specific job to do, working on your behalf," Haley explains.
Ultimately, the ColourPop Crystal Collection is a whole lot of affordable fun— the individual items in the ColourPop collection are priced between $5 and $9, while a full set of one balm, spray, and highlighter costs $18. If you get just one item from the range, I recommend any one of the Crystal Liquid Highlighters. They are versatile, pretty, and hey, even if having amethyst-infused cheekbones doesn't actually bring more peace and mindfulness to your life, at least looking at yourself in the mirror will be a happier experience.