I Used Caffeine-Infused Beauty Products Instead Of Drinking Coffee For A Week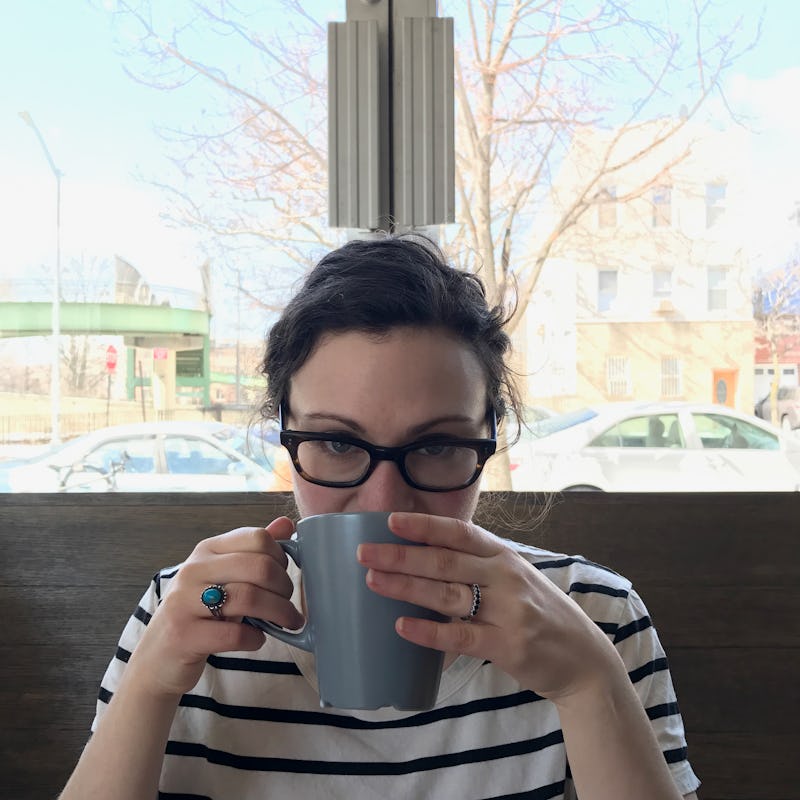 Erin Mayer/Bustle
Coffee is one of the greatest pleasures of my life — my whole existence revolves around that first sip (often taken before I even emerge from bed) that pulls me from the fog of sleep. But, since depriving myself of joy is the other great pleasure of my life, I jumped at the chance to spend a week using coffee beauty products instead of actually drinking coffee. I practically screamed when at my editor when she suggested the idea: "Torment myself for seven days in the name of 'art'? SIGN ME UP!" So, here we are.
I started drinking coffee in earnest when I was 15, for the same reason 15-year- olds make many of their decisions: I had a crush. On a barista, more specifically. Somehow, over the many hours I spent pretending I liked my coffee black because I thought it made me seem "edgy," I fell in love — with the coffee. If my life was a John Green novel, coffee was the quirky love interest who swooped in and saved me from myself.
So yeah, I wasn't optimistic about going seven days without it. Although coffee boasts several skin care benefits, including anti-inflammatory properties, none of the items I collected for this experiment claimed they would actually make getting out of bed easier. Against my better judgement, I still held out some hope that topically applying caffeine-infused concealer and lip balm would help me be a functional human being.
I also ignored my mom's advice to slowly cut back the week before, and instead went into overdrive. I practically hoarded coffee, brewing too much and then saving the leftovers in mason jars, my apartment overflowing with half-full mugs that I sipped on slowly throughout the day. And then it was time. Armed with my small arsenal of coffee-infused beauty items, I steeled myself for seven days of living that caffeine-free life.
Day 1
Even knowing full well that this was going to be rough, nothing could have prepared me for that first day. As I watched my fiancé drink his coffee while I sipped moodily on hibiscus tea at brunch, I finally thought I understood the women on Snapped.
In lieu of my morning cup, I applied the Bodyography Cover and Correct Under Eye Concealer Duo under my eyes. One of the ingredients in the concealer is coffea arabica, which "stimulates circulation which diminishes dark circles," according to the product description. You wouldn't know it from the headache that hit me at about 3 p.m. and didn't let up until, oh, about four days later.
This is a poor coffee substitute but a really nice concealer — it reminds me of Glossier Stretch Concealer, my all-time favorite, in that they are both emollient pot concealers, but the Bodyography one dries down to a matte finish. Throughout the day I also swiped on Lavido's Coffee, Vanilla, Orange & Shea Butter Lip Thera Balm. This, too, did nothing for my energy levels, but it did feel nice.
Day 2
The next morning, my headache had only intensified. I wanted to stay in bed all day (or, preferably, until I could have coffee again) but the dutiful journalist inside me kicked and screamed until I gave in and headed to my vanity. I applied the Bodyography concealer under my eyes again, hoping that the coffee arabica would at least take my dark circles down a notch. First, I swiped a little of the peach color corrector it comes with on with a brush, so at least I didn't look like the zombie I felt like inside.
I began to realize just how much I relied upon caffeine, emotionally as well as physically. Coffee gave me something to look forward to, it linked one moment to the next. I'd never deprived myself of coffee before, or understood the desire to cut back. Some moderate shakiness or heartburn always seemed a worthy tradeoff for being awake, alert, and satisfied. The beauty products I'd replaced caffeine with were nice, but they didn't help me keep my eyes open while staring at my laptop.
Day 3
By the third day, I'd come to terms with the fact that caffeine is the one thing standing between myself and a slow descent into madness. Without it, my worst impulses ran unchecked — I felt anxious, moody, self-pitying. I also came very close to eating body scrub.
I took Lalicious Sugar Coffee Sugar Scrub into the shower with me, figuring it was about time I stepped up my game and used a product that actually reminded me of coffee. In fact, it basically is coffee; it's made with 100 percent Arabica Coffee Beans, cane sugar, and coconut, soybean, and sweet almond oils. And it smells exactly like my morning joe.
This turned out to be a massive problem 72 hours into my withdrawal period. Don't get me wrong, the scrub is awesome. It has a whipped texture, so it feels like you're touching Silly Putty when you dip your hand into the jar. I haven't enjoyed personal hygiene this much since childhood. But I was so tempted to take just one tiny taste.
I managed to restrain myself, thus retaining a small shred of dignity. But it was a close call, believe me.
Day 4
Enter: coffee-based lip scrub, which I applied first thing in the morning on day four. I've used Frank Body Lip Scrub on a "whenever I actually remember to use lip scrub" basis for awhile now, and it's one of my favorites for a few reasons: a) It leaves a soft, moisturizing oil residue behind and b) It tastes delicious. I could eat a full tub of this stuff on a day when I have consumed coffee, so you can imagine how this went down.
The scrub is made of coffee ("of all kinds") beeswax, raw sugar, and three kinds of oil: coconut, macadamia, and grapeseed. So, yes, maybe I "accidentally" licked some of it off my lips before I had a chance to rinse. Sue me.
Despite finally sneaking trace amounts of caffeine into my digestive system via unorthodox means, my mood was still on par with that of a slug who'd been stepped on but not fully crushed to death. And yes, I still had that headache.
Day 5
"Who knew caffeine was the glue that held Erin together," my fiancée said as I rolled over in bed and refused to open my eyes. "Oh, that's right. Everyone."
It's true that the week before I embarked on this dark journey of self discovery, I warned all my friends and family members that they should approach me at their own peril. Everyone was prepared for my tyranny, and I did not disappoint. But day five was a turning point. After sleeping like the dead until 9:30 a.m. I dragged myself out of bed and began to realize that I felt kind of... OK? The headache had diminished, I was less crabby, and able to apply my coffee-based lip balm without resenting its disingenuousness.
A little more about this Lavido lip balm: it smells like licorice, which helped me get through the process of wearing it while not drinking coffee. The texture is unique — velvety rather than sticky. It's also less shiny than most other balms, which makes it perfect for pairing with matte lip colors that you don't want to glossify.
Day 6
The Awaken Purifying Detox Body Wash by The Seaweed Bath Co. is the most energizing coffee-infused item I used all week. In addition to coffee extract, which, "helps to detoxify and protect the skin against damaging free radicals," it contains a blend of rosemary and mint oils, bladderwrack seaweed, French clay, spirulina, and coconut oil. It has such an energizing smell that I was borderline addicted to huffing it after a few days.
If you always feel tired when you shower in the mornings, I highly recommend working this into your routine.
Day 7
I don't want to say this was the longest week of my life, but... it may have been the longest week of my life. Even though I felt more human than I had in days, I was still so ready to guzzle a cup of coffee the next morning. It was the only thing that helped me survive the final 24 hours.
That, and a combination of all the beauty products I'd amassed for this assignment. I was pleasantly surprised by how much I liked each of them, especially the concealer. I'm so picky about concealers — Glossier's is the only one I regularly used prior to discovering Bodyography's Cover and Correct.
There's room for both on my vanity; Bodyography's version has slightly more coverage and is matte rather than dewy. It's a great option for "full glam" makeup, or whenever my dark circles are really coming out to play (i.e. when I haven't had coffee in a week, or was kept awake the night before by creeping dread about our democracy's slow demise).
For all the ways coffee beauty products benefit your skin, they don't hold a handle to the real stuff when you're a full-blown addict. Was I disturbed to find out just how dependant I am on caffeine? Yeah, a little. Did it motivate me to cut back?
Talk to me after my next cup.