ICE Said It's Been Arresting Immigrants Who Come Forward To Sponsor Undocumented Kids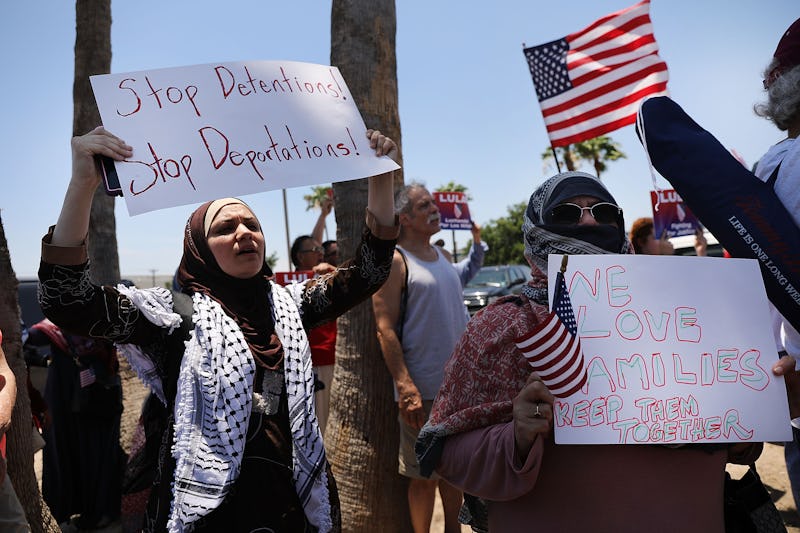 Spencer Platt/Getty Images News/Getty Images
According to congressional testimony from a senior immigration official, ICE arrested undocumented immigrants who volunteered to be "sponsors" for undocumented children in the U.S. The administration had vowed in May to heighten its screening process for those sponsors, and the recent arrests are a result of that change in policy.
"We've arrested 41 individuals thus far that we've identified pursuant to that [memorandum]," ICE official Matthew Albence testified Tuesday. "Close to 80 percent of the [arrested] individuals that are either sponsors or household members of sponsors are here in the country illegally, and a large chunk of those are criminal aliens. So we are continuing to pursue those individuals." The arrests in question were made between July and September, CNN reports.
The memo that Albence referenced was a joint agreement that ICE and the Department of Health and Human Services signed in May; the two agencies agreed to implement stricter background checks and screening processes for sponsors of immigrant children. The Women's Refugee Commission criticized the memo at the time, warning that it "replaced the best interests of children with the operational expediency of immigration enforcement."
When asked to confirm Albence's numbers, two ICE officials told CNN that 29 of the individuals in question were arrested for straightforward immigration violations — that is, being in the country illegally, as opposed to having committed non-immigration-related crimes. As CNN notes, these individuals could have merely been undocumented immigrants living in the same homes as people who offered to be sponsors.
The Trump administration has dramatically ramped up the U.S. government's detention of children. As of Thursday, 13,000 immigrant children were in HHS's custody, according to CNN — more than at any other point in U.S. history, according to the HHS. The average length of detention for children in the government's custody has doubled since 2016, CNN reports, and the rate at which detained children are released has fallen over that same time.
The administration drew international and bipartisan condemnation earlier in the year when it began separating undocumented children from their parents at the border and putting them in cages. Over 2,000 children were separated under this policy; one 6-year-old detainee was reportedly sexually abused at the detention facility she was sent to, while a toddler died after contracting a virus in detention. The Department of Health and Human Services, which contracted the facility at which the child was allegedly sexually abused, did not comment on the reports. After news of the toddler's death was reported, ICE responded by saying that it "takes very seriously the health, safety and welfare of those in our care," though it didn't address the child's death.
Under immense pressure, Trump signed an executive order ending his administration's family separation policy. However, it continued to draw criticism as a result of the fallout from that policy. The administration violated a court-ordered deadline to reunite all of the separated children with their parents, and by Aug. 31, 497 of those children were still in federal custody without their parents, according to documents from an ongoing lawsuit against ICE. That number included 22 children younger than 5 years old and 322 children whose parents were deported without them.
More recently, the administration has been seeking to circumvent a 1997 court order, known as the Flores agreement settlement, that places limits on how long children can be detained by the government.