Even Idris Elba Thought Taylor Swift & Kanye West's Feud Was Awkward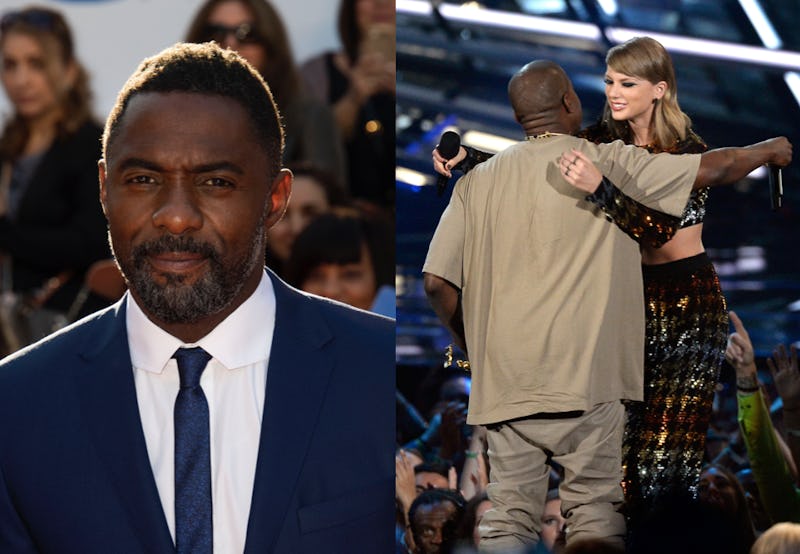 VALERIE MACON/AFP/Getty Images; Kevork Djansezian/Getty Images Entertainment/Getty Images
Taylor Swift would probably love for everybody to be focusing on her new album, which is coming out in about a month on Nov. 10. But just because some of us are susceptible to her charms, that doesn't mean everyone is. Idris Elba commented on Swift and Kanye's feud recently, because apparently their beef was so intense that even he could feel it.
Now, you might be sitting there asking yourself, "What's even the connection between Taylor Swift, Kanye West, and the dude from The Wire?" And the answer is, pretty much nothing. It seems like he doesn't even know the two of them. Still, the 45-year-old actor only spent a few minutes in their presence in 2016, and the tension between them was reportedly so palpable that it seared itself into his memory. That's some powerful stuff, guys.
Elba apparently crossed paths with the two artists at last year's Met Gala, which he happened to be hosting. In a recent game of "Confirm or Deny," which is a format The New York Times uses in some of their interviews, the Brit denied that the May 2016 ceremony was the most stressful night of his life. He told the Times,
"Deny. It was great. I felt really famous that day. It was a bit awkward because Taylor Swift and I had to present an award. We were walking through the crowd and obviously, there was a little beef between Taylor and Kanye. I didn't know any of this. But I was there! And I was, like, 'Oh, this is awks.'"
First of all, the fact that Elba uses the word "awks"? Beyond adorable, and we'll give you a moment, in case you need to lie down and process this new development. OK, we're back. It seems from the actor's phrasing that he wasn't aware of anything between West and Swift going into the event, but that once he arrived, there was no ignoring it.
And that checks out, because as you might recall, the first half of 2016 was a particularly busy time in the life of this feud. In February, Kanye had released his song, "Famous," which included the line, "I feel like me and Taylor might still have sex / I made that b*tch famous." Swift claimed no prior knowledge of the lyric, and that it was misogynistic, but that turned out to apparently not be entirely true.
West's wife Kim Kardashian later produced receipts in the form of Snapchat videos that show the blond popstar excitedly signing on with the song's concept. Whoopsies. (One thing that doesn't show up in the video, however, was Swift being informed about the b-word. And that fact is echoed in a portion of her statement from the time, in which her rep revealed, "Taylor was never made aware of the actual lyric, 'I made that b*tch famous.'")
That Snapchat reveal wouldn't take place until July 2016, so at the Met Gala in May, the two stars were still firmly embroiled in drama. Swift had struck back at the controversial rapper at the Grammys, warning young girls about people who might "try to undercut your success or take credit for your accomplishments or your fame." This was a very clear reference to the title of the track that had caused so much trouble. So things were at a fever pitch, the two singers were at clear odds, and then in strolled Elba to collect his front row seat.
Most of us would probably pay serious money to get in the same room as these two, but in this one scenario, it sounds like it wasn't all that fun. Elba was just there to co-host one of the biggest nights in fashion, and instead he picked up the scent of some secondhand beef while walking through the party. Not the ideal situation.
But hey, it might help you appreciate how much things have calmed down between then and now, even with Swift's release of "Look What You Made Me Do," which seems to contain quite a few references to West. And it also alerted the world to the fact that Elba uses words like "beef" and appreciates the chance to feel famous for a day. Which is cute enough that it makes up for all the rest of this.