If You Could Invite Anyone To Dinner, Who Would You Choose? 6 Authors Share Their Answers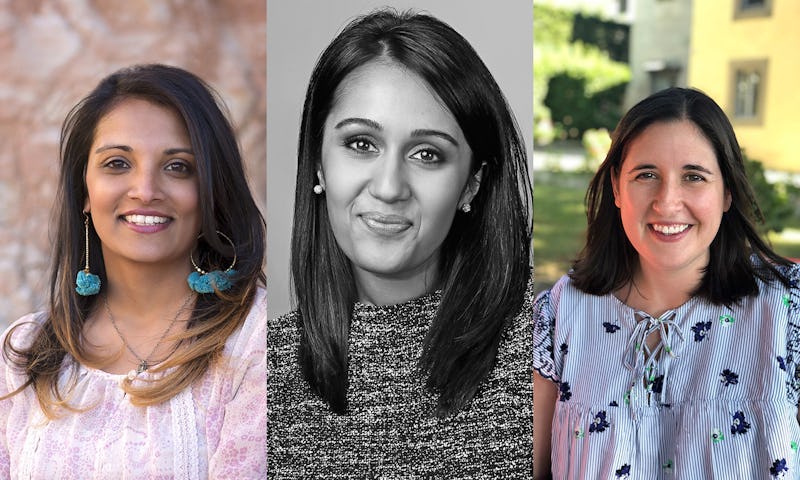 Photos courtesy of Sandhya Menon, Ming Joanis, and Jenny Han
Each month, the Bustle Book Club asks an author to recommend a book they think everyone should read. In January, To All The Boys I've Loved Before author Jenny Han recommended The Dinner List by Rebecca Serle. Follow along with the book club on Bustle and join the conversation on Goodreads.
Chances are astronomically high that, at some point, you've been asked the age-old question, "If you could pick any five people, alive or dead, to invite to a dinner party, who would you choose and why?" It's a classic conversation starter — perfect for first date chit-chat or at-work ice breaker. But, what if your fantasy dinner party actually happened? That's the premise of Rebecca Serle's The Dinner List — Bustle's Book Club pick for the month of January. The book follows heroine Sabrina during one fateful birthday dinner party that includes all those dream guests she mentioned when asked this question.
Bustle reached out to a few authors to find out which five people they would choose for their own life-changing dinner parties, and the answers are just as unique as the women themselves. Like Sabrina, many of these authors say that they would like celebrity icons and beloved family members to have a seat at the table.
Check out the dinner party guests from authors like Ann Brashares and Sandhya Menon below, and use them as inspiration to put your own list together. (You can also share your dinner list on Goodreads!) You never know when the question will come up at your next first date or office party.