Ilana Goes Through A Customary Millennial Post-Breakup Ritual On 'Broad City'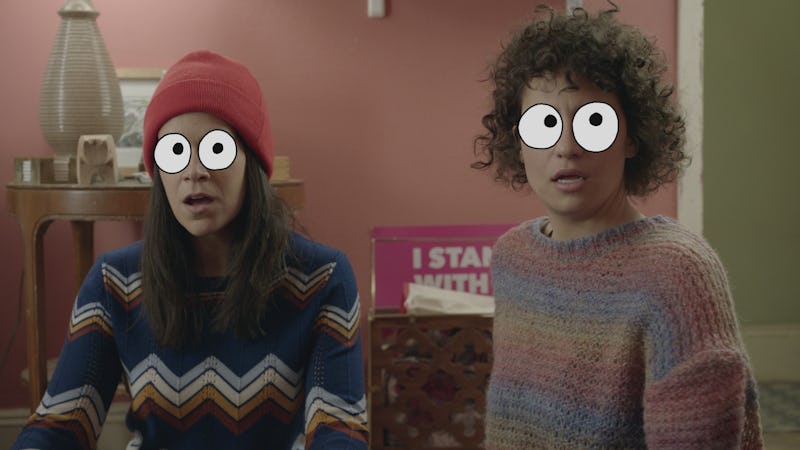 Art by Mike Perry Studio/Photo Courtesy of Comedy Central
Breaking up in the era of social media regularly leads to cyberstalking the ex. Although Ilana has tried to maintain her carefree attitude after Lincoln broke up with her on Broad City in Season 3, the death of their relationship is still very present in Season 4. She already had to confront him face-to-face in "Just The Tips," but the Oct. 11 episode "Mushrooms" has Ilana dealing with Lincoln's internet presence after a mushroom trip.
Although Abbi and Ilana's magic mushroom use dominates the Oct. 11 episode (complete with psychedelic cartoon versions of themselves by artist Mike Perry), the end of the episode has Ilana going down an internet wormhole as an unhealthy coping mechanism due to Lincoln having a girlfriend. And it's yet another realistic, albeit very delayed, step forward for Ilana.
Abbi and Ilana decide to spend their day off in the city tripping on mushrooms, but real life intervenes when Abbi's boss Dara (Wanda Sykes) asks her to bring macarons to her house for a party. While at the party, Ilana encounters a beautiful woman (Alysia Reiner of Orange Is The New Black) who invites Ilana to have a threesome with her and her equally beautiful partner. It's a dream come true for the sexually adventurous Ilana, but the drugs and her feelings for Lincoln get in the way.
While Ilana has never passed up an opportunity for sexual exploration, her mind is not allowing her body to cooperate. (Ah, yes, that pesky mind-body connection.) Even when presented with the chance to peg a man — something she was so proud of Abbi for doing back in Season 2 — she is unable to perform. But her inability to get turned on is only compounded by the fact that she starts seeing hallucinations of a cartoon Lincoln in a toothbrush and in a suitcase. As always, he's delightful and even encourages Ilana to pursue her pegasus dreams, but it only makes matters worse.
Ilana most likely would have seen the threesome through if she hadn't been tripping, but the drugs brought out a side of her that she likes to suppress. Even though she isn't aroused, she wants to prove how "hot and fun" she is, because that's how she sees herself. She's convinced that it's in her nature to want this sexually wild adventure — and while it normally is, her compromised mental state leads her to think about Lincoln, proving that she might have more conventional feelings about love than she realized. After all, "Love is so cool."
Ilana sees Lincoln earlier in her trip, but him entering her brain as she's trying to give herself a sexual pep talk officially puts an end to her sexual fantasy come true. And no amount of punching her vagina will help. This incident leads to Ilana finally doing the inevitable — looking at Lincoln's social media to torture herself with posts about him and his girlfriend — in the fourth and final act of the episode. It's a familiar scene for modern daters and even with Abbi by her side and copious amounts of weed, it's still a rough emotional journey. Although Ilana's usually good at burying her feelings and deluding herself, you can tell she barely believes it when she says, "I wouldn't want that kind of intimacy."
Her mushroom-induced visions of Lincoln make her unable to embark on her ultimate sex fantasy (the pegging!), and so she deals with it in the most millennial way possible — by going down an evil internet spiral of Lincoln's social media pages. She decides to defriend and unfollow him on all his accounts, and while it's out of character for the person that Ilana thinks she is, it's a sacred rite of passage when it comes to breaking up.
So while "Mushrooms" doesn't seem to be the last that Broad City fans will see of Lincoln (cartoon version or otherwise) in Season 4, the episode may mark Ilana's true acceptance that Lincoln has moved on. And don't worry, Ilana fans — there's sure to be more sexually adventurous opportunities in your girl's future, if that's what she really desires.