Ilana Glazer's Sexual Harassment Story Busts A Major Myth About How To Stop It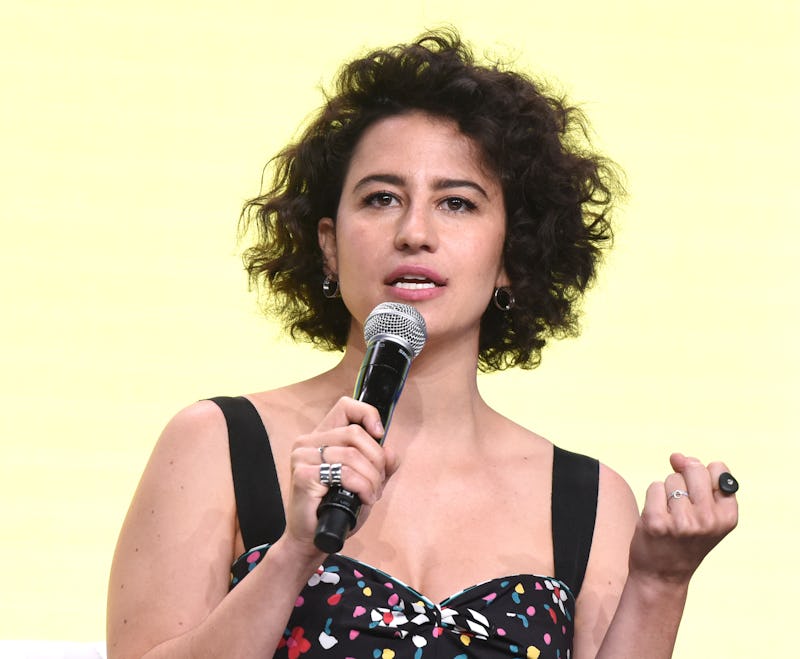 Vivien Killilea/Getty Images Entertainment/Getty Images
Another famous woman is speaking up about multiple times she has been mistreated. Ilana Glazer was sexually harassed while on he job, she detailed in an Instagram post on Wednesday. The Broad City co-creator wrote, "I've been sexually harassed countless times. In middle school, in high school — by more teachers than students! At work as a waitress, at work as a showrunner! Same same same — I was a woman in both places."
Glazer went onto say she even fired two men, a background actor and a sound guy, due to them allegedly sexually harassing her. She added,
I was asked 'are you sure?' Hm, okay yeah lemme think for a sec — YEAH I'M F*CKING SURE. Cuz getting sexually harassed seems to be constant, but having the opportunity to do something about it is rare.
Glazer, alongside Abbi Jacobson, created her own comedy series, Broad City, which airs on Comedy Central. She also stars in it. It's received five Critics' Choice Television Award nominations. Glazer and her show have impacted women in major ways. So, to hear her claim that she's been sexually harassed by men working on the set of her show, well, it's infuriating.
Also, Glazer says she was questioned after deciding to fire the two men who allegedly harassed her. So, not only does she claim she was harassed, but as the boss her decision wasn't just accepted. She decided to use the power that she has as a showrunner to do something that she claims was to protect herself — and that shouldn't ever be cross-examined by anyone.
More women in power in the entertainment business and elsewhere is something that the world needs, but if a female showrunner, a woman in a power position, is susceptible to sexual misconduct, then there's no hope that this type of abusive behavior will ever come to an end unless men change. If harassers themselves don't stop, the inappropriate behavior that they put upon women won't ever cease — and especially not due to a woman being in power because, actually, men can be more likely to harass a woman in power.
According to a 2012 study conducted by sociologists at the University of Maine and University of Minnesota, "Women who break the glass ceiling of professional advancement also face increased incidence of sexual harassment from coworkers and subordinates." As detailed by the University of Maine, "Traditional characterizations of workplace harassment typically portray male supervisors harassing female subordinates, but 'power-threat' theories suggest that women in authority may be more frequent targets." The study's researchers also state, "Sexual harassment can serve as an equalizer against women in power, motivated more by control and domination than by sexual desire."
After surveying 2,235 full-time and part-time female employees in 2015, Cosmopolitan found one in three women has been sexually harassed at work. As reported by Vice in April, a study conducted by three researchers from Washington State University, Northwestern University, and Bocconi University "...discovered many men in subordinate positions feel threatened by female superiors and behave more assertively toward them than they would a male manager." So, yes, as the boss, Glazer was in the position to do something about it by firing those who allegedly harassed her, but that doesn't negate the fact that they, allegedly, still felt the need to harass her, the woman in charge of them.
Over the past couple weeks, sexual assault and harassment victims have continued to come forward on the heels of the allegations made against Harvey Weinstein in reports by both The New York Times and The New Yorker, and by his many accusers who spoke out outside of the reports. (Weinstein plans to sue the New York Times, according to his attorney, claiming their story is "saturated with false and defamatory statements." Weinstein's spokesperson denied the "allegations of non-consexual sex" to The New Yorker.)
To hear the same disturbing and emotional allegations of harassment, abuse, and rape over and over again is tiring, to say the least. And to learn someone like Glazer alleges she has been sexually harassed by a subordinate is angering. Not to mention, she also claims she was sexually harassed by a "creepyass doctor" last year and filed a complaint against him in New York City. When is it going to stop?
For anyone who may think that women in power can put a stop to sexual misconduct, yes, they may be able to punish the predator in a sense, but that doesn't mean they won't stop being on the receiving end of violating behavior. Until harassers alter their ways, more women being in power won't be enough to end sexual harassment and sexual assault once and for all.
If you or someone you know has been sexually assaulted, call the National Sexual Assault Telephone Hotline at 800-656-HOPE (4673) or visit online.rainn.org.