Attention Too Faced Fans: A New Chocolate Palette Is On Its Way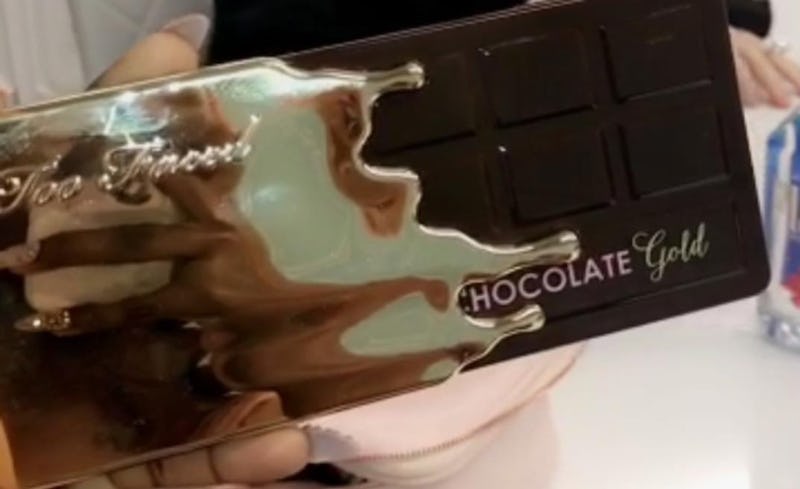 Snapchat/@jackieaina
While the day's news has been pretty depressing to say the least, here's something that might cheer you up a bit. YouTube star Jackie Aina gave followers a sneak peek of the new Too Faced Chocolate Gold palette and it's unlike any of the other chocolate palettes from the food-inspired brand.
Aina, aka La Bronze James, was at some sort of meeting with Too Faced's Co-Founder and Chief Creative Officer Jerrod Blandino where she gave her Snapchat fans a look at the Chocolate Gold Palette featuring 12 new bright metallic shades.
The Snapchat videos first show Aina filming the outside of the Chocolate Gold palette. The packaging looks exactly like a partially unwrapped, melted chocolate bar with pretty gold drip detailing.
Aina also showed a view of what's inside with color swatches on her arm. From the looks of the swatches, there's going to be 12 metallic shades, including a gold, pink, green, purple — some never-before-seen colors!
While there has been no word on a release date from Too Faced, it's clear the palette is in its final stages because Blandino was heard saying that "it was expensive to make" in the background of the Snapchat. Of course, it sounded like Blandino was joking with Aina, but we're hoping it doesn't make the palette too expensive for beauty junkies who love Too Faced's chocolate-themed products.
Blandino couldn't contain his excitement when Aina was showing off the palette!
Look at how pretty these 12 new shades are!
Follow Too Faced's Instagram account closely to see when they announce the Chocolate Gold palette's release date!