Zach Braff's New Comedy Is Inspired By The Creator Of Some Of Your Favorite Podcasts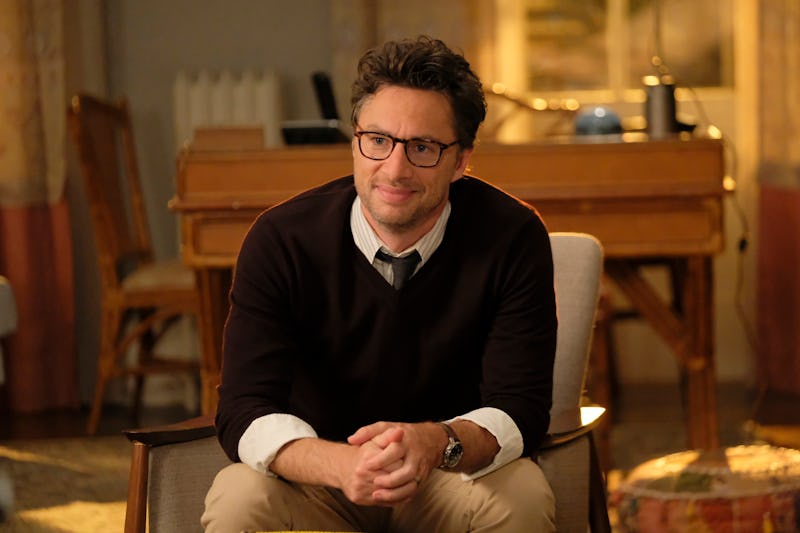 ABC/Tony Rivetti
Alex, Inc. may have the ultimate modern comedy premise — a man, sick of his radio producer life, quits his job and decides to start a podcast company. Zach Braff plays the man whose big life change sets the course of events for the rest of the series, and Alex Schuman from Alex, Inc. is actually based on a real person — Alex Blumberg, CEO of podcast company Gimlet Media.
In the series, Alex must balance starting over mid-career with spending time with his family — including his wife and two kids. The official ABC synopsis reads, in part, "Based on Alex Blumberg's successful podcast StartUp, comedy series Alex, Inc. is all about the things that happen, the good, the bad and the ugly, when a journalist and family man quits his job to start his own company. He quickly discovers it's going to be a lot harder than he thought." Braff told The Hollywood Reporter why this character spoke to him, saying, "I enjoy being the guy who is in over his head."
According to his LinkedIn, Blumberg is an entrepreneur who worked at NPR before starting his own company, Gimlet Media. "I left a long career in public radio to launch my most recent endeavor, a for-profit podcast network focusing on narrative journalism and story-telling," his bio reads. "Our first show on the network, StartUp, is a podcast documenting the launching of our podcast business." StartUp is launching its sixth season in early April, and Gimlet Media podcasts, according to its official website, are downloaded about 12 million times a month.
Like most fictionalized television series, Alex, Inc. has created a new world of characters, using the true story behind it as inspiration. But a lot of the initial feelings Blumberg had about starting over with a new company may be reflected in the show. Blumberg spoke to 99U about creating his podcast startup, saying:
"I started doing podcasts about all different phases of building this business (Gimlet Media). And it was sort of me bumbling my way through this thing. What I realized as I was like putting this out there, I got all these emails from people and tweets and stuff, it was like 'Oh my God I had the exact same thing happen to me.' And I realized that the story that you tell is that you're killing it all the time but deep inside every single person who has ever tried to start a business... has gone through these things."
Alex, Inc. creator Matt Tarses spoke to the Washington Post about how a story about a podcaster — a very specific career — can connect to a wider audience. "We wanted to tell a story about someone trying to pursue his version of the American Dream, someone doing something he felt he would be good at and that he could change the world a little bit by doing," he said. "I think that's universal." So while the show's promos indicate that a lot of the comedy will come from Shuman trying to work out what exactly he wants to talk about on his podcast and what he's going to call it, Tarses wants dreamers of all kinds to see themselves in this guy.
Blumberg, like Alex on the show, is married and has two children. His wife Nazanin Rafsanjani works as a creative director at Gimlet Media. On the show, Schuman's wife, Arunima "Rooni" Schuman (Tiya Sircar), is a public defender — not involved in his business. And the TV character's kids are older, meaning that they can actually weigh in on his new project. According to the Washington Post article, Blumberg's own children were just toddlers when he left NPR for StartUp. But both men are similarly dedicated to their families.
Can Alex Schuman be as successful as his real-life inspiration? According to the real entrepreneur, it'll take a lot of faith, elbow grease, and support from his family to get his company off the ground.