Alexander Skarsgard Is Bald Now & Honestly This Is A Lot To Process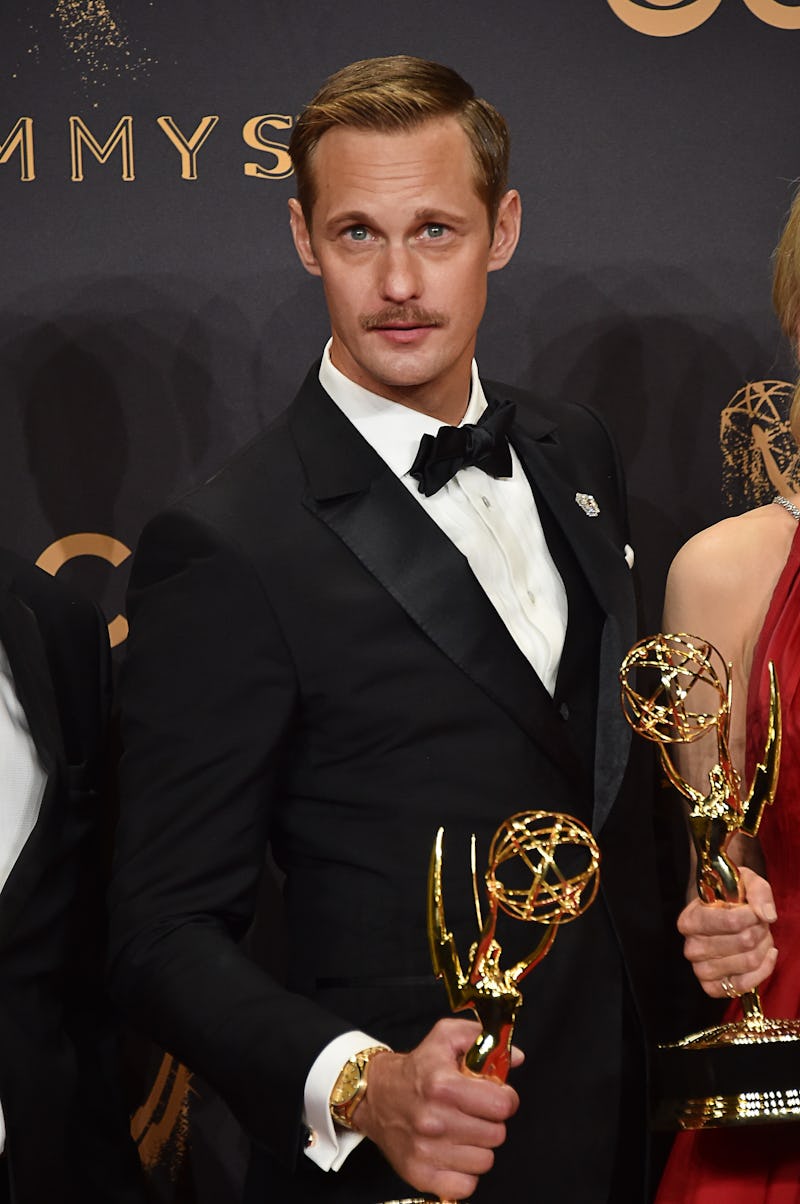 Alberto E. Rodriguez/Getty Images Entertainment/Getty Images
Alexander Skarsgård is now that creepy distant uncle you try to avoid at family dinners. This is not an exaggeration. Grab a brown paper bag to breathe into before reading more, because you're going to need it: Skarsgård is now half-bald, and he would like you to call him "Uncle Alex."
OK, that might be an exaggeration, but he really is rocking a hairless head now. Like most serious actors and actresses, he's willing to submit himself to a few alterations to really bring a role to life. Renee Zellweger gained 30 pounds to play her iconic, lovable role in Bridget Jones. Matthew McConaughey lost 38 pounds for his Oscar nominated role in Dallas Buyers Club. And Skarsgård has submitted his head to male pattern baldness for the sake of his craft. But rather than being completely bald, he's still rocking a few tufts of hair at his sides.
According to InStyle, this transformation is for an upcoming film entitled The Hummingbird Project, a film about two high-frequency traders who go head to head with an old boss in an effort to make millions in a fiber-optic cable deal. Even though that doesn't sound like a traditional heartthrob-role, Skarsgård doesn't seem too concerned about sheering off his sex-symbol-status hair.
As Allure pointed out, he's not one to take himself too seriously on a red carpet.
"Skarsgård isn't afraid of looking less than photogenic on the red carpet. He tried out some unique facial expressions at the premiere of It last month, mugging for the camera as he posed with his brother (and star of the film), Bill Skarsgård," Allure reported.
As you can imagine, Twitter is absolutely divided over this new transformation. Some now understand why he was previously wearing beanies all week. It wasn't just because it was brisk outside.
One specific user is pulling for him to win an Oscar for the trouble he's going through, even going as far as tagging the Academy in order to alert them of his hard work. (Good looking out.)
Some tweeters pointed out 2017 was enough of a dumpster fire without this adding to the pain.
Still others were concerned this was an actual sartorial move he decided to dabble in. As in, some people change their hair colors, and others bring an electric buzzer to the center of their head.
Some are still shook over his mustache moment from the 2017 Emmys just a short month ago, and are unwilling to go on any more hair adventures with him.
For those that have missed that iconic Emmy moment, below is the Swedish actor in all of his pencil mustache glory. While it has a '70s-throwback vibe, you have to admit it's not all bad.
Of course these are all just jokes, and everyone should love and support Skarsgård no matter what he looks like. Whether he is half-bald or sporting dreamy vampire locks, he looks wonderful no matter what. The other side of Twitter supported that fact, refusing to abandon him just because he's missing some of his hairline.
While the change might be a slight shock at first glance, the love still burns eternal.
He's still a babe, no matter what is happening on his crown. And you have to appreciate how confidently he walked that red carpet, almost smirking at how drastic his transformation is. That's the kind of self-confidence we all strive to have.