Ariana Grande Finally Did An Interview Entirely Dedicated To Her Iconic Ponytail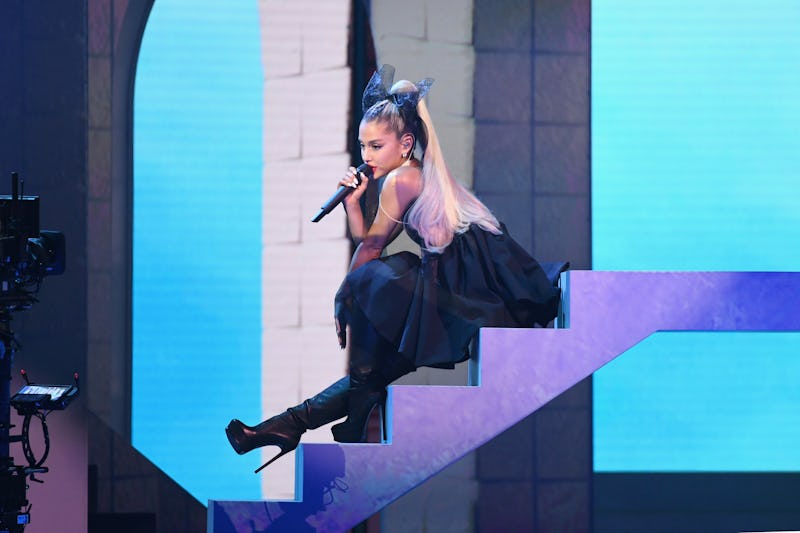 Ethan Miller/Getty Images Entertainment/Getty Images
In the world of iconic hair, there are some legends. Farrah Fawcett and her feathered hair and Audrey Hepburn and her baby bangs will probably never leave the cultural imagination, but there's a modern hair icon in Ariana Grande's ponytail. The legendary hairstyle has been with the singer and actor basically since her career began, and while she has occasionally gone without the style, it's pretty much synonymous with her now. Would she ever ditch it for good? If you've been waiting for that moment to come, you may not want to hold your breath.
In an interview with The Fader, Grande discussed her signature look, and the pony isn't going anywhere soon. In fact, Grande seems pretty attached to her iconic hairstyle and appears to associate it with her career as a whole. She explains that just like herself and her music, the ponytail has undergone a transformation, and for her it's different now that it was at the beginning of her career.
In the interview she explains, "The pony has also gone through an evolution, and I'm proud of that. Old pony? I don't know if she's that girl. But new pony? I like her. I mean, it's like a Victoria Secret angel without angel wings. It's still her without them, but when she's with them it's like, Ohh, I get it, she's an angel."
Grande doesn't expound on what the transformation is to her, but it's not hard to see it once you start looking at the artist through the years of her career. Currently, her ponytail is a platinum blonde hue (though just as long as ever). She's worn the same style to perform at the Billboard Music Awards and on The Tonight Show with Jimmy Fallon where she had an entire night dedicated to her. Despite being Fallon's only guest (a rare occurrence on his show), Grande still chose to wear the signature style with a braid down the center for a little extra oomph.
In an even more obvious show of dedication to her ponytail, Grande chose one of fashion's biggest nights to continue sporting the style. During this year's "Fashion and the Catholic Imagination" themed Met Gala, Grande stunning wearing a voluminous ball gown featuring the "Last Judgement" scene from Michelangelo's Sistine Chapel created by iconic designer Vera Wang. While she may have been at the Met, it didn't mean Grande had to change up her ponytail style. Yet again she rocked her platinum blonde pony, but this time she added a gorgeous flowing ribbon to the look, and honestly, it was perfect.
While Grande may almost always rock the ponytail, it doesn't mean she doesn't switch up the look. Her hair color is perhaps one of the biggest switches she makes to the style. She's had a grey style, purple, brunette, and of course, the red hue that she began her career with. Each one has looked flawless on the "No Tears Left To Cry" singer, but it's not her only adjustment.
As The Fader points out in their interview with the star, she's dropped the ponytail from its typically high position at the crown of her head for certain occasion. It's a look she wore at the March For Our Lives rally where she performed.
Then there's the moments when she added bangs to the iconic ponytail (whether they were real or not, they were still a new addition).
Whether you love or hate Ariana Grande's ponytail, one this is certain. It's a signature piece of who she is as an artist, and she's keeping the look — at least for now.