Netflix's New Mob Show Is Based On An Actual Canadian Crime Family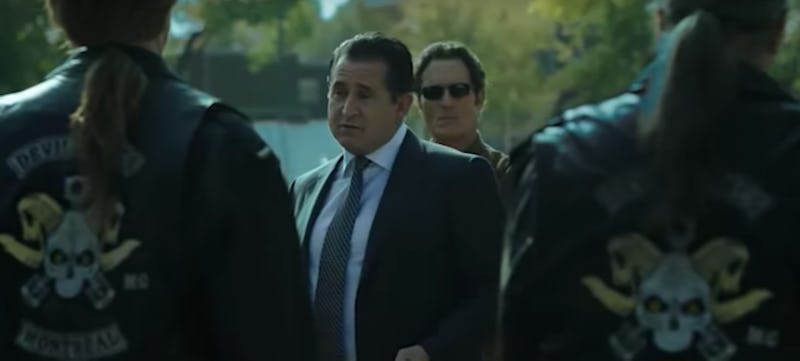 City TV
As the newest drama to land on Netflix proves, not everyone in Canada is super nice, eh? The organized-crime drama, Bad Blood, which originally aired on City TV, follows the true story of the Rizzuto family, who ran organized crime in Montreal for decades. Season one of the series is set to drop on Netflix on December 7, and fans of The Godfather will surely be itching to check out this crime series, and eager to learn the true story of the Rizzuto family.
Bad Blood draws heavily from its original source material, a book about the Rizzuto family by Peter Edwards and Antonio Nacaso titled Business or Blood: Mafia Boss Vito Rizzuto's Last War. The book, as well as the series, follows the life and crimes of Vito Rizzuto and his family, from their rise to prominence as the leaders of the Montreal Mafia, to their subsequent run ins with the law. Like most crime bosses, Vito Rizzuto had his hands in just about everything, including "large-scale construction fraud, drug trafficking, extortion, bribery, stock manipulation, loansharking and money laundering," according to Macleans. And, as Bad Blood will cover in its fictionalized account, Rizzuto used his power and influence to hobnob with city bureaucrats as well as the Hells Angels biker gang, all in a bid to control as much of the city as possible, per the same report.
The show will also follow the bids for power and control of the Montreal Mafia that ensued after Rizzuto was extradited to the United States for the 1981 murder of three American Mafia heads, per The Montreal Gazette. While Rizzuto was behind bars, both his son and his father were murdered. Rizzuto's father Niccolo Rizzuto was shot and killed at his home in 2010, less than a year after Vito Rizzuto's son, Nick, was shot and killed in the streets of Montreal, per CTV News. Bad Blood will chronicle this bloody series of events.
Though Vito, Niccolo, and Nick will each be portrayed in Bad Blood, one of the main characters on the show is someone entirely invented... well, almost entirely. According to Refinery29, the character Declan Gardiner, who serves as Rizzuto's right-hand man throughout the series, is a fictional creation who may be drawn from a mysterious real-life figure. The site reports that Gardiner might be based off of Raynald Desjardins, a figure heavily involved in the Montreal Mafia despite having no family ties to the Rizzutos and his lack of Italian heritage. Desjardins, like Gardiner, was thought to have been exceptionally close Vito Rizzuto, with a report in the Advocate Daily calling Desjardins a "high-level associate" of Rizzutos.
Like any drama series based on true events, Bad Blood certainly takes some liberties when portraying the lives of the Rizzuto family. But the broad strokes of the story, compelling for any fan of Mafia dramas, are true to life.
From his meteoric rise, to his years building his drug-smuggling empire, to his fall following a series of personal tragedies, the story of Vito Rizzuto makes for must-watch television.