Barbara Bush Hospitalized Soon After Her Husband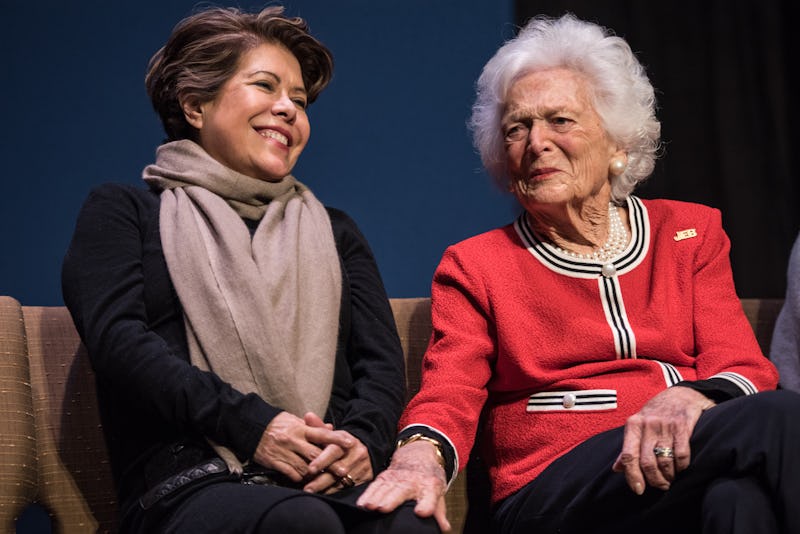 Sean Rayford/Getty Images News/Getty Images
After George H.W. Bush was hospitalized and admitted to the ICU on Jan. 18, former First Lady Barbara Bush was hospitalized just days before Inauguration. As reported by ABC News, a statement from Bush's office says Barbara was "admitted to the Houston Methodist Hospital this morning for fatigue and coughing." The statement also says that Bush, who was admitted for "an acute respiratory problem stemming from pneumonia" is in stable condition and recovering from a procedure doctors performed on his airway.
This isn't the first time the original former President and First Lady Bush have visited Houston Methodist Hospital for breathing concerns. Back in December 2013, Barbara was hospitalized there for respiratory problems as well. She spent New Year's Eve 2013 there, but was released within a few days. They isn't even the first time they have battled the same health concern at the same time. While still living in the White House, Bush and Barbara were both diagnosed with Graves' disease—a treatable condition that affects the thyroid. There's no word yet on when the Bushes will be released from this latest hospital stay, but well-wishes for them are already coming through social media. Public figures and every day people alike are tweeting their support.
President Barack Obama sent good wishes of his own during his last official press conference as president.
At 91-years-old, Barbara is the nation's oldest living First Lady, followed by Rosalynn Carter, 89, and daughter-in-law Laura, 70. Similarly, Bush, 92, is the nation's oldest living former-President, beating predecessor Jimmy Carter, also 92, by a few months. Together, the Bushes most recently caught the nation's attention when their son Jeb campaigned for president in 2016. The Trump transition team official Twitter account has also recently used Barbara's words and image to promote Betsy DeVos' appointment to Secretary of Education.
ABC News reports the Bushes had already sent word to the Trump team that they wouldn't be able to attend the Inauguration due to health concerns. In the letter, which has since been authenticated by the Bushes' post-White House spokesman Jim McGrath, Bush wrote, "My doctor says if I sit outside in January, it likely will put me six feet under. Same for Barbara." Despite the grave warning, McGrath tweeted that he hopes to Bush is out of the hospital soon. Still, even if the two are released from Houston Methodist Hospital by Jan. 20, the Bushes likely watch the Inauguration from their home in Texas.