Is Barron Trump At The Inaugural Ball?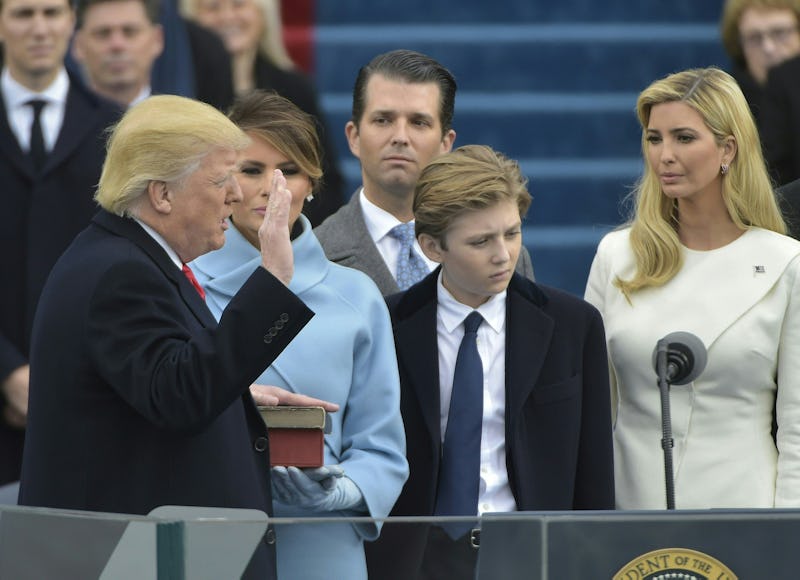 MANDEL NGAN/AFP/Getty Images
After an extraordinary political campaign, Barack Obama's time as president has ended, and Donald Trump's has just begun. When inauguration festivities kicked off on Thursday, Trump's youngest son was noticeably absent, leaving many wondering if Barron Trump will be at the inaugural ball. The 10-year-old may have missed the wreath-laying ceremony at Arlington National Cemetery Thursday afternoon and the Make America Great Again concert on Jan. 19 at the Lincoln Memorial, but he joined his half-siblings at his father's swearing-in on Friday. However, his presence at the inaugural balls on Friday evening has yet to be confirmed.
The past two inaugurations are a tough act to follow; Obama's 2009 swearing-in is widely believed to have drawn the largest inauguration crowd in American history. Combine this with the trouble Trump's organizers had finding entertainment willing to perform at the inauguration, and it's no surprise that the event has been highly scrutinized, particularly when it comes to the guest list.
As a result, Barron's absence from Thursday's events was quickly noted. According to CNN, he also missed the church service at St. John's Episcopal Church attended by Trump and his family on Friday morning, causing many to wonder whether he was in Washington, D.C., at all. In the end, though, Barron resurfaced for the inauguration.
Trump's oldest children, especially daughter Ivanka Trump, have shared much of the spotlight with their father during his political career. Barron and his mother, Trump's current wife, Melania, have enjoyed relative anonymity. However, that's not likely to last long now that Trump has been sworn in as president. As Hello magazine points out, Barron is the first presidential son to live in the White House since 1963.
When Barron was 6 years old, Melania revealed to Parenting.com that her son strongly resembles his father. "He is independent and opinionated and knows exactly what he wants. ... He is a mixture of us in looks, but his personality is why I call him little Donald," she told the website.
Now that Trump has been sworn in, Barron has a long day ahead of him. Events will include a parade and three official inaugural balls. Given his youth and his absence from most of the inauguration celebrations so far, he may not attend any of the inaugural balls — or if he does, he might have trouble staying awake all night, like he did during Trump's victory speech in November. (To be fair, it was a really long night.)
However, since no officials have commented on the matter, only time will tell whether Barron attends the inauguration balls. On the other hand, you can totally just bury your head in your pillows and ignore the world until the Women's March on Washington on Jan. 21 — it's up to you.