Is Barron Trump At The Inauguration?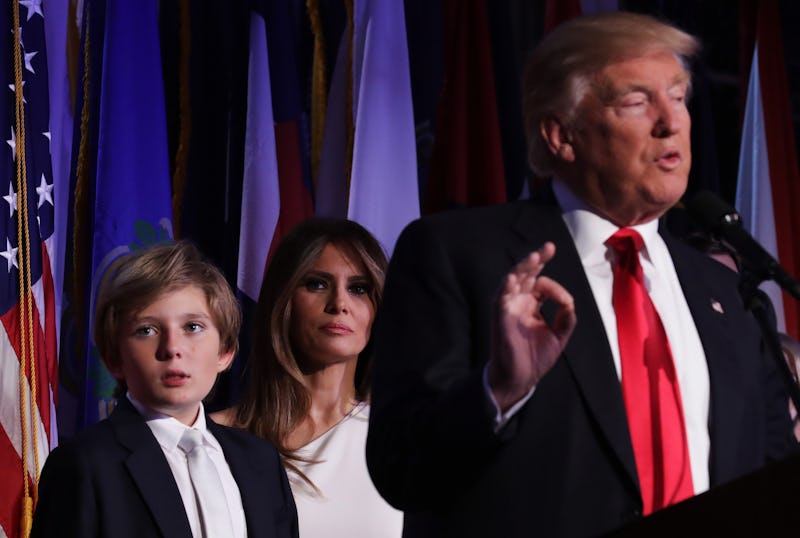 Chip Somodevilla/Getty Images News/Getty Images
On Jan. 20, Donald J. Trump will be inaugurated and officially become president of the United States. We can certainly expect some key members of his family — like his two eldest sons, Eric and Donald Jr., and his oldest daughter, Ivanka — to be by his side to support him on the important day. After all, those three Trump kids, in particular, played major campaign roles. But his youngest child, who's just 10-years-old, has played far less prominent of a role, which begs one question: will Barron Trump be at the inauguration? Update: Barron Trump was at the inauguration to see his father be sworn in as President.
Shortly after Trump was elected, there was chatter that the president-elect would forgo living in the White House. Gears have shifted since then, though, and Trump is expected to take up residency at 1600 Pennsylvania Avenue after he is sworn into office.
On the other hand, his wife Melania Trump and son Barron, will not be joining the future president in the White Hous. Instead, they are expected to stay in New York for the time-being. As reported by the New York Post, a source close to the Trump transition team explained: "Melania is extremely close to Barron, and they have become closer during the campaign ... the campaign has been difficult for Barron, and she is really hoping to keep disruption to a minimum."
Under normal circumstances, it sounds like a reasonable decision to want to avoid a major change for a student in the middle of the school year — but these aren't normal circumstances. Other children who are part of the first family have made the mid-year move to the White House, including most recently Sasha and Malia Obama. When Sasha was 7 and Malia was 10, the two girls left their school in Chicago in the middle of the year to go to Washington D.C.'s prestigious Sidwell Friends School, which is also where Chelsea Clinton attended while her father was president.
Another concern about Melania and Barron's decision to stay in New York City is the potential cost to tax payers — especially since security has been tighter around Trump Tower after a bomb scare and having put the building on lockdown.
And New York Mayor's press Secretary, Eric Phillips, who clapped back:
Still, although Melania and Barron Trump are not joining the soon-to-be-president in Washington D.C. in the near future, the youngest Trump child will almost certainly be at the inauguration ceremony. Barron made appearances at the Republican National Convention and his father's victory speech the night of the election. Jan. 20 will likely be a full family affair.