These Are The Artists Who Inspired 'The Mayor's Rapper-Slash-Politician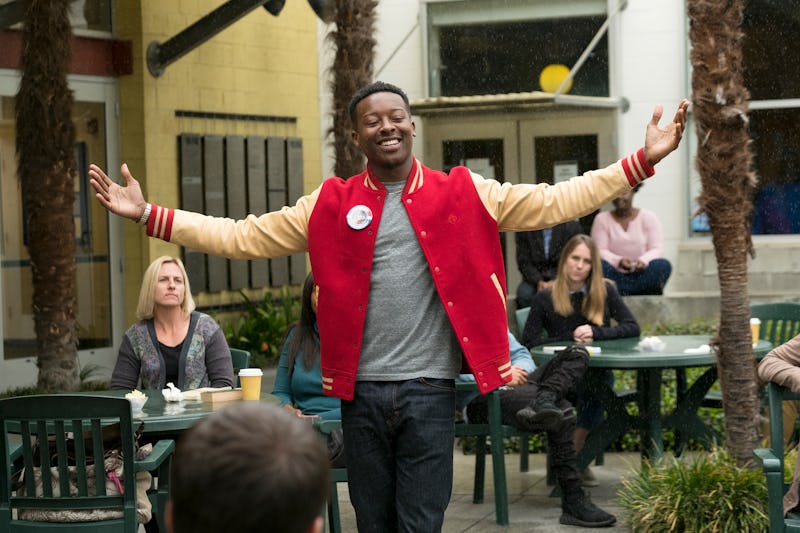 Tony Rivetti/ABC
Courtney Rose started running for office to make sure his mixtape was heard but ends up with far more than he ever bargained for, in the Oct. 3 premiere of The Mayor. The Fort Grey, California native is trying to support his burgeoning rap career by raising his public profile, but Courtney is also the rare political figure on TV who truly understands the community he represents. In the ABC comedy, he's also an adept performer with a genuine shot of making it as a musician. Courtney Rose from The Mayor is not based on real rapper, but some real musicians, including a Hamilton star, came together to bring his music and message to life.
The Mayor stars newcomer Brandon Micheal Hall as the rapper-turned-mayor. Courtney is Hall's first major television role, following a supporting role in TBS' Search Party. He trained at the prestigious Juilliard school of acting and learned how to rap on his own. As he revealed in an interview on Jimmy Kimmel Live!, he was a part of a rap group called Yard Boyz when they released their mixtape "Million Dolla Hit Starz." The mixtape is even still available online for free download at popular mixtape website Datpiff.
Hall's rapping experience helps bring Courtney Rose to life, but there's another famous rhymer behind the camera of The Mayor. Tony-award winner and Hamilton star Daveed Diggs serves as an executive producer on the series, bringing his own hip-hop expertise. In an interview with Entertainment Weekly, Diggs revealed that the show appealed to his "rap nerd instincts." These instincts are on display from Diggs' various music projects, ranging from the blockbuster Broadway hit Hamilton to his lesser-known work with experimental rap group clipping.
Diggs's group clipping. takes the label "experimental" very literally, sometimes constructing entire songs around the sound of gunshots or alarm clocks. However, it looks like the group will be toning down their experimental habits for The Mayor, as Entertainment Weekly reported in the same piece that the group will create all of the original music for the show. Diggs himself has a cameo role in the pilot episode as fictional rap star Mac Etcetra. The role is so small that you may miss Diggs if you blink, reminiscent of his cameos in The Get Down where Diggs was nearly unrecognizable as the adult Books. Between Diggs' willingness to experiment and his Tony-winning ability to deliver a crowd-pleasing performance, expect The Mayor soundtrack to be exciting and wholly unpredictable. He also rapped about rubber duckies on Sesame Street, proving that Diggs can create music about pretty much anything.
Brandon Micheal Hall and Daveed Diggs provided on-screen and off-screen support for the creation of Courtney Rose, but there's a another major rap figure worth noting who indirectly contributed to the fictional character. As reported by Variety, series creator Jeremy Bronson said at the Television Critics' Association press panel for the series that Chance the Rapper served as a major influence on Courtney Rose. Bronson told the press that he had "read about Chance also starting out doing his poetry in the multi-purpose room of his high school [and] thought it was very, very interesting." Chance is heavily invested in politics and public service, especially in his hometown of Chicago, and seems to speak for the impoverished communities of that city much like Courtney Rose speaks for the citizens of Fort Grey.
While Courtney may be a fictional rapper, there is a great deal of real life in the character. The aid and influence of Brandon Micheal Hall, Daveed Diggs, Chance The Rapper, and the entire creative team behind The Mayor make him a realistic and inspiring hero. So while you can't pick up Courtney's actual mixtape just yet, you can feel free to borrow some of his optimism and activism.