'Dynasty's Feuding Family Drama Could Be Ripped From The Headlines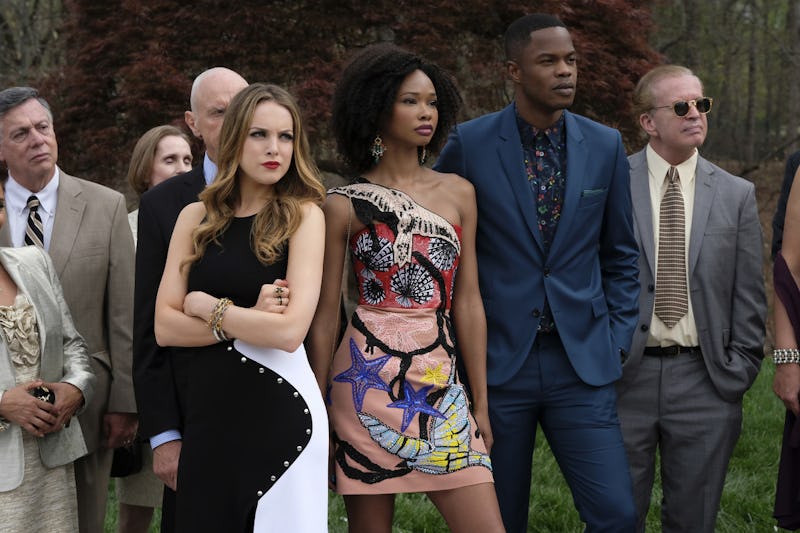 Mark Hill/The CW
On Wednesday, The CW will unveil Dynasty, its modern reboot of the now-classic nighttime soap that ran for almost the entirety of the '80s. The show tells the story of two sparring families — the excessively wealthy Carringtons and their equally well-off rivals, the Colbys — and the melodrama, double-crossing, and infighting that trails them. It's the kind of scandal-ripe tale fit for television, but amid today's TV landscape, it would be just as at home on Bravo's reality-bred lineup. Is it possible, then, that Dynasty could be a true story?
If you're at all familiar with the original, you'll know it's strictly fictional — which is probably for the better, given all the lurid affairs, petty scheming, and snobbish bickering that fuels it. The CW's take makes a few welcome changes — the cast is more diverse, it's set in Atlanta, not Denver, and it's more feminist and far less homophobic — but keeps the general theme intact. When the show opens, energy company exec Blake Carrington is about to marry his employee (a PR maven named Cristal, rather than his secretary, Krystle as in the original), much to his daughter Fallon's chagrin. She expected to inherit the family company, but Blake's new wife throws a wrench into her plans, so she teams with her secret lover — Blake's chauffeur, Culhane — and her father's nemesis, Jeff Colby, to plot against the newlyweds.
But against the many real-life feuds that have cropped up throughout history, that actually sounds tame.
The Hatfields vs. The McCoys
Perhaps the most infamous cross-family battle stems back to the Hatfields and McCoys, two 19th century Appalachian broods who made national news when their rivalry turned deadly. According to Time, some say their dispute began because of leftover hostilities from the Civil War, while others say it started with a stolen hog. Whatever the starting spark, by 1882, one of the Hatfields had been shot and killed in a brawl, causing the family to retaliate by kidnapping and executing three McCoy brothers. Their quarrel continued for several years — even at one point making its way to the Supreme Court — but died down by the 1890s.
Mary Queen of Scots vs. Elizabeth I of England
Back in the 1500s, Mary Queen of Scots was next in line for the English throne behind her older cousin, Elizabeth I, with whom she'd always had a tumultuous relationship. But, per Time, Elizabeth refused to acknowledge Mary as her heiress, as she felt threatened. So, when Elizabeth misguidedly came to her for help, she declined. Instead, she locked Mary away for the next 18 years of her life and, after an assassination plot was revealed, ordered her to be executed at the age of 44.
The Brumfields vs. the Dingesses
What began as two families forced together by their children's marriage fast spiraled out of control in the late 1800s, according to the Smithsonian. They tried to get along, but with competing timber businesses, their relationship grew increasingly tense. Cut to a few bitter (but non-fatal) shoot-outs and the whole county was up in arms, leading to a full-fledged mob killing with numerous deaths.
Leona Helmsley's Dog vs. Her Grandchildren
Closer to the realm of the Carringtons and Colbys is Leona Helmsley, a hotel magnate and so-called "Queen of Mean" who, as reported by ABC News, shunned her relatives and left the bulk of her estate — an impressive $12 million — to her maltese terrier, Trouble, after her death in 2007. Outraged, her two grandchildren took the issue to court, and were eventually awarded $3 million each, according to CNBC.
Expect less dangerous (but still devious) antics when Dynasty premieres Oct. 11 at 9 p.m. ET. It may be made for television and not borrowed from real life, but it should still be plenty entertaining.