'Fearless' On Amazon Is Inspired By A Devastating Reality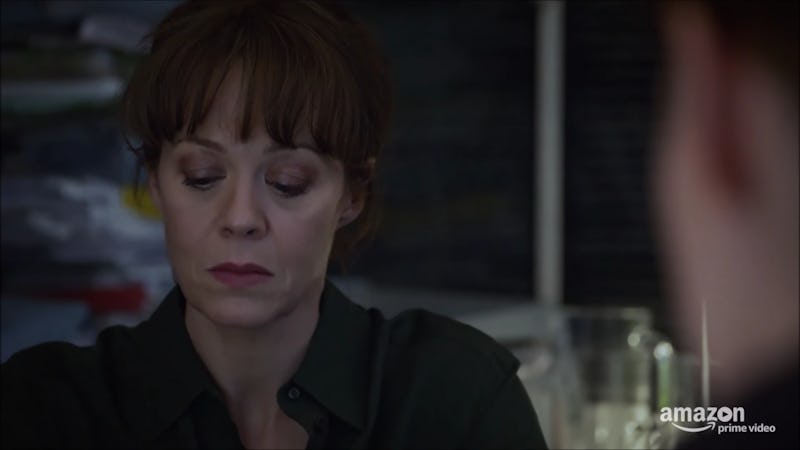 Amazon
The newest addition to Amazon's amazing series lineup is a fascinating crime drama called Fearless, acquired by Amazon from the UK's ITV. Per The Guardian, the story follows a fierce human rights lawyer named Emma Banville who tirelessly fights for those clients who seem to have no hope left. When she takes on the case of a murderer who claims he has been wrongfully convicted, she refuses to give up on him until justice has been served. The premise seems familiar, so is Fearless based on a true story?
The specific case that the show focuses on revolves around a man who was sent to prison for the murder of a school girl, according to the IMDB page for the series. When Emma takes on his case, he has spent 14 years in prison for this crime, which he claims he didn't commit. Emma believes he was wrongfully convicted and fights to free him with a new trial.
But, whether she proves successful in her quest or not, history has shown that just because someone is proved innocent, that doesn't always convince the public. This is something explored in the MTV show Unlocking The Truth hosted by Ryan Ferguson, who was wrongfully convicted of murder at 19 and spent years in jail before being exonerated in 2013, according to ABC News. He told Bustle at a screening of the series that being exonerated doesn't always clear someone in the public opinion. "People ... are wary of [exonerees] and that's a really typical thing to come back into society," he said. "I have people who still dislike me. They haven't looked at the facts or whatever."
As in Ferguson's case, wrongful convictions do happen, and there are lawyers out there dedicated to righting those wrongs. Fearless is not based directly on any specific case, and is not claiming to be based from real life events. But, as reported by Express, the show's creator, Patrick Harbison, recognizes that this kind of "miscarriage of justice" is actually isn't unheard of in our justice system. He added, "And so is its resolution: A brave lawyer, or a determined police officer, or an indefatigable family member, fights for the truth and eventually succeeds in getting justice." According to the aforementioned Guardian article, Harbison also worked as a writer and producer of shows like Homeland and 24, so he knows how to balance real life situations and topics with fictionalized dramatic storylines.
Fearless has even peppered in some real life current events and news items to further engage the viewers. According to the Express article, there were several shots that were filmed over again to add in bits about Donald Trump and his proposed immigration ban. Topical subjects like that keep the series current, even if the storyline and characters aren't necessarily ripped from the headlines.
Aside from the engaging subject matter, the fact that two Harry Potter actors have roles in the series should make HP fans come running to watch the show now streaming on Amazon. Per The Evening Standard, Helen McCrory, whom Harry Potter fans may remember as the amazing Narcissa Malfoy, plays the lead role of human rights attorney Emma. Alongside her, Michael Gambon, better known to HP fans as Dumbledore, appears an unknown amount of episodes (he is credited for six episodes on the IMDB page for the series) as a character named Sir Alistair McKinnon.
Fearless may not be based completely on a true story, but the pieces of the narrative certainly will ring true to life. And, sometimes that can still be just as gripping as a true crime series' content may be.