Hailey Baldwin Dyed Her Hair Pink For The Met Gala & It Might Have Religious Meaning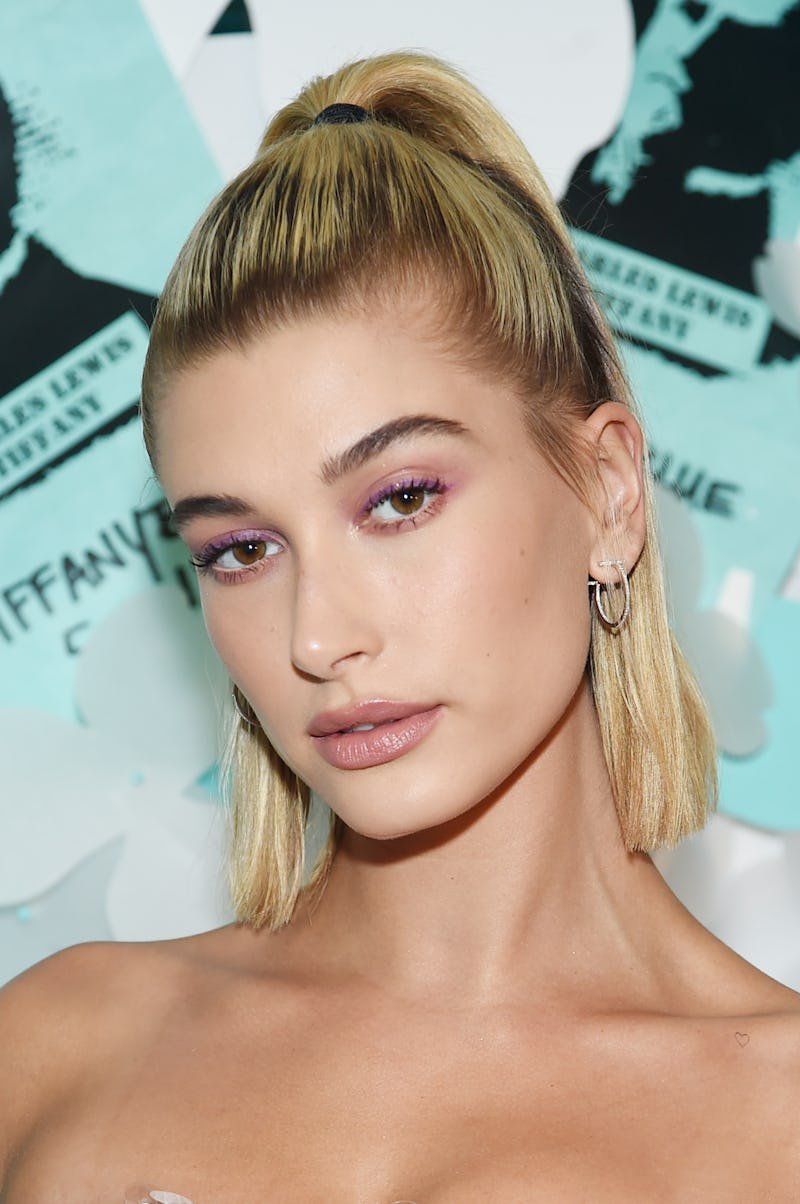 Jamie McCarthy/Getty Images Entertainment/Getty Images
The Met Gala brings some incredible fashion moments, but sometimes hair is the greatest accessory. Hailey Baldwin dyed her hair pink for the Met Gala, and yes, it is real. The new pink hue is absolutely gorgeous and has slight religious meaning. According to her stylist, this could just be her look for all of spring, too.
Celebrities love to rock different hairstyles when they hit the red carpet, and the Met Gala is the perfect time to pull out all the stops. (I'm looking at you, Kylie Jenner.) All eyes were on Baldwin tonight when she hit the red carpet, er, red-and-white stairs, rocking pink hair. While the color was subtle and soft, there was no missing the brand new 'do. Especially because her usual color is blonde.
"Both Hailey and I wanted to make a statement with her color. Pink hair is perfect for spring, and it's incredibly flattering to all skin tones. I like to think of hair color as an accessory — it can add a pop of color to an otherwise neutral look. I used a combination of Redken Shades EQ Gloss and Redken City Beats for this new hue," says Redken influencer Ryan Pearl, who was responsible for the look.
The color really is that easy. There are tons of other drugstore alternatives to rocking the color too. Kristen Ess even has a rose gold spray that is temporary, so you can channel your inner Baldwin and not have to go permanent. Oh, and it's only $12 at Target. You're welcome.
The theme of the Met Gala was Heavenly Bodies this year. While the outfit wasn't exactly as religiously obvious as others at the event, there could be a nod to Catholicism through the bright pink hair. Although Pearl did not mention it in his explanation, pink is the color of rejoicing in Catholicism, according to the U.S. Catholic website. There's no better time to rejoice than the Met Gala.
Whether the look was religious or not, Baldwin really did commit to the color. It was the highlight of her outfit — literally. Unless, of course, you add that she walked the red carpet with Shawn Mendes. It was the couple's first time on the red carpet together. Mendes rocked a purple and black suit to the event, so maybe her didn't get the pink memo.
Baldwin drew all eyes to her hair by wearing a white flowers all throughout her hair. It's hair not to notice her hair when she has such gorgeous accessories in it. This hair was not to go unnoticed. Something tells me she'll be wearing those all summer long, too.
The rest of her outfit was on the simple side. There wasn't a whole lot to go along with the theme, but the gray off-the-shoulder dress was super angelic. Of course, like the hair, there was no mistaking that slit, either. She finished off the outfit with wrapped heels that were the same exact color as her down.
It will be interesting to see how long she commits to the pink hair though. This is one style that looks good no matter what you wear with it. It's the perfect mix of sophisticated and fun. There's a good chance that this spring style will bleed over into summer, too. Because there's nothing like a bright pop of color to really kick off the season.
Time to screen-shot for your next salon inspiration.