Joe Biden Could Be At Obama's Farewell Speech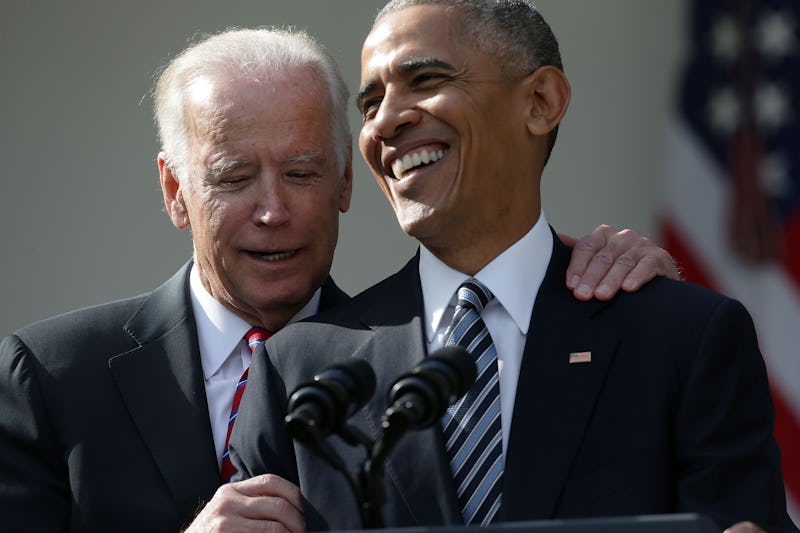 Alex Wong/Getty Images News/Getty Images
President Barack Obama's last day in office is Jan 20, but his farewell speech to the nation is scheduled for Jan 10. While we know that he will be speaking that day from McCormick Place in Chicago, exactly when his speech will begin or how many people will be in attendance is still up in the air. But one of the biggest questions on everyone's minds is whether or not Obama's Vice President and good friend Joe Biden will be at the farewell speech to support him.
Biden was an encouraging presence at Obama's speech following Donald Trump's election win in November. Images of the president and vice president's camaraderie melted hearts all around the country and coincided with a new flood of beloved Obama-Biden memes. Stories focusing on their friendship have been making headlines in recent years but seem to be surging as their time in office together nears its end.
It's almost a given that Michelle, Malia, and Sasha will be there for Obama as he delivers one of the last speeches of his presidency. But what about the vice president? Looking to precedent may be the key to predicting if Biden will be there.
‌
When George W. Bush delivered his farewell address in 2009, Vice President Dick Cheney was in attendance. However, Cheney was likely there because the speech took place in the East Room of the White House. President Bill Clinton's farewell was in the White House, too, though he gave his speech while seated in the Oval Office.
Obama's farewell promises to be a more elaborate event than those of his two most recent predecessors, as members of the public are invited to sit in. And it's location outside of Washington, D.C., could complicate attendance for many in his cabinet and on his staff. The vice president was present during Obama's farewell address to the Armed Forces on Jan 4. However, with so much work to be done before the Obama administration departs, who knows if Biden will have the time to make it to Chicago. Still, despite the obstacles it poses, a grander farewell than usual seems not only justified, but necessary with Obama's presidency being as historic as it is.
Over the past eight years, Biden has been one of Obama's most ardent supporters and their bond was called "the strongest in White House history" by the Washington Post's Paul Kane. With their friendship and past in mind, it would be a major shocker if Biden weren't at Obama's farewell address. Nevertheless, with details on the farewell being so sparse, there is no way to know for sure until it happens.
Can't make it to Chicago on Jan 10? Watch it live on the White House's farewell page and on their official Facebook page.