Kat Von D Just Teased The Potential Return Of An Old Fave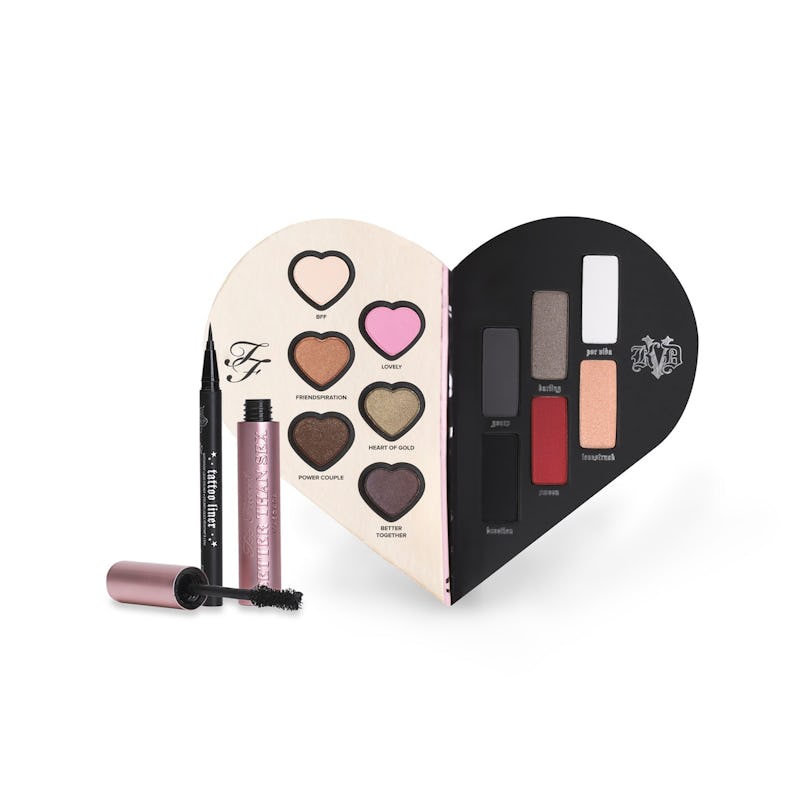 Courtesy of Too Faced x Kat Von D Beauty
Last year, the beauty scene was abuzz with the Kat Von D Beauty x Too Faced Better Together collaboration. Kat Von D Beauty just dropped an Instagram hint, suggesting that perhaps one of the eyeshadow colors in the Better Together Palette might be making an encore and fans are legit ecstatic.
Remember, Better Together was a limited edition capsule that beautifully and effectively fused the opposite yet complimentary aesthetics of each brand. KVD's rock x goth vibe meshed brilliantly with Too Faced's extra pink, good-girl-gone-semi-bad energy.
The crown jewel of the collection was a magnetic eyeshadow palette that broke apart into two halves representing each brand. The palette included exclusive colors.
In the new tease, the brand specifically name checked the metallic red shadow, dubbed "Swoon." So maybe that shade is on the comeback trail? Or perhaps Round 2 of the brand mashup is on the horizon? The hint was not clear and that's likely 100 percent intentional in order to keep Kat Von D-evotees on their toes and guessing.
While there was the suggestion that a KVD x Too Faced Better Together Volume 2 range could happen, since the official press release received by Bustle labeled last year's collab as "Volume 1," Better Together feels like a one-and-done collab so far.
It's all about Swoon RN.
This is the screen shot of the reposted photo and the caption, which reads: "How much did you guys LOVE the metallic red shade 'Swoon' from our old #BetterTogether palette? Maybe this is a hint of something launching soon."
Oh, KVD, you tease. Bustle reached out to both brands to inquire if a reprise of Better Together is happening or what KVD has in store for Swoon.
The tease certainly got Kat Von D obsessive all sorts of riled up, with many of them espousing their love for Swoon and how it could be a shade that takes their money, of course. This random sample of passionate fan reactions from the tease finds heart emojis being attached to so many responses.
A good red is hard to find and makeupistas found it with Swoon. Crimson can be an incredibly tricky color to pull off as an eyeshadow. But KVD got it so right with Swoon. Kat Von D and co. pay attention to customer feedback and don't think they didn't see or hear the fan response to the scarlet shade, both then and now.
Clearly, Swoon left an impression and fans are seeking more of it. If you got your mitts on the Better Together palette, you're already fully aware that Swoon is excellent as an accent shade along the lower lashline or along the upper lashline, butted up against a thick, black liquid liner-created, cat-eye flick.
Swoon adds a little something extra if you are not ready to "go there" and do a full red smoky eye. But the consensus is that most Kat Von D-evotees were swooning over Swoon.
The blood red shade could make its grand return as part of a new palette or perhaps as a single serve shadow. We'll have to wait for more info for the brand, but it's always fun to speculate and wonder what's next. It keeps makeup exciting.
In case you needed a refresher, these heart-shaped shades comprised the Too Faced side of the Better Together palette. This was truly a terrific concept. Here's to hoping that Volume 2 will happen eventually.
Ultimately, with the holiday season ahead of us and makeup brands about to drop their gift sets, seasonal offerings, and new products and palettes, the one thing we can pretty much count on is the fact that KVD will have something beautiful and covetable up her blackened sleeve.