Kate Hudson Now Has A Super Short Bob That You'll Want To Copy For Summer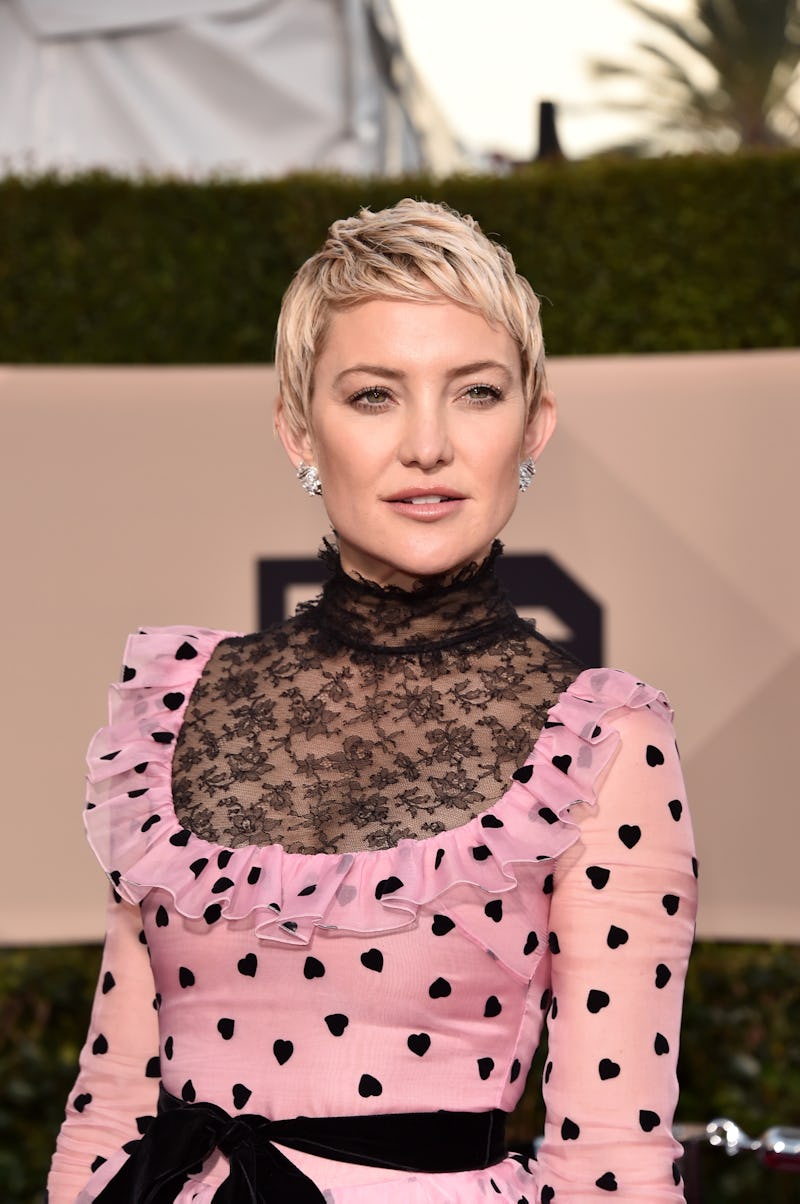 Alberto E. Rodriguez/Getty Images Entertainment/Getty Images
It's always educational to see how celebs grow out their pixie cuts, which is what makes Kate Hudson's new asymmetrical bob so interesting. It gives us inspiration on how to gracefully handle that awkward grow out stage that comes with short haircuts. The actress traded in her signature beachy waves for a close-cropped buzz last summer for her upcoming role in Sisters, a film directed by the singer, Sia. A story about a sober drug dealer and his autistic sister, Sia felt that a close shave would better suit the character, and Hudson was all in. And she didn't do it at a fancy salon, either. Apparently it was done without much fanfare, where both Sia and Husdson's 6-year-old son, Bingham, took turns buzzing off her long locks.
But seeing how it's been nearly a year since the big cut, Hudson has been slowly growing it out and experimenting with several different transitional styles along the way. Once it got a few inches of growth, the actress spiked up her hair '90s style, making her gelled ends go every which way on top of her head, and giving her the look of a Sum 41 band member. To her credit, the style did look amazing (especially when contrasted with bold pink lipstick and a feminine dress,) but she poked fun at herself by comparing her crop to that of Leonardo DiCaprio's a few decades back.
She has also been slicking her hair flat for when she wants something a little more nondescript, as you can see below. The deep side-part makes it feel more elegant.
And she has also been known to clip back her bangs with decorative bobby pins, giving her outfit an extra detail to play with.
Her newest look, however, can help inspire those who are struggling with this long-pixie-cut stage. The actress was spotted in Los Angeles while shopping with her mom, Goldie Hawn, and she was sporting an asymmetrical, chin-grazing bob, which is surprising since just a week ago her hair was just barely grazing the top of her ears. According to Vogue, the new style was achieved with the help of a blonde wig, which just shows you that you don't need to suffer through an awkward mullet if you don't want to. Hudson's was especially realistic, where the roots were darkened so it looked like her natural hair was growing out.
Hudson joins a long list of actresses that made the big cut for an acting role, falling into the same category as Millie Bobby Brown, who shaved her hair for her portrayal of Eleven in Stranger Things; Cara Delevingne who cut her hair for her role in Life in a Year, which is about a young woman going through cancer treatments; and Natalie Portman who went under the clippers for V for Vendetta.
When Brown was growing out her tresses, she was a big fan of the slicked-down bob, where she would gel her hair flat down and rock a deep side part. She was known to accent it with decorative clips when she was feeling playful, or wear it slightly wavy for a more relaxed vibe.
Delevingne seems to update her growing-out pixie with regular haircuts, so the style doesn't ever enter that "bowl haircut" stage. This route will definitely take longer to grow out since you're constantly taking off length, but if you're not in a rush to get to a lob, this a chic, less-stressful way to do it.
Portman was a fan of the textured bob, where she often times sported her growing out pixie in waves, and was known to pin back her growing out bangs with decorative pins.
While it can be intimidating to pick up a buzzer and bring it to your long locks, these actresses prove that the growing out stage can be fun. And if all else fails, take a page out of Hudson's book and rock a wig!