OMG, Kate Has Exciting News On 'This Is Us' & It's The Uplifting Moment The Show Needs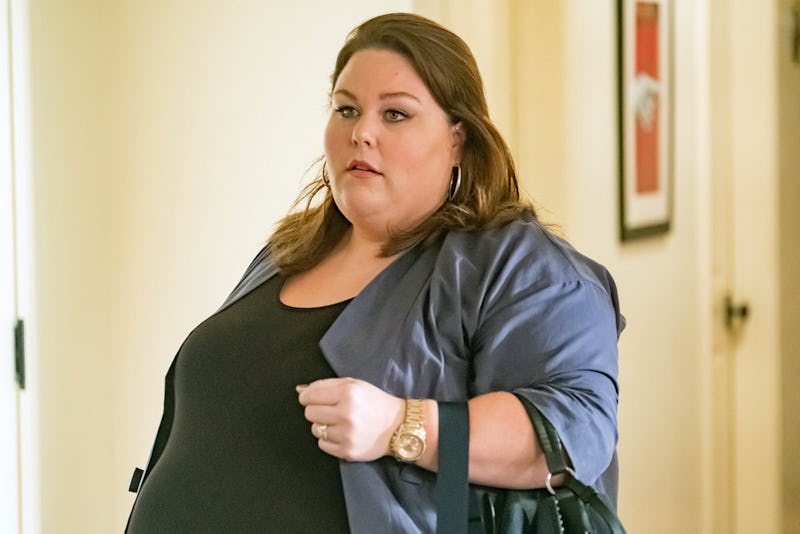 Ron Batzdorff/NBC
Spoilers ahead for Season 2 of This is Us. The Pearson clan is getting bigger on This Is Us. Not only have Randall and Beth taken in a foster daughter, Deja, but Kate is having a baby. Yes, you read that right — Kate is pregnant on This Is Us. And, everything is about to change for her and Toby.
Kate started out the episode preparing for a gig, and, boy, was she acting strange — and Toby just didn't get it. While Kate has, at times, become a bit obsessive about her weight loss journey, Toby needs to understand where her nerves come from (or at least where he thinks they come from: Her upcoming gig) and back off. It's not really any of his business whether Kate wants to try to fit into a dress or not eat a muffin. Being engaged doesn't mean he gets to control her life.
At first I was a little disappointed that we were falling back into the "Kate's weight loss journey" plot line because Kate and Chrissy Metz are so much more than that story. But, at the end of the episode, it all came into focus, as Kate talked to her doctor about the "right kind" of vitamins to take and how she was trying to be as healthy as possible for the little lentil-sized life growing inside of her. Kate's face at the moment her pregnancy was revealed to the audience was so sweet — she was hopeful and excited, and This Is Us better not take this baby away from Kate for a storyline. Kate needs a win. Kate deserves happiness, and it seems like this child could bring that.
Motherhood was a central theme of the Oct. 17 episode of This Is Us — Beth bonded with Deja, whom it seems has never had that kind of connection before; Rebecca stood up to her own mother in defense of Randall; and Kate is pregnant. Sometimes it seems like so much of the Pearson family is focused on Jack as a father, but Rebecca's mothering skills aren't so bad, either. She and Kate have some issues, but it's mostly because Rebecca loved her children so fiercely and, at times, held on too tight.
There are two big uncertainties now that Kate is with child — when will she tell Toby, and will she continue singing post-baby? Toby has handled the Pearson drama fairly well — he even dropped some tough love on Kevin in this episode, even if it didn't work — and he'll probably be delighted to have a child with the woman he loves. The singing, though — that's less concrete, and it runs some interesting parallels to Rebecca's life. Rebecca gave up her own fledgling singing career to care for her children, and hopefully Kate won't do the same. She was just getting started! Still, Kate's pregnancy could shift things into a different perspective for Kate, making her realize why Rebecca did the things she did for her kids. There's nothing like age and wisdom to make you see your parents as people.
In a recent interview with Entertainment Weekly, Metz hinted at good things to come for Kate. "We know that her life has been sort of dictated by the trauma and the guilt that she's held for so long," she said. "So, everything that Kate is doing is to push through the pain, to be courageous, and to really speak up for herself and really draw her boundaries, and having the life that her father always believed that she could have." Kate has been working on herself and finding out what she wants in life, and the happiness of this baby is definitely a wonderful step in that direction.