Katy Perry Just Made The Perfect Summer Hair Switch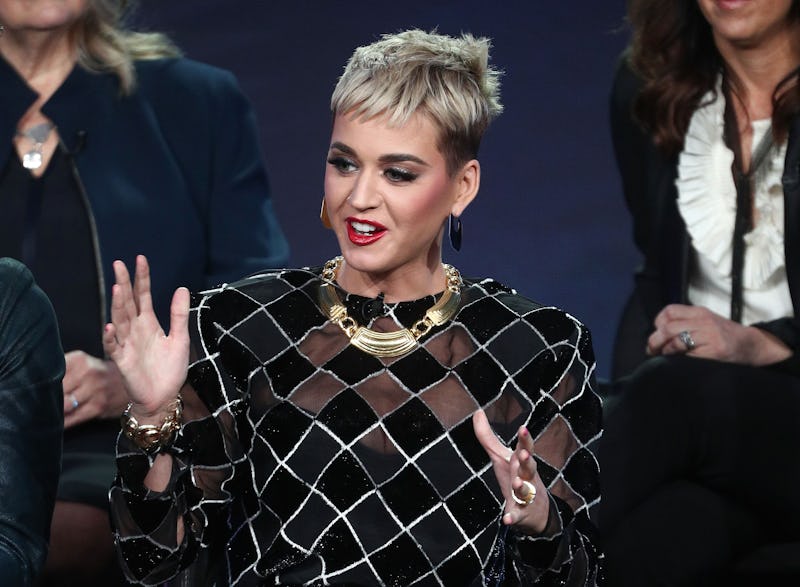 Frederick M. Brown/Getty Images Entertainment/Getty Images
Katy Perry is a hair chameleon whose locks have been every color of the rainbow. The singer and American Idol star changes the length and shape of her strands on the reg — although she has been rocking a cropped pixie for several years now. Katy Perry just dyed her hair purple and it's the perfect change for summer. It might even inspire you to request the same shade when you next pop into your colorist's chair.
Perry's short 'do is energized and further emboldened by the new shade, which the singer shared on her personal Instagram over the weekend.
While your eye might be quick wander and look at her bright pink lipstick or the pink glow that dominates her cheekbones or those super cool, dangling "KP" earrings that she is rocking, it's that purple hair hue that slays the most. It's a colorful look and it's perfectly suited for the stage while Perry is on tour.
Perry up until recently rocked a platinum blonde pixie. She even joked that she looks like the purple Teletubby, referencing the super popular '00s toys and cartoons. Perry has such a fantastic sense of humor but she is working those sexy strands.
Have a look at Katy Perry's latest follicular pitstop at purple.
It's straight fire. BTW, don't you love the golden chest plate and pointed shoulder of her outfit? Perry is currently on tour for the European leg of her Witness Tour. It's only right that she changed things up for her Euro fans and audiences. Stylist Rick Henry also shared the photo, calling the shade "Blueberry Crush." That, and her short length, are indicators that the color is legit.
Perhaps the fluffy purple shawl x dress that Perry wore on the American Idol finale last week inspired her to go purple with her tresses. It wouldn't be the weirdest thing in the world, would it?
The purple hair generated thousands of Insta comments. But this one sums it up perfectly. Perry is so preternaturally beautiful that she can rock any hairstyle. The purple is such a fun switch for summer. Pastels suit the season.
But this not Perry's first time doing a purple 'do.
The singer rocked a soft, shaggy, and lilac lob at the Grammys one year.
Purple's signature black strands had a purple cast and curls a few years back.
Perry rocked a Cleopatra vibe with the blunt bangs and long waves. Instead of going with a predictable ombre presentation, Perry had purple highlights that looked stripe-y.
But she has tried the ombre look with her locks. This lavender shades faded throughout the length of her strands. It also matched her dress.
From a distance, Perry's hair looked like her signature black locks. But a closer inspection showed off that glossy, midnight purple tint. It absolutely popped against her statement lashes and fair skin,
This tumble of loose curls, along with the matte berry lip color and the black dress, were Perry's version of neo goth.
Thanks for her different styles, length, and color variations, Katy Perry is proof positive that there are so many ways to do purple hair. Her latest version of the shade is so summery. But her prior purples are equally as stunning.
This high and tight pony was mostly blue. But there were some pink and purple strands woven within. It certainly popped against her slime green tank top from the Kids Choice Awards.
Speaking of blue hair, Perry has also rocked many blue varietals over the years, as well.
But her current pale purple pixie could carry her through Summer 2018 and provide inspo for Katy Cats. Here's to hoping she keeps the color.